Billbergis bromlaid
Gardening Reference » Gardening in 2006
by njoynit on April 13, 2006 03:47 AM
I got this stuffed pot full.I inherited it like that.I've cracked the pot to check on the plant& it really needs a new pot.it has formed some offsets,but they are smashed flat.So I plan to remove from pot(or remove pot from plant).I've tried reading some on their potting& guess will try mounting some of the offsets.I need some potting ideas& wondered if clay pot would still be suitable.I haven't checked to see if I still have it.Its a clay azealia pot.I can't picture one in a hanging basket as I've not found a picture of one thus potted.
I'm also searching for a happy lighting.Its getting a lil washed out in sun,so guess will try bright shade.it gets a few ours sun in the morning& lots of gekos in that spot for bug patrol.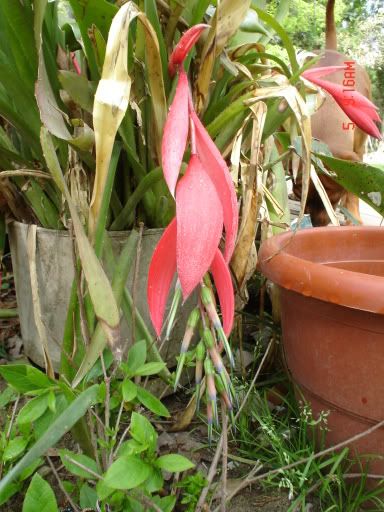 I have another shot,but have not loaded those pics off camera.
* * * *


I will age ungracefully until I become an old woman in a small garden..doing whatever the Hell I want!
http://community.webshots.com/user/njoynit03
http://community.webshots.com/user/njoynit
http://photos.yahoo.com/njoynit03
Search The Garden Helper: