Creeping Zinnia (Sanvitalia speciosa)
Willy's Place » Plant Pictures and Profiles
by Bill on November 28, 2004 06:09 PM

Creeping Zinnia
(Sanvitalia speciosa)
is a bright little annual plant which is excellent for borders, containers or hanging baskets.
They should be planted in rich, well draining soil, in full sun. They will tolerate light shade. Creeping Zinnias are heat and drought tolerant. They resent being over-watered. Fertilize monthly during the growing season with an all purpose water-soluble fertilizer.
This 6-10 inch tall plant will produce hundreds of 3/4-1 inch, bright yellow flowers from early summer until the first frost.
Sanvitalia speciosa
is grown from seed which may be started indoors 4-6 weeks before the last frost, or sown directly in the garden after all danger of frost has passed. The seeds require light for germination, so do not cover them!
Sanvitalia speciosa
(Creeping Zinnia)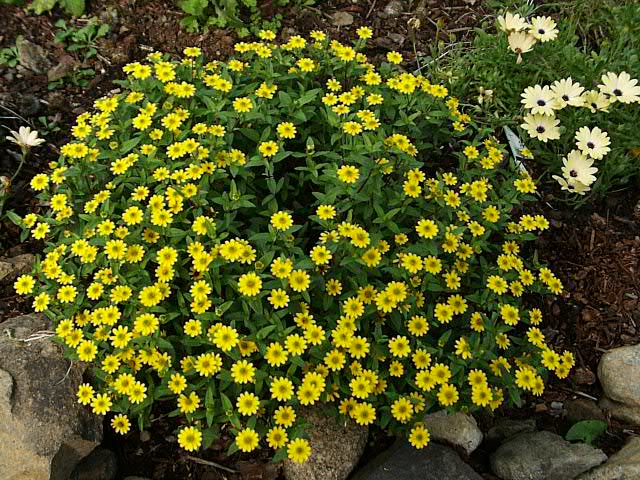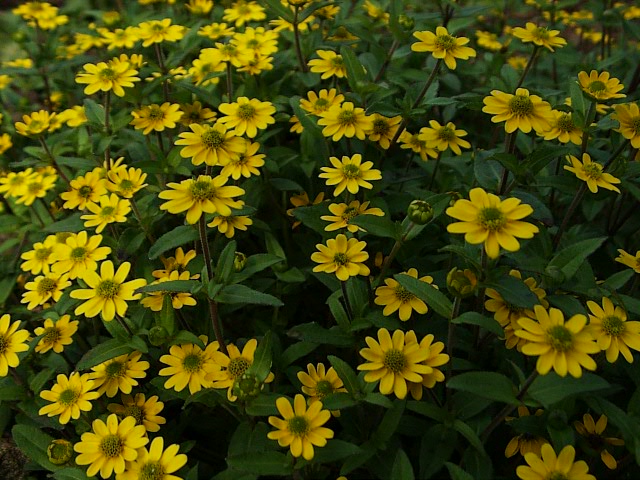 These are Cedar Hill flowers!
* * * *

by Jiffymouse on November 28, 2004 06:51 PM


beautiful! thanks for that, now i know what i want to put in the "un-done" areas this coming year!!!

by Jiffymouse on November 28, 2004 06:54 PM
oh, i forgot... do they reseed? i know they aren't frost tolerant, but we don't always get frost... (not much anyway)
by Bill on November 28, 2004 07:24 PM
This is the first year I've grown these plants, so I can't really answer about self-seeding.
I went out to check for seeds on the (frozen) plant and found none...

* * * *

by barleychown on December 05, 2004 05:05 AM
I found what I think are seeds on mine, and have saved some to try in the spring. These are awesome plants, the flowers never stop!

It has been around freezing here for the last few days, and they are still going strong on my porch.
Thank you, Bill...I didn't know what they were called!

* * * *


We do not see things as they are, we see things as we are.
Search The Garden Helper: