Burro's Tail Propagation
Gardening Reference » Gardening in 2006
by Erich on March 10, 2006 08:29 AM
As spring is just around the corner, I look to propagation of my spider plants and succulents. I have three burro's tails and I was wondering if anyone had any luck with starting them. Am I supposed to start them from one leaf or a whole stem? I am also nervous about transferring one to a larger pot because the leaves tend to break off easily. What are your experiences?
by jonni13 on March 10, 2006 09:55 AM
Well my experience is a little different than a house plant Burro tail. When I want more I take stem cuttings and strip off the lower leaves and put the bared stem in soil. But if those stripped leaves fall on fertile soil they will also start new plants. But the BT I have is slow growing enough that I like the "instant results" of stem cuttings.
* * * *
~Tina


Getting old is the pits. But it sure beats the alternative.
My Blog
by jonni13 on March 10, 2006 10:28 AM
Here is a pic of some of mine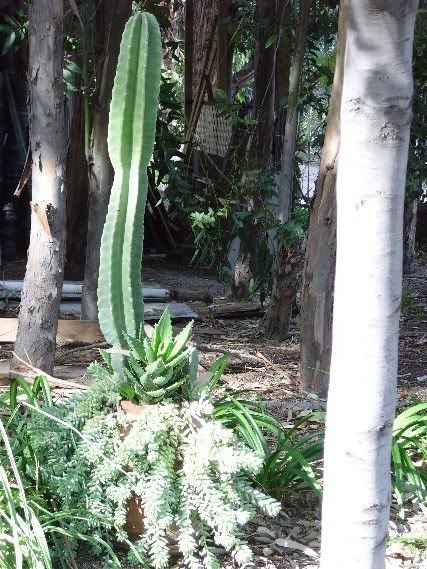 * * * *
~Tina


Getting old is the pits. But it sure beats the alternative.
My Blog
by plants 'n pots on March 10, 2006 10:55 AM
Tina - that grouping is GORGEOUS!
I love it! It's sooooo green and healthy looking - great job!

* * * *


Lynne's knitting journal
"I'm spayed, declawed, and housebound - how's YOUR day going???"
by angelblossom on March 10, 2006 12:47 PM
Tina Great Pic! Wow! they all compliment each other Very nicely!
* * * *


Sorrow looks back, Worry looks around, Faith looks up!


http://photobucket.com/albums/e374/2thtek/


by cinta on March 10, 2006 01:02 PM
by tkhooper on March 10, 2006 09:28 PM
Ok I'm a dunce. Which one is the burro's tail please?
* * * *


by jonni13 on March 10, 2006 09:43 PM
The burro tail sedum is the one draped down the sides of the urn that you can barely see.
* * * *
~Tina


Getting old is the pits. But it sure beats the alternative.
My Blog
by Erich on March 11, 2006 11:39 AM
I will see what I can do...any other suggestions are extremely welcome!
by catlover on March 11, 2006 12:43 PM
From my experience either way will work. Those little pieces will fall off just barely touching them so be careful. One year around my potting bench area where the babies had fallen off I had little burro's starting all over the place in the soil where I washed the debris. So they will start with noooo problem. I would stick a few stems in and then the babies that fall off just push them in the top of the soil all around the pot....wha~la burro basket done.
The only other suggestion I would make is to plant them in a container you would like to keep them in for the life of that pot....and at a good height. They love to drape and will get very long. They do not like to be moved and as you pointed out will drop those babies everywhere if moved.
If for some reason your's don't make it let me know and I will send you some more.
Catlover
* * * *



by Erich on March 12, 2006 02:26 AM
Thank you very much. I shall start them when spring arrives.
by buzylady on March 14, 2006 12:07 AM
Hey everyone! I'm new to Gardener's Forum. I have several new plants, several old plants and plenty of work outside that I'm itching to get started at.
I found BT in 'WallyWorld' in small pots. Bought 2 and put together in one pot. Did I read that they are slow growing? Has anyones bloomed? Does it need anything special to bloom?
* * * *
buzz buzz buzz


http://s86.photobucket.com/albums/k103/Di_06/
Similar discussions:
Search The Garden Helper: