Theme Gardens
Gardening Reference » Gardening in 2006
by cinta on October 02, 2006 07:18 AM
I have been tossing the thought of a black garden around for a couple of years. I finally started to put one together this year. The perennials were to small so I put some tropicals and annuals in until my constant plants get started.
I am glad I tried the annuals I can see I want to put some white flowers in to really make it pop.
Anyone have a theme?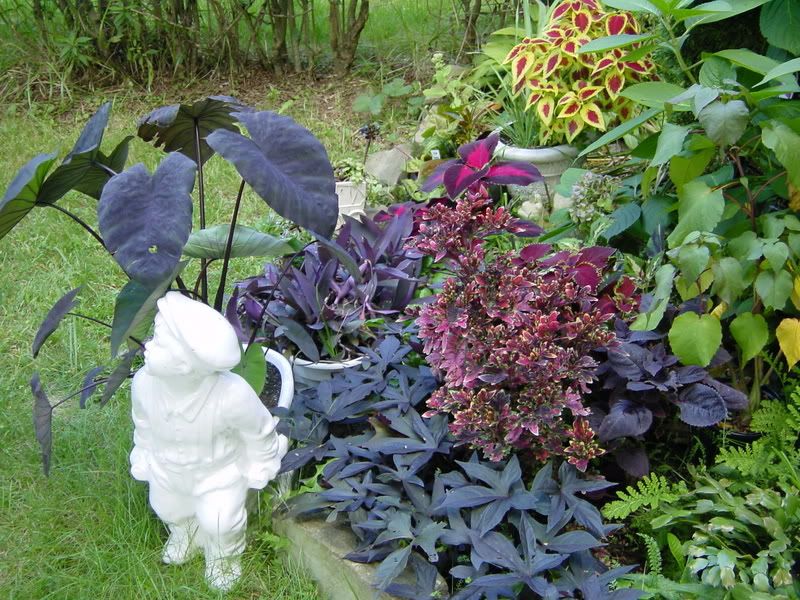 * * * *
http://www.flickr.com/photos/audwoman/
If you want the rainbow you have to put up with the rain!!
by Triss on October 02, 2006 08:30 AM
That is a beautiful garden!
* * * *


We are all under the same stars... therefore we are never far apart.
by plants 'n pots on October 02, 2006 10:25 AM
That is gorgeous - very tastefully done!


* * * *


Lynne's knitting journal
"I'm spayed, declawed, and housebound - how's YOUR day going???"
by kennyso on October 03, 2006 04:57 AM
Cinta, when you say black do you mean literally black and dark coloured plants or toxic plants?
* * * *


Blessed are the meek, for they shall possess the earth
My Website
My Blog
by cinta on October 03, 2006 06:55 AM
I meant black and dark colored plants. As I said I think I will need to add some white flowers or white varigaited leaves to give it some punch.
What you cannot see because they are not big enough yet is...
Black Lace' Sambucus
Black Mondo Grass
Black Iris
Marie Britt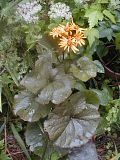 and a couple of other dark leaf plants. I will be on the look out for something to lighten it up.
* * * *
http://www.flickr.com/photos/audwoman/
If you want the rainbow you have to put up with the rain!!
by Deborah L. on October 03, 2006 09:21 AM
Wow, that is gorgeous, Cinta. Very creative color scheme. Different !
* * * *


by Dixie Angel on October 03, 2006 09:29 AM
Very pretty, Cinta!
Dianna
* * * *

by amy7467 on October 04, 2006 10:01 AM
I love it just the way it is! Maybe adding white will be too much of a contrast? If you have to add contrast, maybe just some lite blues or silvery greens?

I am planning a white garden for next year. All the white flowers I can find mixed with silver greens like silver mound and lamb's ear.
by cinta on October 05, 2006 08:18 AM
That is a good tip I have some silver greens Hercs and Jack Frost that I could transplant.
Oh amy cannot wait to see your white garden. I have been working on one in the back. I picked out a corner in the back so when I sit out on the patio at night I will have a good view.
* * * *
http://www.flickr.com/photos/audwoman/
If you want the rainbow you have to put up with the rain!!
by ND farm girl on October 06, 2006 03:26 AM
I actually have been trying to find plants/flowers with my name - Patty. Also, my mom's name - Betty. I have found a few. Anyone have any?

* * * *
PattyM

by netty on October 07, 2006 08:36 PM
Patty Pan Squash
Patty's purple Veronica
Patty's Plum oriental poppy
Betty Ann Voss Azalea
Betty Boop Rose
Betty Simon Iris
* * * *


by digital flower on November 05, 2006 09:31 PM
It looks like you are off to a great start!
One place I garden has a big purple/black garden. When I was at
Highgrove
the Prince had a small all black garden right near the house. Some of the things in the purple garden at work are:
Smoke Tree
Purple leaf White Birch
Weigela 'Wine and Roses', 'Midnight Wine', 'Victoria'
Lysimachia Firecracker (vigorous)
Diablo Ninebark
and a bunch of other stuff I can't think of right now.
* * * *
Daily Gardening Blog
Garden Photography
Similar discussions:
Search The Garden Helper: