Wild Out Back HELP!
Gardening Reference » Gardening in 2006
by Oui on February 01, 2006 10:52 PM
The Wild Back...The area starting with the big tree to the horse stable is the place I want to try to landscape this spring..My 6 ft fence will be extended from where it is to the first big tree...Then, because of the trees I will be pounding metal fence posts and running hog wire along the lot line which is between the trees/thicket...The mess you see on the far left of the picture is my neighbors junk...<not to say that I do not have junk on my side too>>> I want to plant English Ivy along the hog wire fence so it will grow up and make a evergreen barrier to hide my neighbors junk.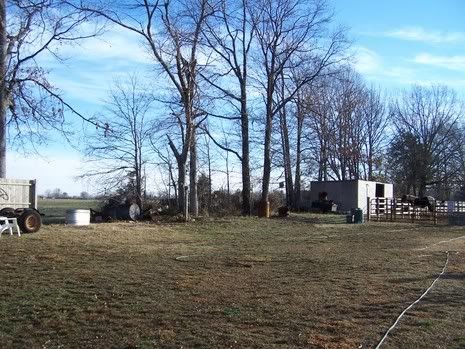 The plants I have that I will be moving from my front yard to this area are as follows...
Hosta 10 LARGE plants <can be split>
2 Red ground cover roses
Day lily 10 large plants <can be split>
Tiger Lily <The OLD kind> 10 plants <split last year cannot be split this year>
Black Eyed Susan 10 or more plants...
Minature Daffodils..LOTS
Regular Daffodils LOTS
Red Tulips LOTS
IRIS purple 20 <the OLD KIND>
Any Ideas on how I should arrange these plants or other plants I should add??? ROCKS?? etc...???
The area does have some OLD Honeysuckle that I want to try to save...
And I may add some white dogwoods and redbuds to the mix...
The area is 30 ft long and will be about 8-10 ft wide.
by rue anemone on February 02, 2006 12:20 PM
I wasn't really sure of the tree placement. Start small and increase the size every year.
Slowly increase your shade and decrease your lawn. It would be really neat to have woodland wildflowers as your groundcover. With the sun lovers at the edge.
I like paths and I love vistas.
one possibility
* * * *


by Oui on February 02, 2006 10:02 PM
WOW Rue THANKS BUNCHES!!!!!!

I want the garden to be just on the left side though. Can you redesign it to be just on the left. Is that rude for me to ask you to do that??I have to be able to drive a truck through the side that is grass. For my horse and to get to the back of the property.
by Oui on February 02, 2006 10:24 PM
I have access to some driftwood...Do you think adding driftwood to the mix would be too much?

It is cloudy today..I will try to take more pictures of the area tommorrow.

There is a Cat Cemetery in that area too. 3 of my cats are buried back there...I have the spot marked with a 2ft tall stone angel.

I also have a 2 tier metal (electric) bird bath that I could use back there.
by neko nomad on February 03, 2006 12:47 AM
Be sure to keep us onlookers posted, Oui...
Judging by your pictures, that's one ambitious goal you have. I discern a Capability Brown type
approach you have in mind for your backyard.
click the link for a bit of inspiration:
Lancelot "Capability" Brown
Best wishes and...
Happy Ground Hog Day !!!
by rue anemone on February 03, 2006 01:07 AM
LOL, no it's not rude. I wish I could see it in person.
I have a confesion: Whenever I am in someones yard I am planning in my head what I would do if it was mine. Even while I am carrying on a conversation with them!! Sometimes I go home and draw it up, the people never know!!
Driftwood would be wonderful, escpecially in the shade when it gets mossy. I love moss.
The plan I did was for a garden 30 feet long and 12 feet wide. The path is just a tiny foot path.
I'm not familiar with some of your plants so the shrubs and trees might be out of scale, drawn too small. AND I have no training in this area. I just have ideas.
Here is another thought:
How much do you use the drive? Could it double as a main path? The drive could wind though the garden with smaller foot paths off of it.
AND the paths could still be grass. I colored it grey on the picture only because I use pea gravel on my paths,
The more garden, less mowing, when the leaves fall they could just lay there, but I do rake the paths going through my woodland garden.
* * * *


by rue anemone on February 03, 2006 02:02 AM
This picture might help, I drew in how the canopy of the redbuds might look and if you used an upright growing yew.
redbud canopy
* * * *


by neko nomad on February 03, 2006 04:57 AM
Alabama Azalea
R.alabamense
by Oui on February 03, 2006 09:04 AM
Rue: Well it kind of smells like horses back there.
<smile> No matter how much I muck and lime.

So I was not wanting to make it into a sitting area...Just nicer on the left edge.

My property need TONS of work. I am just working on the evil hill out front and this area, and I am adding some plants and trees to attract birds. I was going to make a huge meadow of lavendar too but I think I am going to wait til next year.

I can use your ideas though...I can just leave out the right side.

THANKS!!!

The azaleas are pretty neko..I am not fond of Azelea for some reason..not sure why...I had a bunch at my house in VA that I just left grow wild..They are actually pretty that way...I had wild azalea on that property too..I wish I would have dug some up and brought them here...<<sigh>>
by Oui on February 03, 2006 09:21 AM
You can kind of see my horse in the first picture on top.
Here he is....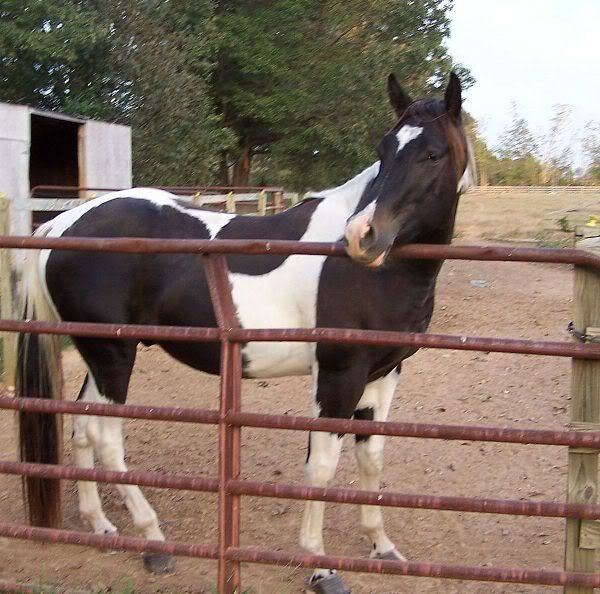 I have my pastures sectioned off with fencing and gates The front pasture never has grass..<sigh> You can see the beginning of the first pasture in the first picture on the beginning of this topic.
The second pasture is mixed fescue and the back is bermuda.
My access road runs along the fence line that you see all the way to the back..The entire left side of my property is pretty much wild with large trees and thicket...<<sigh>> See what I mean by "my property needs lots of work"
*I resized your picture so it would fit the page better - afgrey
by Oui on February 03, 2006 09:42 AM
I think I have found some other flowers that I want to add to the mix...

Wild Snap Dragon which grows tall and is pink. <getting it from Jackson & Perkins>>

and lavender

and Crystal Blush Calla Lilies and Pink diamond Calla Lilies..

Do you think that is too much color??
by Oui on February 04, 2006 12:13 AM
Okay here are some more pictures...Starting with the big tree, which is a black cherry. Again the JUNK on the lfet is on my neighbors property. And I am going to cover it with a wire fence with English Ivy growing over top to hide my neighbors junk collection.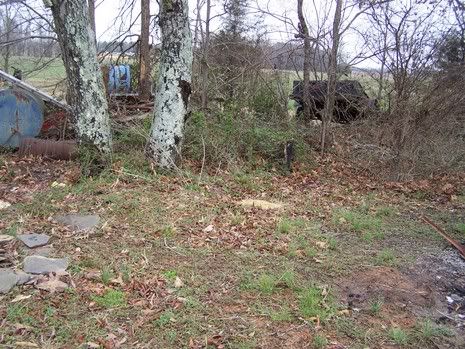 MORE Pictures in next message..
by Oui on February 04, 2006 12:16 AM
Yes I know I have my own junk. I hope to have all my junk removed within the next three days. And all the weeds and unwanted plants removed.
by Oui on February 04, 2006 12:18 AM
I am going to stain the horse stable a dark hunter green too.
by rue anemone on February 04, 2006 01:09 AM
LOL!! Pretty horse and pretty stinky back there then?!?! Yes the sitting area needs to be up by your house. You can still have the vista from your house and as you walk or drive along the drive to your horse.
Color is good. You have enough space so you could really make big groupings of color.
Maybe your birdfeeders should be closer to the house so you can enjoy the birds from inside?
You lucky thing with all that manure!!
neko that azalia is beautiful
Flowers can be planted along the side in front of and tucked under the shrub/tree border. Planting the flowering trees and shrubs, the spot will be a knock out!!
another plan
* * * *


by rue anemone on February 04, 2006 01:18 AM
We are here at the same time!!
The stable stained green would be really nice.
I love the lichen on the trees.
Is english ivy invasive in your area? Oh, how about virgin's bower it is a native clematis. AND the scent in autumn is out of this world!!!
Evergreens would be good. Can you grow yews, holly, hemlock all would help screen and will grow in the shade.
Are the blue tanks yours? We need some garden junkers in here to tell use how you could use those. Like make them into a bench like you would a huge log. LOL!!
* * * *


by Oui on February 04, 2006 05:34 AM
No the blue tanks are my neighbors..I don't know what he is doing over there...There is cinder blocks, tanks, old tractor wheels and other misc. JUNK..My neighbor is sensitive about his junk..although he never does anything with it..He is saving it for something..<insert eyeroll here>
I knew I would do this if I got near a Nursery or Wal-Mart...I went out and bought some more flowers today...I WAS suppose to be meeting a friend for lunch..I plotted to get there early so I could look at the plants at Wal-Mart which is near the Resturant we were suppose to meet at...<sigh>> Here is what I bought..
Top left to top right
Calla lilies 8 plants <bulbs> White with speckled leaves, blooms in late spring,height 24" Shade to part shade.
12 Dutch Iris' 12 bulbs, purple and yellow, blooms late spring, height 20", full sun.
7 Erynginum, purple, exotic flower, blooms All summer, height 24-36" Full Sun
12 Gladiolus "Wigs Sensation RED", blooms summer, height 48", full sun to part shade.
Second Row Left to right
3 Day lilies "Little Missy" Fuschis exotic flowers, blooms summer, height 12-30" Full sun to part shade.
2 Agapanthus, purple, blooms Summer, height 36" full sun to part shade.
2 Tricyrtis, White with burgandy speckles, exotic flower, Blooms summer, partial to full shade, height 24-36"
12 Gladiolus "Blue Isle" Blooms Summer, height 48" full sun to part shade.
3rd row Left to right
25 Zephyranthes, Pink, blooms summer, height 6-12", full sun.
4 Bleeding Hearts, Red, blooms Spring to first frost, height 36", full sun to part shade.
30 Acidanthera white, blooms summer, height 18" full sun to part shade.
Not pictured: 3 Tiffany Rose plants (pink)and 1 Rose tree..Olympiad (red)
After I get it cleared out I am going to decide the shape. I am thinking straight along the lot line on the back but some kind of curved edge on the front. When it is all cleared I am going to officially measure it..
I have now complicated the planning by adding MORE flowers..
by Oui on February 04, 2006 10:24 PM
I could fill the back in with evergreens and holly (holly attracts birds) Then put the flowers in front. The ground is pretty uneven back there too. After I get it cleared I will be able to see exactly how uneven it is..It could be that the area is a dumping ground...I will find that out when I start digging...No kidding I found a 1940's toy fire truck buried near that area... in the old days the farmers would just pick a spot on their property and dump all their garbage..

When I get it cleared I will put up more pictures..Thanks for all the help ya all.
by rue anemone on February 04, 2006 10:50 PM
It is going to be beautiful. The more flowers the better. I like full beds like the English gardens.
I have never been to europe but I guess German gardens have ground or mulch around each grouping of flowers. The English let their plants spill into each other.
My theory: if it is not planted something will grow there, like weeds!!
I think that is a good idea for the straight edge along the back and curved in the front.
Yesterday it was 50, today it is snowing and we have an inch already expecting to get a few more. I HAVE SPRING FEVER!!
* * * *


by Oui on February 05, 2006 03:38 AM
Neko Nomad gave me a site link that has some NICE pictures of English Gardens and more...
http://www.gardenvisit.com/b/brown1.htm
I have now turned my second bathroom into a bulb/plant nursery. I have a huge Jacuzzi tub in there...It is now filled with pots full of nice new dirt and bulbs/new plants.
I went out today and bought a plant light for that room, so the babies will be happy and grow.
I am planning on leaving the light on all the time..Is that right? or do I have to turn it off sometimes???
NOW I am thinking of painting a Muriel on the stable wall that makes it look like the garden continues..Oh BOY...
by Oui on February 05, 2006 03:40 AM
What is lichen???
by neko nomad on February 05, 2006 04:50 AM
My backyard started as an empty patch of turf -- no fence, no nothing -- but by adding shrubs,trees, and perennials over the years the lawn has now become a green panel surrounded by three borders. Hopefully the back will become a walled in courtyard, with yews, lilacs, and privet providing privacy to this little subdivision paradise.
But this is small scale, miniscule compared to what you're planning. By all means keep a photo journal of each development & share the fascination of watching your garden take shape.
by rue anemone on February 05, 2006 05:29 AM
Lichen is the light green stuff growing on the side of your tree, it grows on rocks too. It makes gardens look older.
Beautiful backyard neko. Isn't that a hosta behind the tree. Hostas are wonderful, very cool fall color!!!
* * * *


by neko nomad on February 05, 2006 06:17 AM
hosta sieboldiana
by Oui on February 05, 2006 08:52 AM
What kind of Hosta is that Neko?? My Hosta's are Gold Standard. I REALLY love the Angel Blue..Because of the large Trees in the wild out back area I will need some shade plants..I was thinking of adding 1 or 2 more types of Hosta or some varieties of ferns.
This site has some beautiful pictures of hosta gardens on the first page of it's online catalog.
http://bridgewoodgardens.com/
I also found "The Hosta Library": There are A LOT of pictures there...Now I need to try to pick an additional hosta for back there..
http://www.hostalibrary.org/index.html
Then I need to decide on the type of fern to add..
Oh Boy
by Oui on February 05, 2006 08:59 AM
Oh I see now that you said it is a Hosta Sieboldiana...

Neko your yard is pretty..Sometimes I wish I had a more managable size..Or the money to have a fulltime gardener..<yeah right>
by Oui on February 05, 2006 09:41 AM
This Fern is pretty..http://www.whiteflowerfarm.com/29041-product.html

Burgandy Lace.
by Oui on February 05, 2006 09:45 AM
by neko nomad on February 05, 2006 05:30 PM
That's how that hosta was marketed.

Will be gone for a few days. Taking a winter getaway -- see you when I get back this coming weekend.
by Oui on February 05, 2006 11:43 PM
There are Ferns called Winter Ferns...that stay green in winter...What do you think about that??

Also there is an Evergreen Clematis...I could use that on the wire fence instead of English Ivy.

Decisions decisions..

Planning this keeps me busy..Since I cannot plant or transplant anything. At least I can get the plan in place..I am anxious to see my new Day Lily in bloom, the Little Missy...The package shows a lovely fushia colored flower..

I still have not removed my junk from the area...It has been raining..<which is good, the ground will be soft>> so I can dig out the unwanted plants easier. Once I get everything dug out then the whole area will be covered with thick plastic to keep it weed and plant free til planting time.

The Day lilies and hosta that I have in the front are coming up. But it was freezing last night..So I am waiting for about a month to transplant them to the back.

I forgot I have a Gardenia tree too..It is about 4 ft tall and in the front. I am moving that to the back also. I may extend the garden to the left of the big tree so I can put in the lovely sitting area that rue suggested. I want that whole area to be a lovely flower garden. I did not want to make too much work..Too much work always deters me..So a little at a time. The area to the left of the big tree is pretty flat. It use to be a huge dog kennel. The 6ft fence would be extended to the tree..And I am plotting to put a black marble wall fountain in that area backed up against the would be 6ft fence...Ahhh I have to stop plotting or I will make the project too big.

It is about 15 ft by 10...Rue do you have any ideas for that area???? I could just plot it out and put down plastic to clear out any plant growth and then continue with that part next spring...That way I could get the benches at a discount in Fall.
by Oui on February 06, 2006 12:03 AM
I also have 4 fushia Crape Myrtles..Currently they are planted in my version of a nursery...On the edge of my vegetable garden. They are about 4-5 ft tall they are the 8-10ft size..

The Crape Myrtles could go in the sitting area..To flank the bench and fountain...<<<it is SUNNY in that area>>...I would love to make the seating area all fushias..<my favorite color>> Maybe some whites and purples..<NO yellow or orange>>And loaded with scented flowers. I am a little worried about the large tree..it is a black cherry which has a tendency to splinter. Anything I plant near that tree could end up squashed by a fallen branch. I have one of those large cherry trees in my front yard too..I have a bench swing under it..One day I was sitting there and just got up to walk over to my porch for a minute..I was not more then 5 ft away from that bench when a HUGE branch broke off of that cherry and slammed into the bench swing...<<<Phew luck huh??>> I didn't hear any warning sounds before the branch fell either...Yes I am paranoid of my Cherry trees dropping branches without warning on my head...

By the way the wild out back area is Northern exposure...East is by way of the horse stable.
by rue anemone on February 06, 2006 09:59 AM
Don't use plastic---> lay newspaper down 12 sheets thick and cover with compost, manure, mulch, leaves, topsoil, etc. Which ever is easiest to gets your hands on!!! I am guessing it will be the manure. LOL!!
The newspaper smothers the grass and weeds and by next spring you will have a wonderful place to plant. The manure will have aged and it will be a wonderful bed.
The grass and weeds decompose and add more good stuff to the bed.
There is an evergreen fern that is native the
christmas fern
Ferns will like the wood you place around your bed. I think the wood stays moist and so they are very happy.
alabama wildflowers
virgin's bower
* * * *


by rue anemone on February 06, 2006 10:07 AM
I meant "no plastic" for the second area you are talking anout not the first. I would be way too impatient to wait for that !!
Yes, plan your whole yard, on paper is is easier to change your mind then regrowing grass or moving entire beds, or diveways. Then tackle a bit of the plan wherever you can time AND $$$ wise.
Think about the approach to your house (guests first impressions), your work area, where kids/adults play, relaxing spots, nature and birdwatching areas.
* * * *


by Oui on February 06, 2006 10:57 AM
I am still landscaping that area this spring so I only have about 30-40 days to get the area ready...I was talking about the area in front of the big tree as the area I work on next spring..

Can I still lay down newspaper with such little time to go???

Did I misunderstand your message??

Yep you are right rue I have LOTS of horse manure and oak leaves...Both are acidic though so I would have to lime the area before planting anything right??

Then do I til it after I leave the paper N stuff on it??? Will it work in 30-40 days??
by rue anemone on February 06, 2006 12:12 PM
Oh, I thought you were doing the part left of the tree next year! The newspaper method takes a few months to work.
If the manure is aged you can put it right in the beds.
HOW long does it take for manure to age???
* * * *


by Oui on February 06, 2006 11:31 PM
Yes that is right I am thinking of waiting til next spring to do the area left of the big tree. Okay now I know what you were talking about. I don't know how long it takes for manure to age..I would guess it is aged when it is dry and powdery.
I do know that horses will not eat plant growth that comes out of their manure..I deliberately spread his manure all over the front pasture (that never has grass because of the horse) And Grass actually grew because the Horse would not touch any of it..He had his 2 back pastures so it was ok. BUT 6 months later all the grass was gone again. So I guess it takes 3 to 6 months for it to age...At least enough for the horse to eat up all the grass that grew out of it..
http://www.extension.umn.edu/distribution/naturalresources/components/7540_04.html
I found the above information re manure..But I didn't see anything about aging...The composting is suppose to kill all the seeds that are in the manure..That would be good because I do feed my horse a variety of grains..If I do not kill the seeds in the manure first I will have wheat, corn and grass growing in my garden.. <smile>
by Oui on February 07, 2006 01:22 AM
by Oui on February 07, 2006 01:24 AM
oops I mean...THIS little planter bridge..
by Oui on February 08, 2006 07:04 AM
The Wild Out Back is clear....
I trimmed this wild bush..to look like a tree. I do not know what it is but it blooms little white flowers in spring.
AFTER>>>
BEFORE >>>
You can only see the edge of the original bush. But hopefully you get the idea.
by Oui on February 08, 2006 07:11 AM
More.....
Before>>>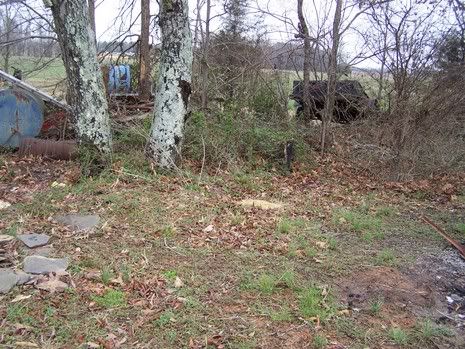 After >>>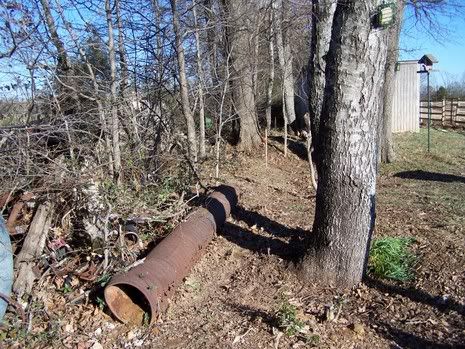 by Oui on February 08, 2006 07:20 AM
This stuff that is growing at the bottom of the first big tree is Crocus.I had decided I did not like them where I planned to plant them and just threw them in there near the tree. They are coming up!!!!
The ground is VERY soft back in there..
Tommorrow I clear out the rest of the unwanted plants...Meaning the grass and misc wild ground cover aka weeds..
PS the BIG rusty pipe is MORE of my neighbors junk it is sitting directly on the lot line.
The measurement I originally gave was wrong..The area is 47 ft. by 11 ft...
by rue anemone on February 09, 2006 05:43 AM
Wow you have been working hard. It is looking great.
47 x 11 is definitely enough room for a very nice colorful bed.
I am ready for some color, but we still have a long few months of cold left.
* * * *


by Oui on February 09, 2006 11:00 PM
Rue I love your idea re adding decorative rocks to the mix..Only problem is big rocks if you cannot find them in nature are expensive..<pout>>

I have access to unlimited quantities of black slate..My neighbor <<yes the one with all the junk on the lot line..>> Has a small finger of the flint river running through the back of his property. He has tons of black slate in there..He said I could have it all...

Do you think if I remove all his slate that it will upset he ecology of the river??

The slate is relatively flat and all about 10-12 inches, kind of round shapes...BUT,it is fragile <<cannot be used for stepping stones. But, could be used as a border wall.
by slredmond on March 16, 2006 01:01 AM
Oui - do you have a Hobby Lobby in your area?
They have an incredible collection of garden statuary, decorative birdhouses, pretty metal doo-dads, etc.

* * * *
Sandy R.

by tkhooper on March 17, 2006 12:00 AM
Have you looked at those kits for shade gardens? That would probably give you a good list of plants for that area with a variety of heights and color. Just a thought.
* * * *


Search The Garden Helper: