Smilacina racemosa
Willy's Place » Wallpaper of the Day
by Bill on July 29, 2003 06:42 AM
False Solomon's Seal,
Smilacina racemosa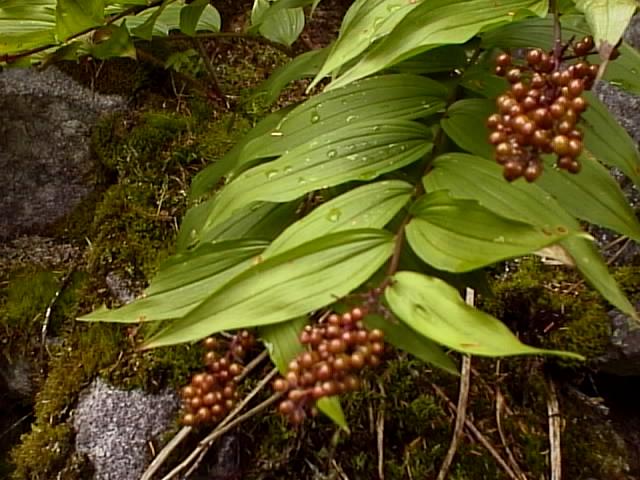 False Solomon's Seal is another great plant for lightly shaded areas of your garden. They produce plumes of tiny white flowers
(which remind me of a miniature Astilbe)
in late spring followed by bright red berries which last through late Summer and into the Fall.
The plant will reach from 2-3 feet in height, and spreads slowly by underground rhizomes, eventually forming large, attractive clumps.
False Solomon's Seal should be grown in well drained but moist, slightly acidic soil. They
prefer
light to medium shade.
* * * *

by Jiffymouse on July 29, 2003 07:51 AM
NICE... MIGHT HAVE TO TRY IT IN MY YARD...
by catlover on July 29, 2003 09:07 AM
Okay another great pick. Right now, at least from the photo the berries look like they have been spray painted with gold paint. Very pretty. Do the birds eat these berries?????
Are there going to be problems with snails? They look like they have very delicate leaves. Just need to know so I can set up a defense before they attack at night and devour it alive. Sluggo and hard shoes. Barefoot just doesn't feel good when you get a piece of shell wedged between your toes.
If you keep coming up with more plants I am going to have to build another place for shade plants. But I do love them sooo much. Kinda weird huh, Cactus and ferns, swaying birch trees and citrus trees among other things. What a combo. Thanx, Catlover

* * * *



by Bill on July 30, 2003 05:43 AM
The luminence of the berries is what drew me to this plant, and made me have to get one for my garden. I have seen a Ruffled Grouse gobbling at the berries, so I assume that other birds would enjoy them as well. Mine has never been bothered by slugs or snails, and in spite of the delicate appearance, these plants are pretty durable
(surviving, even after suffering through an accidental size 10ing)
.
Meow!




* * * *


Search The Garden Helper: