Adiantum pedatum
Willy's Place » Wallpaper of the Day
by Bill on July 28, 2003 04:48 AM
Pacific Maidenhair Fern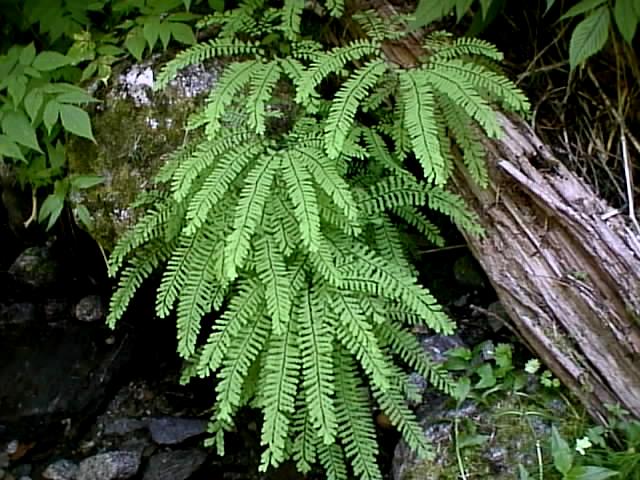 The hardy Pacific Maidenhair Fern can add a bit of graceful elegance to any shaded area of your garden. The fronds emerge in early spring on black, wire-like stems that reach 18-24 inches. They prefer a rich, humus soil and constant, even moisture.




* * * *


by catlover on July 28, 2003 05:20 PM
Love it! Love it! Sure would be nice to have a little stream.
Gosh Bill now I have to find one of these ferns to plant next to my front door with my other assortment of ferns and fountain. This forum sure is keeping me busy and giving me soooo many ideas. Love it, keep it comin.

Love the challenges.
Catlover

* * * *



by Bill on July 28, 2003 06:20 PM
It is definately my favorite fern... There is a place I hike that has a wall of them but they are covered with bramble. I want to clean it up, but the park ranger won't let me...
MUST remain natural, ya know!
. There is another variety called the American Maidenhair Fern which has dark brownish colored stems instead of the black. I prefer the Pacific, but I thought you might want to know of the option in case it fit with your existing colors better......

* * * *

by catlover on July 28, 2003 08:55 PM
Gosh darn it now I have to have both ferns. See how you are!!!! Thanx for the info. I will keep my eye out for them.
Catlover

* * * *



Search The Garden Helper: