Slugs
Gardening Reference » Gardening in 2006
by Tomacco on August 31, 2006 04:47 AM
We've had a lot of rain here the past four days and I notice my back yard is moving. Tons of slugs, which I know come out when it's wet... Searching on 'slugs' here, I found great stories of beer parties, slug bars, and ad posters hung in the garden, slug sushi (with Japanese Beetle sauce?), slug snipping, and slug housing complexes!
In our house slug=snug (makes me feel less guilt when I kill 'em).
I tried the beer thing. Something else likes it, leaving none for the snugs.
Coffee Grounds? Don't have them available every day, unless I hit up Starbucks or Dunkin'. Same with egg shells.
Copper wire? I'll trip before any snug trips.
Oat bran? Images of snugs exploding right and left fill my head

I began my snug-fest by using chopsticks and dumping snugs in a salt-filled tray. Someone mentioned that salt kills plants. I read this after I dumped salt on free-range snugs

But it was on crab grass I can afford to lose. I'm protecting my melon patch, toward which the snug army is marching. The largest watermelon is named Sean. I must save him at all costs.
Maybe when the sun comes out, the snugs will retreat and give me some peace. Otherwise, my full-time hobby will be murderess of Japanese Beetles by soap and snugs by salt.
Is there an easier, organic way to fend off snugs where I don't have to be present?
Tomacco
by weezie13 on August 31, 2006 05:04 AM
Diatomaceous Earth *DE*
It's the hard shells of sea creatures crushed up.. and as the slug slides over it, it slits their belly's up and they die or they dehydrate.
*****However you have to be VERY CAREFUL with your use of DE. The fine dust can cause lung problems. It's OK to eat believe it or not *they feed it to animals *like cows* to kill parasites in their feed, but don't breathe it. You should use a mask when applying DE.*****
But this does also kill the good bugs if they happen to slide acrossed it or land on it..
Its indiscrimatory on who's belly it gets...

* * * *
Weezie
Don't forget to be kind to strangers. For some who have
done this have entertained angels without realizing it.
- Bible - Hebrews 13:2



http://photobucket.com/albums/y250/weezie13/
by Bill on August 31, 2006 05:21 AM
Slug control
* * * *

by Tomacco on August 31, 2006 05:58 AM
Weezie & Bill, thanks so much

Good stuff and too true that as long as there are gardens, there will be snugs!
Tomacco aka Garden Warrior
by Tomacco on September 01, 2006 06:42 AM
Well, here's an interesting thing. I now have a pet toad named Stone. He lives under a grass mat I have hanging over my deck railing. Not even 2" long, he's been put out in the garden yet makes his way back to the railing every time. Last night I couldn't find him, panicked with every step I took for fear of a walk-by squishing, yet lo & behold, he was back this morning. I guess he was "out & about."
So I looked up toad food which includes bugs, worms and slugs(!). I have no slugs to give him; I killed them all. Right now, he has a medium-size worm he's using as a head rest, but there seems no joy in eating it. Think I ought to keep him inside for Winter for slug control in Spring?
Tomacco
What kind of toad is this?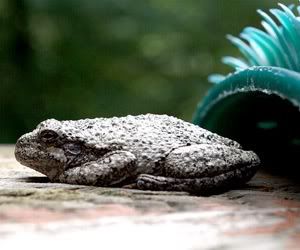 different view here:
http://snipurl.com/vqkt
by Tomacco on September 06, 2006 08:08 AM
by floweringchild on September 06, 2006 09:54 AM
Hi Tomacco

Interesting talk about slugs. I think that's what is getting to many plants in my front and back courtyard. I need to research "slugs" on our site as well. I would prefer to not use chemicals if I can help it. I had heard about the beer thing, but geez, wasting all that beer!

I have lots of coffee grinds. Should I sprinkle along side of my gardens? Many of my plants are potted. What then?
P. S. Your little toad, Stone, is so cute! I sure hope he returns. I recently saw a toad in the front and we've got tree frogs around here!
I have a pic somewhere. I'll have to dig it up and post it for ya'll.
* * * *

by weezie13 on September 06, 2006 10:51 AM
Tomacco,
Sorry to hear about Stone,
but you just never know...
Could be hangin' out at a new eatery or
lightbulb....
* * * *
Weezie
Don't forget to be kind to strangers. For some who have
done this have entertained angels without realizing it.
- Bible - Hebrews 13:2



http://photobucket.com/albums/y250/weezie13/
by Tomacco on September 06, 2006 08:23 PM
floweringchild , I'll let you know if sprinkling coffee grounds (as an alternate to weezie's suggestion of Diatomaceous Earth *DE*) works around the newly planted mums. As soon as I whacked last year's mums back on 4 July, I had nothing but skelibobs the very next morning.
Would love to see your frog

I would imagine for potted plants that coffee grounds would deter snugs just the same. Now that I think about it, DE in the ground soil to slice & dice snugs would probably slice & dice my hands, as I don't wear gloves. However, in a pot, you could simply move the DE out of the way with a spoon and save them (in the case of repotting).
Weezie, I'm sad that Stone is a no-show

My other half would ask if Stone is home, I'd say "not yet" as casually as if the dog were still outside... Frowns all around... Methinks he didn't appreciate being exhibited to visitors. Stone is/was a Gray Tree Frog (the description & habits fit):
http://snipurl.com/w019
http://snipurl.com/hy1b
<--pic
If Stone were a she, perhaps she is down at the brook laying her eggs... I'll post a few more pics in the album today. The wormy one is worth a million$ LOL!
edit: pics posted
* * * *
Tomacco
That coffee was so strong, it swallowed the cream...
http://s98.photobucket.com/albums/l268/Tomacco1/
by patches1414 on September 07, 2006 12:48 AM
I've found using crushed egg shells works great to control slug population around my Hostas and in other places in my garden.

Tomacco, I'm sorry to hear about Stone,

but hope he/she returns home soon.
* * * *


"Lord, I love you and I need you, come into my heart, and bless me, my family, my home, and my friends, in Jesus' name. Amen!"
by floweringchild on September 07, 2006 01:36 AM
Hi tomacco

As promised, a pic of my froggie!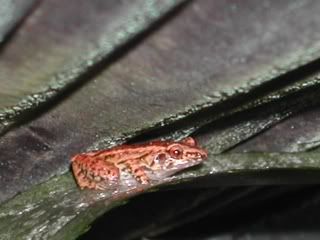 Actually, he/she is a greenhouse frog. I took this pic last year so I doubt he's still around. I do hear them at night though so there may be decendants.
Had tried egg shells sometime back. I now have more potted plants, so I don't think the egg shell thing will help out.

* * * *

by cinta on September 07, 2006 01:48 AM
In order for the coffee to be affective you have to use un-brewed coffee. It is the caffine that effects their nervous system.
USED COFFEE FROM STARBUCKS WILL NOT WORK.
I have tried cheap caffine coffee NOT DECAF and it worked wonders. I have absolutly no slug damage to my hostas.
Also using the coffee you do not have to re-apply because it rains. It washes into the soil and continue to do the job. Great stuff.
Potted plants I sprinkle it around the pot. I would not put a lot in the pot because if a plant does not like acidic soil it may stunt the growth.
* * * *
http://www.flickr.com/photos/audwoman/
If you want the rainbow you have to put up with the rain!!
by Tomacco on September 07, 2006 07:01 PM
floweringchild, too cute and happy! Thanks for posting the pic. I had a ball sprinkling spent grounds yesterday. Even though my hand was filthy, everyone is enjoying the coffee smell in the garden.
cinta, if it deters not one snug, at least I am amending the soil, which is sorely needed in some places, and the worms are having a field day

Tomacco
* * * *
Tomacco
That coffee was so strong, it swallowed the cream...
http://s98.photobucket.com/albums/l268/Tomacco1/
Similar discussions:
Search The Garden Helper: