Baby blind green birds!
Gardening Reference » Gardening in 2006
by ND farm girl on September 05, 2006 01:49 AM
Ok - who mentioned that the canna seedpods look like this!? It's stuck in my head.

I was at my mothers yesterday and she has a lot of the tall red cannas and they have these all over them and everyone who came over I had to tell them about this!

Question... My mom digs these up and stores them over winter, then divides the roots and plants them in the spring - they must not be very hard here in MN/ND. My question is - is the seed pods. How do you use those? Do you wait until they dry completed then pop them open and plant those in the spring too? I popped a poor green blind baby bird open and there were EGGS inside of it!


* * * *
PattyM
by Patty S on September 05, 2006 06:32 AM
Hi Patty!
'Twas I that said Canna seeds look like little green blind birds!
This was the first year I'd ever even seen Cannas, so I have no experience with their seeds,
BUT...
I wouldn't mess with the seeds while they're still green, but rather wait until the "birdies" turn brown...
& start to open their eyes

before picking them off the stems.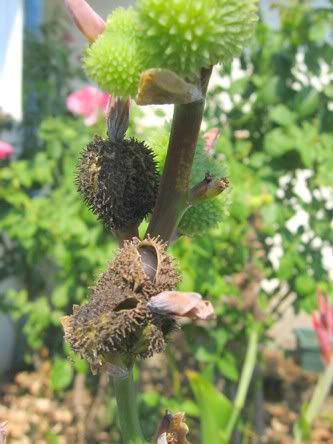 I don't know, myself, if letting seed pods dry while they're still attached to the stems is a "rule", but I figure that it's probably best to wait until plants are finished
(doing whatever they do with seeds while they form & mature)
, before harvesting them.

***Oh Weeeeziee...

...where aarre youuu?**
quote:

---

I popped a poor green blind baby bird open and there were EGGS inside of it!

---
(I thought there would be a lot of smaller seeds in those pods, but when I read what you said, I went outside to see for myself!)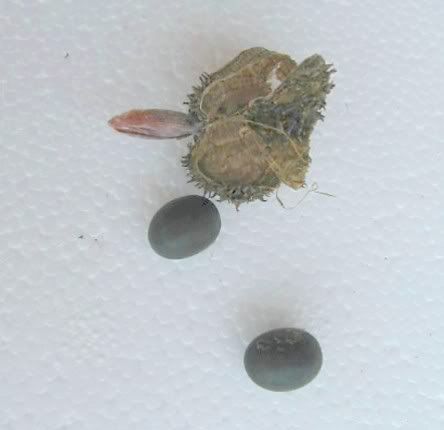 You're right, there ARE "eggs" inside there... only one, in each cheek/head/whatever!
Answer... (I wouldn't think that
anything
would be hardy enough to survive MN/ND winters! I was raised in Billings, MT & I'm surprised that we didn't have to dig our lawns up in the wintertime, because it freezes so hard... & I know that you get LOTS colder over there, than Billings!) Guess I didn't have to say that, to lead up to telling you... Yes, you'd probably better wait & plant those seeds in the springtime, after your dirt thaws out!
If you remember, Lynne commented that,
quote:

---

Triss nor I could get them to germinate over winter..... We both started them indoors - I think around January or February. I had read that you need to slice into the hard outer coating til you see the white inside - that was not an easy task at all, but even after doing that, and soaking them as was recommended, none of them germinated.

---
That makes me wonder if Canna seeds need to be soaked, scarified AND stratified. (???)
Couldn't hurt, I suppose!
(Again.... ***Oh Weeeeziee...

...where aarre youuu?**)
quote:

---

...and everyone who came over I had to tell them about this!

---
You sound like me! I'm new at flower gardening, & I think that everybody in the world already knows all the things I keep discovering. Still, every time I come across something "new",
everybody
has to hear about it or see it! I get the
"looks"
, & I'm sure that my friends think I'm
beyond crazy
, but since I moved to Oregon, where EVERYTHING grows
...& doesn't know when to stop
, there's been a fire under me... & I don't know when to stop, either!
(Can you tell?!)
* * * *


by ND farm girl on September 05, 2006 09:49 AM
I am laughing at loud at your little graemlins or whatever you call them. I've been the same way - people/friends/family just roll their eyes - some of them listen though (!) at my excitment with my new love of gardening!

Dig up the grass before winter - that's funny. There's not many plants I have to dig up - gladiolas and the cannas are really the only things - so far!

* * * *
PattyM

by Patty S on September 06, 2006 01:36 AM
Come to think of it, the Rhubarb, all the trees & the Peonies always showed up in the same place every year, in Billings...
& so did the grass
!

So, I guess those things don't need to come up in the winter!
(I don't have to bring ANYTHING up, living here!)
I couldn't "bother" with flowers when we lived in Montana because the growing season was so short that it was all I could do to get veggies in & harvested & canned between frosts! (I was raised in Billings for my first 12 years, then many years later I met & married a Montana boy & moved to his home town in the NW corner of the state.) I couldn't plant outdoors up there until after school was out in the spring, then things had to grow fast because we had to bring everything in as soon as school started in the fall!
(I'm talking 90 days, MAX growing season!)
Until we moved to Oregon I'd never heard of planting in March & harvesting in November... but I'm loving it! I'm just so thrilled to be able to grow melons & some of the veggies that I'd never dared to try before!

I joined a garden club here, & I'm sure the gals there think I'm crazy, cuz I ask such stupid questions & get excited over things that are so "every-day" to them! I'm always picking their brains, but I get a lot more information here, than I do from them.

I'd never even heard of a canna lily before this year... had these things growing along side the house when we moved here 3 years ago & couldn't figure out what they were! There were other lilies growing here & there, so I dug all of them up & put them in a garden bed under our front window, so I could keep track of them! (I've decided that I LOVE Lilies!)
I've been thinking about what Lynne said about having poor results from the canna seeds that she & Triss started... I don't recal seeing a whole lot of bees & butterflies around them, so I'm wondering if the plant might just make seeds for the sake of making seeds, & that it doesn't mean they're necessarily all viable!

(Did you know that an Iris doesn't make seeds unless it's been pollinated... so they're ALL viable? Interesting, huh?)
Anyway, my daughter-in-law wants the "blind bird" seeds from my Cannas, & since there are so many, we'll have to play around with them & see if we can figure out what the best way is, to get them to germinate.
Good luck with yours, Patty!
* * * *


by plants 'n pots on September 06, 2006 02:05 AM
Patty - I have TONS of bees on my canna flowers, so I don't think that's the problem here. I hope you do have success with your seeds, so you can share your info with us!!!
* * * *


Lynne's knitting journal
"I'm spayed, declawed, and housebound - how's YOUR day going???"
Search The Garden Helper: