Cineraria
Willy's Place » Wallpaper of the Day
by Bill on July 25, 2003 04:25 AM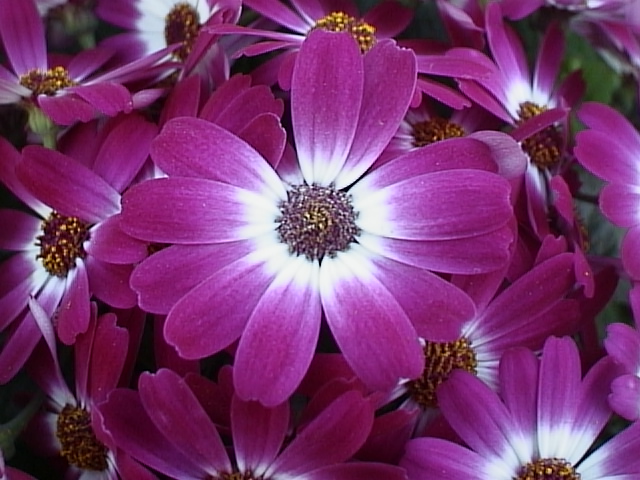 Cinerarias are most commonly grown as House Plants, but require cool night temperatures if you want an extended blooming period. They prefer to be somewhat rootbound. They can be grown as an annual and will reseed themselves in a cool, shady area of the garden. They are not suited for hot dry climates....
The plants grow to 12-15" tall but C. stellata may reach 30", the flowers are 3-5" and can be found in shades of red, pink, purple, blue or white...
More about growing Cineraria plants
* * * *

by weezie13 on July 25, 2003 04:28 AM
Bill,
That's a very pretty colored flower?
I'll have to look those up.
Nothing around here like that.
But I can't tell if are they daisy's?
Weezie
* * * *
Weezie
Don't forget to be kind to strangers. For some who have
done this have entertained angels without realizing it.
- Bible - Hebrews 13:2



http://photobucket.com/albums/y250/weezie13/
by Carol5270 on July 25, 2003 08:01 AM
Your pictures are so beautiful, Bill! You've inspired me. Now all my flowers have to pose for closeups! Am really enjoying taking pictures of them.

* * * *

Gardeners know the best dirt.
by weezie13 on July 26, 2003 04:03 AM
Carol,
I've been thinking the same thing.
I have a digital and need to figure out how
to use the macro I guess it's called,
take close ups with it. I used to have a 110 and it had a lens that would telescope out and it was so nice for potraits. I love the digital now though, no going to get them developed and not tons of pictures laying around and not having to put them in an album.
But I'm going around looking, oh, that would be a nice picture, oh, even that would be a nice picture. I've got to go take a picture of my raised veggie bed and post it too. Just keep forgetting the camera and when I go to get it, someone comes over, the babies' doing something he shouldn't be doing, I find some bugs to get after and forget what I was going for, you know the usual....I get side tracked!!!
Weezie


* * * *
Weezie
Don't forget to be kind to strangers. For some who have
done this have entertained angels without realizing it.
- Bible - Hebrews 13:2



http://photobucket.com/albums/y250/weezie13/
by Bill on July 26, 2003 07:28 AM
I'm very happy that I have inspired you to save the beauty of your flowers. When I was still married I used to
beg
my ex to photograph the cacti flowers in the greenhouses. She was always too busy to oblidge, and of course I wasn't competent enough to use her camera so now I can only rely on my memory to
try
to explain the beauty I enjoyed. I wish that I could show you what I used to enjoy every day.
Unfortunately, we all lose our plants over time, so if you get the chance to save the beauty that Mother Nature let you enjoy, by all means try to catch it on film or with your digital camera. That way you will always be able to share what you've grown, regardless of the season or the status of the plant.
Getting your flower to "pose" for you sounds a lot easier than it is. As with all art, the beauty may be in the eye of the beholder and sometimes the photos you take may be far below the image quality you hoped for, but at least you will be able to look back and remember why you liked the flower so well. If you're lucky enough to have a digital camera, don't be afraid to snap a dozen or more pictures of the same flower from different angles and at different times of the day. Lighting can be critical in accomplishing the effect you desire, as well as a myriad of other outside influences. That's how I have managed to accrue over 11,000 photos in my collection. Maybe, if I'm lucky I have 500 of what I consider to be
good
photos in my collection, but even a bad picture is better than no picture at all.
I have kicked myself more times than I care to remember for not thinking ahead and photographing my new gardens
before
they became gardens. Usually I am half way done with my project when I realize that I didn't catch a pix of the area when it was a blackberry bramble... but by then it is too late.

If you are creating a new garden, snap a few pix before you start.... It may seem pointless when the garden is first finished, but 20 years from now it may be hard to get your visitors to realize how much effort went into your creation! Show them what it took to create your work of art.
Another bad habit I have is to concentrate my picture taking on the blooms alone. While these make for great pictures, they lack in their usability for identification purposes. Try to take at least a couple of photos that depict the plant in its entirety so that the viewer also knows what the foliage looks like, as well as the stature of the plant.
I don't claim to be a great photographer, but I've learned a lot through trial and error. These are only a few of the things I've learned...

* * * *

by Carol5270 on July 26, 2003 09:30 AM
Thanks, Bill for the tips. Years ago I began to take pictures of cut flowers anyone would give me so that I could keep them forever. Took me awhile to realize that I could do the same thing with flowers I had grown. We live and learn and learn and learn, at least I hope to continue learning.

* * * *

Gardeners know the best dirt.
Search The Garden Helper: