four o'clocks
Gardening Reference » Gardening in 2006
by kennyso on August 04, 2006 02:34 AM
Silly me, I've had a neighbourgh (the street behind us) grow pink four o'clocks on her front lawn in a giant pot all this time and I've been looking for the seeds, well, now I know where to get the pink ones! Everyone who sent me all those different colours of four o'clocks: thank you so much! Now the question that comes to mind is: how do I grow these

? I tossed them into the ground this year and watered them, nothing sprouted, tried to start them in paper towels, they just grow mould and never germinated. I tried starting them inside a few weeks before the last frost, they didn't sprout! I surface sowed some and covered some, and kept them all warm (next to the air vent) and kept them moist, still nothing

! I've even tried to sow a few of those now outisde (figuring this hot weather might help) over a week ago, but still nothing (they're only supposeed to take five days). Anyone offer any help? Good thing I didn't try sowing all the seeds that I received just now or else I wouldn't have any left for next year! Thanks guys!
* * * *


Blessed are the meek, for they shall possess the earth
My Website
My Blog
by ServantsHeart2003 on August 04, 2006 04:51 AM
It is easy--if you know how!! The way the plant would sow them--they drop to the ground and get partially imbedded--then they grow. Takes a little while maybe but they should grow. Just push sideways into the soil about halfway--not covered and not setting ontop loose. Water just to moisten everyday unil they grow. Good luck!! If you can't get any to grow, ask your neighbor if you can break/clip a piece off of her plant and stick it in soil and keep soil moist. It will root and grow. These are Perennial by the way so will come back year after year. LMK if you need plants. I am getting ready to cut back my huge Pink & White bush. Email or PM me if you need some cuttings and I will root some for you. Bonnie
* * * *
My Site
http://www.freewebs.com/froglver/
by comfrey on August 04, 2006 05:34 AM
These are a Tender Perennial (Usually grown as an annual). So anywhere where it freezes it will not survive. They produce tubers that can be dug in the fall and planted again the following spring after the last chance of frost.
* * * *


by TulsaRose on August 04, 2006 11:34 AM
Four O'clocks overwinter here, comfrey. I dug up an old tuber this spring to move to a new location and it was huge. I've had them for years and they make it just fine. I know they are a tender perennial in colder climates but once established here, they don't have to be dug for the winter. I use very little mulch and in some beds, they have no protection. I love them so much and hope to always have them all over the place.

This plant is about five yrs old and the main stalk is almost as big around as my wrist...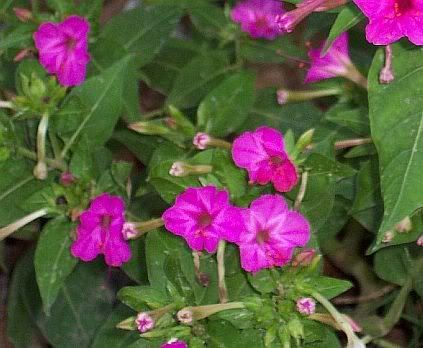 * * * *
Rosie z7a


by Squirrel on August 04, 2006 12:21 PM
Pretty color!!!! WOW that is some stalk. Thanks for sharing. Sue
* * * *


What goes around comes around, so be nice!lol
by kennyso on August 04, 2006 12:29 PM
That's so beautiful, now I'm really jealous and want a four o'clock!
* * * *


Blessed are the meek, for they shall possess the earth
My Website
My Blog
by D on August 04, 2006 01:56 PM
I had real good results this year w/my 4o'clocks. They grew major stalks too and I was able to collect a good amount of seeds till I just gave up and let the red birds have them all. I also moved some of they smaller plants in hopes of producing a boarder along the fence line. The colors I have are mixed including the fushia color above, white ones, yellow and some very pretty light pink. I was also able to give numerous seedlings to my son in law (who is now hooked on gardening) The evening fragrance is awesome. My question to every and anyone is do I have to dig up the tuber when they die out? I have mulched very well and dont really look forward to that chore. Except for a few days of what we consider "cold" here in Texas it was basically a mild winter. Maybe I'll take my chances.
by TulsaRose on August 04, 2006 10:55 PM
D, you won't have any problem with your Fours overwintering there. The tubers will just keep getting larger as they age. If you get a hard frost, you'll probably lose the foliage but the tubers will be A-OK in the ground.
Here is a sampling of a few of the Fours I grow...

I also have two different shades of solid yellow, pure white, white with lavender streaks, white with pink freckles, pale coral, darker shade of orange I call Tangerine, etc. The broken-colors are really fun because you will see so many different "looks" on a single plant. I joke with the neighbors that the Fours are having an identity crisis. lol!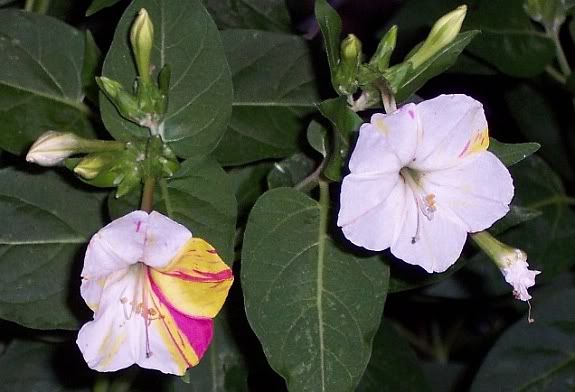 * * * *
Rosie z7a


by kennyso on August 05, 2006 12:02 AM
so beautiful! I never knew that there were so many types of broken colour!
* * * *


Blessed are the meek, for they shall possess the earth
My Website
My Blog
Similar discussions:
Search The Garden Helper: