Purple Plant...
Gardening Reference » Gardening in 2006
by LandOfOz on July 07, 2006 10:50 AM
I'm looking for planting something under my apricot tree. I remember reading something about a purple plant--I'm not sure if it flowered, but the foliage was purpley. I thought I read that does well in the shade and possibly also drought tolerant. I think it was here that I read about it. I did a few searches but couldn't find it. Does anyone remember this plant or know what I'm talking about?? I'm not even sure if it would work under the tree...
Does anyone have any suggestions for what I could grow that is idiot proof

, drought tolerant (hose doesn't reach this area very well), likes at least partial shade, does well in rather hot summers, and doesn't mind being stepped on in June (that's optional, I could always put in some stepping stones for harvesting apricots).
Thanks!!
* * * *

Sarah - Zone 5b/6
by TulsaRose on July 07, 2006 12:26 PM
Sarah, my favorite plants that are mostly purple are the Persian Shields (Strobilanthes Dyerianus but they are water guzzlers. They do very well in the heat, shade, all your other requirements but they do need fairly moist soil to make it through the hot part of summer.
* * * *
Rosie z7a


by LandOfOz on July 07, 2006 02:30 PM
Those are gorgeous! I loooove them! Are they invasive?? I want something that will take over all the dirt where something should be growing!! I don't think that was the plant I was thinking of, but it sure is a beauty!
* * * *

Sarah - Zone 5b/6
by Jiffymouse on July 07, 2006 02:30 PM
purple heart (Tradescantia pallida, Setcreasea purpurea). it is purple, not quite viney, makes good ground cover and has tiny lavender blooms...
this picture is from texas a&m university's interiorscape page
by LandOfOz on July 07, 2006 02:34 PM
Oh, Wow, that one is beautiful too! Didn't know that purple was such a common/well known color for plants. Beautiful. I'm already considering getting more than one kind of purple plant for under that tree!
* * * *

Sarah - Zone 5b/6
by Tonya on July 08, 2006 04:36 AM
my neighbor uses this for groundcover...i know it tolerates being walked on quite well and also tolerates heat/drought here...If you like it, I will ask her the name-it is escaping me right now

* * * *


Bote and Babe's World
by LandOfOz on July 08, 2006 11:10 AM
Tonya, I'm definately interested, what is that?
Well, after about an hour of searching I finally found the plant I was talking about. It's called ajuga reptiens (or something like that). Does anyone have any experience growing that in a cooler climate? I'm in zone 6-ish and would rather not have to replant every spring...although I am willing to do it. I'm now thinking of doing my first very own flower bed--just shade-loving, purple plants. Any other suggestions would be appreciated!!
Thanks everyone!
Sarah
* * * *

Sarah - Zone 5b/6
by Tonya on July 08, 2006 02:14 PM
I will ask my neighbor tomorrow what the name of that is...maybe she will give me a cutting...It has almost taken over her yard!
I'll post the name tomorrow! Here is another pic....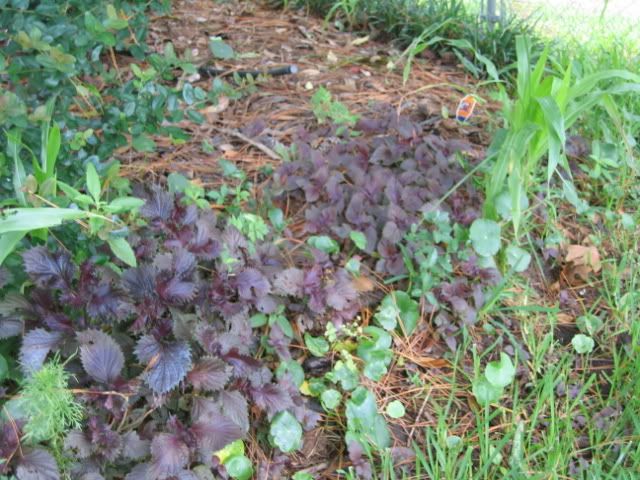 * * * *


Bote and Babe's World
by RugbyHukr on July 08, 2006 02:36 PM
ajuga is great for zone 6. it will spread nicely for you. part to full shade is best. water it regularly until established.
* * * *

I love the sweet scents wafting in the breeze. I stop to admire the vibrant colors of all living things. And people think me odd. Then ODD I am!!!
http://community.webshots.com/user/flugnash
by LandOfOz on July 15, 2006 05:35 AM
Tonya, that is exactly what I need--something that will take over the yard. For some reason grass doesn't grow anywhere over on that side of the yard, so I've got a good 40x15 area that it can take over!!
Thanks for the info rugbyhukr, I need all I can get!
* * * *

Sarah - Zone 5b/6
by tamara on July 15, 2006 03:21 PM
Try Coral bells~palace purple.
* * * *

Tamara's Photos
Thinking Spring, Thinking Spring...Nope, doesn't work.lol
by Deborah L. on July 15, 2006 05:53 PM
Violets will take over too, and perfume the air on warm days. Not a purple plant though, but the flowers are anyway.
I wouldn't care if my violets came through the door and crawled around in the house ! Love 'em !
* * * *


by LandOfOz on July 23, 2006 07:20 AM
Thanks for all the imput guys! I can't wait to get some plants started...although it maybe too late to realistically expect much from them this year. Maybe I will get them going in pots and overwinter them. thanks Again!
* * * *

Sarah - Zone 5b/6
Search The Garden Helper: