Hoya Carnosa, The "Rope" Plant
Gardening Reference » Gardening in 2006
by Pekemom on August 23, 2006 02:27 AM
Well, as life would have it, we were too busy to make it to the bonsai store. Maybe later in the week. But in the plant department of our local supermarket, I found a very unusual plant hidden behind a cart marked "Today's Specials."
Here's my new
Hoya
or rope plant. I'm very excited to have found it. Having just learned that it also blooms, is an unexpected plus.
Have you all seen these before? I've got it near a window with indirect light, watering sparingly and misting daily. Any advice appreciated!
* * * *





Pekemom's Gallery
by Dixie Angel on August 23, 2006 02:43 AM
Pekemom, if you do a search on the forum for hoyas, you will find lots of information. Those things are beautiful...
Dianna
* * * *

by Pekemom on August 23, 2006 02:51 AM
Thanks, Dianna. I did a search and found lots of info here! I didn't realize there were so many varieties. Just what I need...another collection!


* * * *





Pekemom's Gallery
by TulsaRose on August 24, 2006 12:27 AM
PM, that's a gorgeous, healthy Hoya...one of the prettiest I've ever seen.

Why don't I ever find "Specials" like that? lol! I need to pay closer attention to house plants next time I'm at the nursery.
Your pictures are so sharp and clear...what kind of camera are you using?
* * * *
Rosie z7a


by angelblossom on August 24, 2006 12:10 PM
Pekemom I have looked for a couple of years to find that plant!! They are awesome!!! Thanks for the picture,,, I want one

I'll keep looking>>>>>>>>>>>>>>!
* * * *


Sorrow looks back, Worry looks around, Faith looks up!


http://photobucket.com/albums/e374/2thtek/


by gardeningmomma on August 24, 2006 03:01 PM
Your plant is gorgeous!
by comfrey on August 24, 2006 03:51 PM
A very nice find Pekemom!!!!
* * * *


by DowntoEarth on August 26, 2006 06:12 AM
Nice Hindu Hoya! (compacta) Sometimes it pays off to peek in dark corners! Here's one of the flowers on my hindu.
Hoya compacta flower
by Pekemom on August 26, 2006 06:26 AM
Thanks, Everyone!! I just love my rope plant! The bloom is FANTASTIC on your hoya, DowntoEarth...Now I'm REALLY REALLY motivated to cultivate some blooms.
Rosie, quick camera story for you. I have a three year old
Fuji, 3 megapixels.
Thinking I had to upgrade it, I bought an Olympus 8 megapixels, which I had been using UNHAPPILY for a year. I never could master the Olympus, even tho it was lightweight and more portable than my Fuji. I guess the last straw came when my daughter Lisa had a college graduation. I couldn't get the Olympus focused right, and TOTALLY missed the shots all night.
Recently, a new neighbor moved in, who is a photography buff. She has the upgraded
(S7000)
to my S5000. She was the one who prompted me to revisit my 3 megapixel Fuji, and now that's all I'm using, happily. We're signed up for a photography course the end of September, where the instructors work with you and the camera you have. So, I'm hopeful my photography will improve further.
Note: Links are to current models. Our original models are no longer in production.
* * * *





Pekemom's Gallery
by comfrey on August 26, 2006 05:13 PM
Wow what beautiful flowers on your hoya DowntoEarth.
* * * *


by DowntoEarth on August 27, 2006 09:39 AM
Thank you Pekemom and
comfrey!
I have had this plant for a few years now, and this was the very first time it's ever flowered!

by TulsaRose on August 27, 2006 11:06 PM
Thanks for the camera info, PM.

I bought 3mpx Kodak's for both of my daughters and their cameras take just as good pictures as my 5.1mpx. However, I have more bells and whistles so I can get more variety of shots. My biggest failure was in not paying attention to the zoom feature. Mine has 3x and I should have gotten the 10x. I can compensate for that to a degree by using the Landscape Mode but that isn't always good either if I'm not perfectly still. End up with lots of fuzzy pictures.

I shoot most of mine in Sports Mode (stop action) with zoom at 3x. I don't plan to upgrade anytime soon but I still go back to the manual and try to learn new tricks. I hadn't thought about taking any classes...that's a good idea.
I have picked up some good tips at
School of Photography Free Tips.
If you take their online courses, there are fees but you can browse the website and find lots of other information.

I snagged this shot of Randy Rabbit yesterday using the Landscape Mode (for distance) from about 40' away. He had been stretched out, taking a nap when I interrupted him. lol!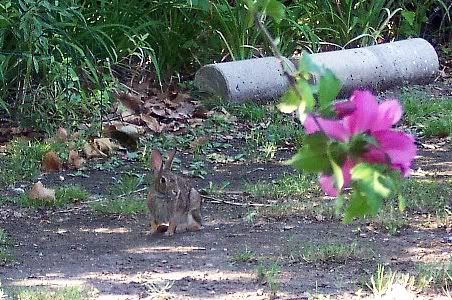 * * * *
Rosie z7a


by Pekemom on August 28, 2006 03:19 AM
What a precious shot, Rosie!! Randy is a clear as a bell, and he is so alert! Looks like he's contemplating going in a new direction!!
Thanks for the link. I will totally check it out. The zoom is a handy feature. Can you use any added lenses on your digicam to increase the zoom?
quote:

---

I shoot most of mine in Sports Mode (stop action) with zoom at 3x

---
How does that help? Maybe I should be shooting in Sports Mode too. Yesterday, we watched our ten year old grandson in his season-first football game. I didn't even think about using Sports mode. What does that do? Enable quicker pictures? Anyway, we should probably start a little camera thread to help one another.
~Nikki
* * * *





Pekemom's Gallery
by TulsaRose on August 28, 2006 04:20 AM
PM, the Sports Mode actually stops the action as you shoot. I have to use it a lot or I would never get decent pictures...I get too excited and shake a lot. lol! It would definitely be good to use at the football games.
I bought a macro lens and adapter from Kodak and haven't used it but once or twice. I was getting better pictures using Sports Mode\max zoom and standing about 2' - 3' away from the subject. Then crop the picture down to the subject and it looks just like a macro.

I'm thinking about buying the Zoom lens but can't decide which one at this time. I think they have two sizes available for my camera.
Randy and several of his half-siblings have the run of the backyard except when the dog is out. If she is in the house, the rabbits aren't too spooky around me.
Have a great Sunday...
* * * *
Rosie z7a


by dodge on September 14, 2006 08:04 AM
Anyone want to send me a cutting of the Hoya Plant????? I have many to choose from. Like a cutting of my fuzzy Kalanchoe.........
or christmas cactus.....Galore..or indoor vines.
Let me know.
Love they rope plant. Never had one.
dodge


* * * *

''''Those who live in the Lord Never See Each Other For The Last Time!''''
by njoynit on September 20, 2006 10:08 PM
This is the big one I have.Its not bloomed for me.It also helps knowing what it is too.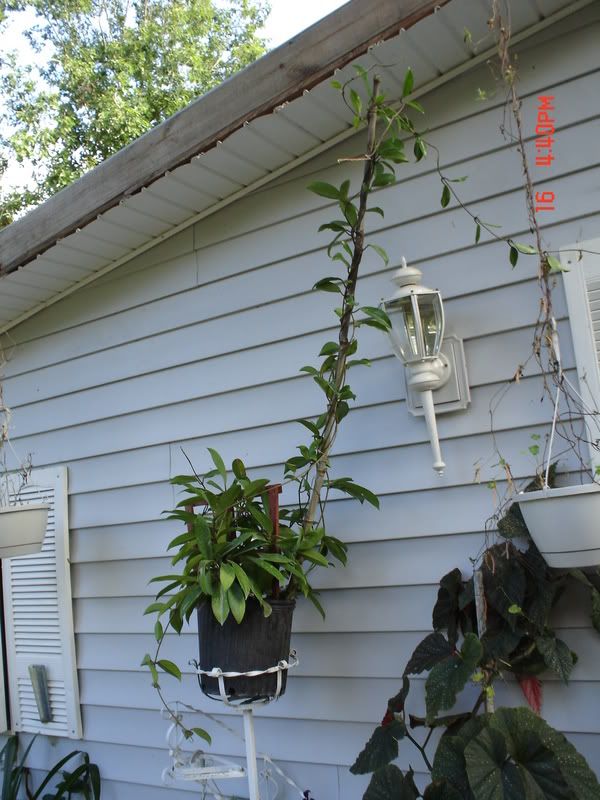 I have a carnosa type one.it has pink tints to the newer leaves.its still small.It has done better since not growing in coffee pot.
Dodge.....I"D be intrested!I like your kalonchoe!!!!!!!!!!!!!!!I still have your addy somewhere's on my desk & I'm sure you'd like to trade some more seeds too!
* * * *


I will age ungracefully until I become an old woman in a small garden..doing whatever the Hell I want!
http://community.webshots.com/user/njoynit03
http://community.webshots.com/user/njoynit
http://photos.yahoo.com/njoynit03
Search The Garden Helper: