ponytail palm/elephant plant
Gardening Reference » Gardening in 2006
by obezanna on July 13, 2006 07:04 PM
I was wondering if anyone has a ponytail palm. It's also called a bottle plant or elephant plant. I got mine about a month ago and the fronds keep breaking and cracking about 4-5 inches from the top. I know that it's a succulent, and so I have it in well draining soil and water it about every two weeks. Any ideas?
by Jiffymouse on July 14, 2006 06:33 AM
no clue. i've had mine a couple of months and it is great. i don't do much with it, other than it is in the kitchen where it stays moist, but i don't water it very often. i know they mail really well!!!
by margaret e. pell on July 15, 2006 03:05 AM
I don't know about them, either, but here are some interesting sites with some info and pics. The one growing outdoors (middle site) is impressive. How are you going to keep that in your livingroom?
http://www.plantoftheweek.org/week191.shtml
http://www.desert-tropicals.com/Plants/Agavaceae/Beaucarnea_recurvata.html
http://www.bihrmann.com/caudiciforms/subs/bea-rec-sub.asp
* * * *

may God bless the WHOLE world!
by Mrs.Bradley on July 15, 2006 03:53 AM
Hey,Obezanna,
I have had my ponytail palm for about 3 years now...it is literally teetering on top of the soil in its pot,but still living!sounds bad of me.,I know. I would like to plant it in the garden,but still looking for just the right spot!
the little bulb in the soil is like a camel hump. it holds water for a long time.they like full sun,but will live just about anywhere. I only water mine about every week and a half to 2 weeks.pretty little plant that is pretty darn hardy! hope that helps.
* * * *

by obezanna on July 15, 2006 07:38 AM
Thanks! I think my problem is probably over watering. I moved it outside so it'll get more sun & heat. It is very hot here! And don't worry Margaret! My little tree is only about 2 feet tall. One of the links you posted said that they only grow 8 feet in a pot. So thanks everyone for the great info!

Lisa
by Longy on July 15, 2006 09:55 AM
I have a half dozen of these Lisa and i don't water them at all. They survive on the rain and we haven't had much for the last few years. I have one in a half wine barrel and found it was dropping leaves regularly and i put it down to excessive water. So now it gets none and it is definitely in better condition because of it.
Also, ensure you didn't plant it too deep. The top half of the 'ball' should be above ground level, or even more can be exposed if you like.
* * * *

The secret is the soil.
by angelblossom on July 15, 2006 10:34 AM
Lisa I've had mine for over 26 years and I don't water it to often - tho I do mist it heavily 3 times a week I used to take mine out in the spring but the summmers got too hot here so the last two years I haven't taken it outside at all and it seems very happy it sits "near" a south window
maybe it's time for me to get a taller pedestal

* * * *


Sorrow looks back, Worry looks around, Faith looks up!


http://photobucket.com/albums/e374/2thtek/


by njoynit on July 16, 2006 03:08 AM
mine gets some sunlight but is filtered hottest part of day& I cold greenhoouse it in the winter.Its basically protected from frost& don't sit in freezeing temps,but its not a sheet canidate when we get freezes(mostly a size thing)Hubby about killed it in the spring.He set a bowl of pine cleaner on railing and it rained.he killed my other pony tail type palm,but I'm useing its pot as a canna seed nursey and is a small green bump that i'm watching for life.
http://pg.photos.yahoo.com/ph/njoynit03/detail?.dir=e05f&.dnm=715c.jpg&.src=ph
http://pg.photos.yahoo.com/ph/njoynit03/detail?.dir=e05f&.dnm=715c.jpg&.src=ph
you can't see it very well,but the one still kicking is behind it.I'll get a shot of my other ponytail.I have a spider plant and red kolonchoe that grow at its base.I've not had it flower yet either.
* * * *


I will age ungracefully until I become an old woman in a small garden..doing whatever the Hell I want!
http://community.webshots.com/user/njoynit03
http://community.webshots.com/user/njoynit
http://photos.yahoo.com/njoynit03
by njoynit on July 17, 2006 02:16 PM
Here is a current shot of the one that recovered.you'd never know it was posioned almost........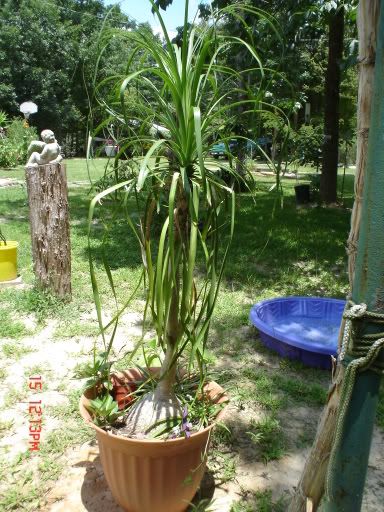 I've had it for 2 years.I'm unsure how long my neighbor had it.I repotted both of them when I got them.
* * * *


I will age ungracefully until I become an old woman in a small garden..doing whatever the Hell I want!
http://community.webshots.com/user/njoynit03
http://community.webshots.com/user/njoynit
http://photos.yahoo.com/njoynit03
Search The Garden Helper: