It's me again, margaret...
Gardening Reference » Gardening in 2006
by Tonya on June 08, 2006 10:02 AM
Here are the Aloes that my neighbor gave me. She got them from a nursery that was throwing them away because they were frosted on. She kept them inside in a dark corner and I think forgot to water them for the winter. I re-potted and watered thoroughly the first time and sparingly since. In the month that I have had them, the one in the bug pot has done wonderfuly- gaining color and new sprouts. The other is a baby from that plant. It's color hasn't changed and it doesn't seem to be doing better or worse. Any suggestions? The only difference between them is the baby is outside in full sun and the mother plant is inside in my kitchen window.

* * * *


Bote and Babe's World
by Tonya on June 08, 2006 10:06 AM
Here is the mother plant...
And the baby- see how pale.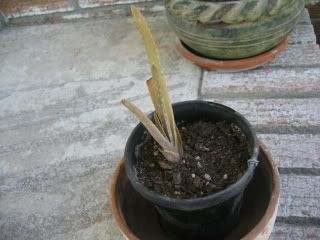 Or is that normal for outside?
* * * *


Bote and Babe's World
by plants 'n pots on June 08, 2006 11:55 AM
Tonya - great rescue, and the indoor ones look great!
The one outdoors looks very sunburned.
They don't like to be in direct sun, so if you can shade it a bit I bet it will do better for you.
* * * *


Lynne's knitting journal
"I'm spayed, declawed, and housebound - how's YOUR day going???"
by Tonya on June 08, 2006 03:46 PM
I have kept it in partial sun and moved it to that over a period of a week or so. We have had some really strong UV warnings, tho...I may just have to find a place for it inside.
* * * *


Bote and Babe's World
by margaret e. pell on June 09, 2006 01:43 AM
I think it's just suntan, not burn. My Vera look like that now. I still believe they like/want/need the sun. Look where they come from! The Canary Islands are = lattitude with cent. Florida and a LOT drier. I think both pots show healthy aloe. The baby, grown 'hard' outdoors, will show change and growth much more slowly, and it's probably working on roots right now.
* * * *

may God bless the WHOLE world!
by Tonya on June 10, 2006 01:49 AM
I have noticed that the "leaves" are feeling fuller on the baby lately. It seems pretty happy, thanks to you!! I am going to leave it outside and slowly keep moving it to full sun!

* * * *


Bote and Babe's World
by Amany on June 12, 2006 01:45 PM
So suntan is normal...

I was worried about my aloe. I had it in an east-facing window and it became a light brown color. But it had started new growth from the center, so maybe it was ok where it was.

I had moved it about 8 or so inches away from where it was. Maybe I'll put it back now.
by margaret e. pell on June 12, 2006 02:51 PM
Yes, aloe vera want direct sun and they suntan when they get it. It's normal and natural. I have a few others that turn red in the sun. I think they're prettier.
* * * *

may God bless the WHOLE world!
Search The Garden Helper: