hoyas need help
Gardening Reference » Gardening in 2006
by Jessie on June 05, 2006 05:34 AM
I've had my hoyas outdoors and the leaves are hot to the touch and turning yellow. I just brought them indoors, is there something I can do for them??? I love them and don't want to see them die. Any suggestions???

* * * *
Jessie
by margaret e. pell on June 05, 2006 06:35 AM
This is sunburn in the plant world. The yellowing leaves will fall off, there's nothing to be done about that. The plants themselves should have no major problems, and will put out new leaves. Some of the vine tips may die, too. It may take a year or more to look like nothing ever happened to it, but it will get there. I have a hoya that goes out in the summer and I have to wait until June when the trees have leafed out so I have shade. And I live in cloudy, rainy, yucky New York! Florida sun may be too much for any hoya, and certainly hours of direct sun are! But don't worry, you didn't kill them. How long have you had them? What kind of hoya? How big are they?
* * * *

may God bless the WHOLE world!
by bettyboop1948 on June 07, 2006 01:58 AM
Here is one of my hoya plants
I have a few of them have mine hanging outside too
but they are doing great.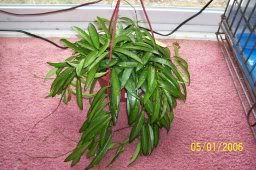 these are 2 of mine
but i have them hanging where they get some sun and shade
bettyboop1948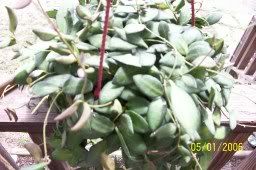 by Jessie on June 07, 2006 08:22 AM
Those are beautiful hoyas you have! I think mine just couldn't handle the Florida sun. It's like being at the equator right now! I brought mine indoors for now, they are hanging in a window until it cools down a bit, or until I build a little greenhouse for them.

* * * *
Jessie

Similar discussions:
Search The Garden Helper: