magnolias?
Gardening Reference » Gardening in 2006
by ND farm girl on August 30, 2006 11:44 AM
I was thinking of planting a few new trees this fall. Does anyone have a magnolia tree and do you like them? I have found a couple that are hardy for zone 4 where I am. Sunsation and YellowBird.

* * * *
PattyM

by ND farm girl on August 30, 2006 12:01 PM
Hmmm - on second thought, maybe magnolias aren't hardy enough for zone 4. I have been looking and most of them say zone 5. Wayside Gardens has them for sale and say zone 3. I don't know. I'm looking to plant 2 new trees in the front yard...I have mostly evergreens around the farm, have to remove 2 from the front yard because they are dying, and 2 years ago lost a weeping willow due to a new well that was dug. I have never planted a tree and just don't know what to plant.
Hard to see the front yard - but kinda gives you an idea of what I have. I want something that will blend, but different, and have some color in the fall. ??
* * * *
PattyM
by TulsaRose on August 30, 2006 11:21 PM
Patty, have you thought about some type of understory tree like a Dogwood or Redbud? They are nice small trees that bloom in the spring.
* * * *
Rosie z7a


by dodge on September 04, 2006 03:10 AM
Magnolia
Is a tree suited for florida ...
Not cold ..
dodge
* * * *

''''Those who live in the Lord Never See Each Other For The Last Time!''''
by RugbyHukr on September 04, 2006 05:36 AM
magnolias are tolerant of heat, especially southern magnolia & leonard messel. but they are cold hardy also. we have tons of magnolia all over WV & PA.
for flowers and fall color check into cotinus 'smoke tree', brilliant orange in fall.
also, bradford pears, cherry, flowering crabapple,
maples are great for fall color.
* * * *

I love the sweet scents wafting in the breeze. I stop to admire the vibrant colors of all living things. And people think me odd. Then ODD I am!!!
http://community.webshots.com/user/flugnash
by buzylady on September 04, 2006 06:38 AM
ND Farmgirl
Is that pic of your farm? That is great how did you get that pic? If that IS your farm you have a beautiful place.
* * * *
buzz buzz buzz


http://s86.photobucket.com/albums/k103/Di_06/
by ND farm girl on September 05, 2006 01:44 AM
Buz - yep, that's my home sweet home. Been here for about 10 years, just now starting to DIG IN the yard!

My husband has a plane - owns it with a few other guys. We had pictures taken of all the farms around Page for a book for the 125th anniversary next summer.

* * * *
PattyM

by netty on September 12, 2006 05:38 AM
ND farm girl - there is a Magnolia where I work that is gorgeous in the spring. (zone 5) I have seen a few that were hardy to zone 4 but can't remember the names. I think that a garden center in your area selling Magnolia's would only sell ones hardy enough. I'd check it out!
* * * *


by slredmond on September 12, 2006 10:00 PM
Wow - absolutely gorgeous setting. What a beautiful wooded area surrounding the home and barns.
You should be able to find one hardy in your zone. We have a big old magnolia here in our Zone 5. Not sure it's species but it's a old-timer.
Magnolia
Here's a closeup of the blooms.
Magnolia Bloom
Another family in town has one they call "Cucumber Magnolia" but it may not be the style you're looking for.
Cucumber Magnolia
* * * *
Sandy R.
by dodge on September 12, 2006 10:27 PM
Holy toledo,
gorgous setting an colors.
thanks for sharing.
dodge
* * * *

''''Those who live in the Lord Never See Each Other For The Last Time!''''
by carynawalt on October 05, 2006 11:42 PM
hello from madill, ok. i have a southern magnolia, i live in zone 7 in the middle of a pasture. so i am trying to plant a variety of trees. i have a flowering bradford pear (doing quite nicely), a crabapple, a redbud (spider mites got the leaves, but is healthy now) and did have a sycamore (it croaked). my suggestion is try what you like and then try again. caryn
by dodge on October 06, 2006 01:10 AM
cary
What zone are you ?
I am 5.....
I try many things just for kicks.. SOme grow some dont.
We may get our first frost tonite......
You must be on a farm too.....
The west is so wide open.......And nice.
Take some photos for us to view.
Thanks,
dodge
* * * *

''''Those who live in the Lord Never See Each Other For The Last Time!''''
by LandArt on October 08, 2006 01:17 AM
We've planted several sweetbay magnolias that are doing well so far . . . we're in zone 4. They have beautiful lemon scented blossoms most of the summer and red fruit that comes out in the fall. Definitely a good tree to plant!
by dodge on October 08, 2006 01:29 AM
LandArt
Any photos for us to see.
I heard they were gorgous.
dodge

* * * *

''''Those who live in the Lord Never See Each Other For The Last Time!''''
by LandArt on October 21, 2006 08:13 AM
I have photos, I'll post them as soon as I can figure out how . . . sorry, not the most savvy when it comes to the computer!
by dodge on October 21, 2006 09:47 AM
Landart
Maybe I can help ......
You have to upload the photos to a place like
www.photobucket.com
did you ever do that?
Then i can tell you how to put it on here.
Most use that place here.
barb
* * * *

''''Those who live in the Lord Never See Each Other For The Last Time!''''
by LandArt on November 04, 2006 10:18 AM
ok, I've registered on photobucket, will experiment from here and see if I'm successful in getting pictures uploaded. I may need your help yet!
by LandArt on November 04, 2006 11:28 AM
ok, I've got the pictures uploaded to photobucket - now how do I get the pictures from there to here?
by dodge on November 04, 2006 09:04 PM
Landart,
Good job,
Now what you do is ........got to photobucket,
Go to the photo you wish to show.
you will see under it, 3 lines of words.
the one at the bottom ..Number 3
You left click your mouse on it,
That highlights the box and it turns blue
Now right click your mouse
and the box that drops , select COPY
go to Whereever you wish to place this photo
right click your mouse
select paste,
and that should be it.........
When you preview the post, it will show you the photo.
click add the reply.
always check it with Preview first.
LET ME KNOW if it works..
dodge
* * * *

''''Those who live in the Lord Never See Each Other For The Last Time!''''
by LandArt on November 06, 2006 06:01 AM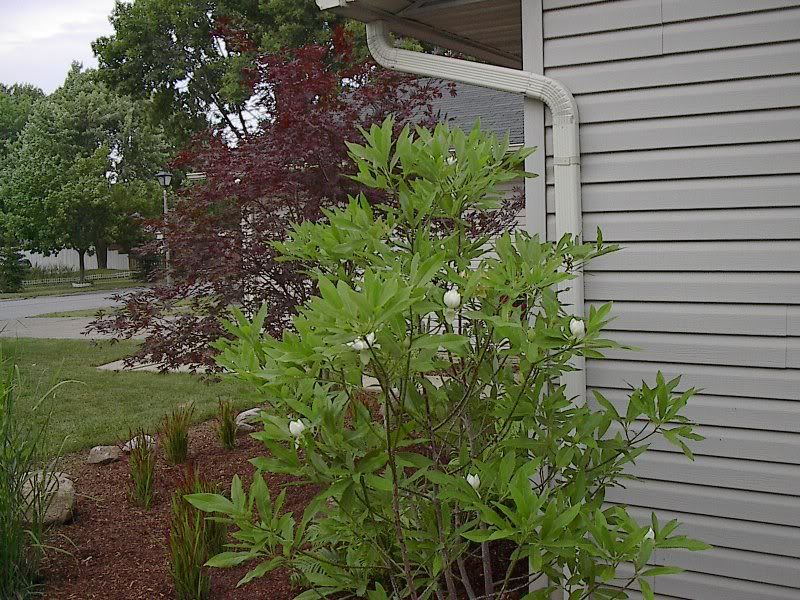 Let's see if this works . . .
by LandArt on November 06, 2006 06:04 AM
Hey, good deal! Thanks, dodge! Now I just need to figure out how to post a link so people could click it and view an album of photos . . . can that even be done in a forum environment like this?
by LandArt on November 06, 2006 08:37 AM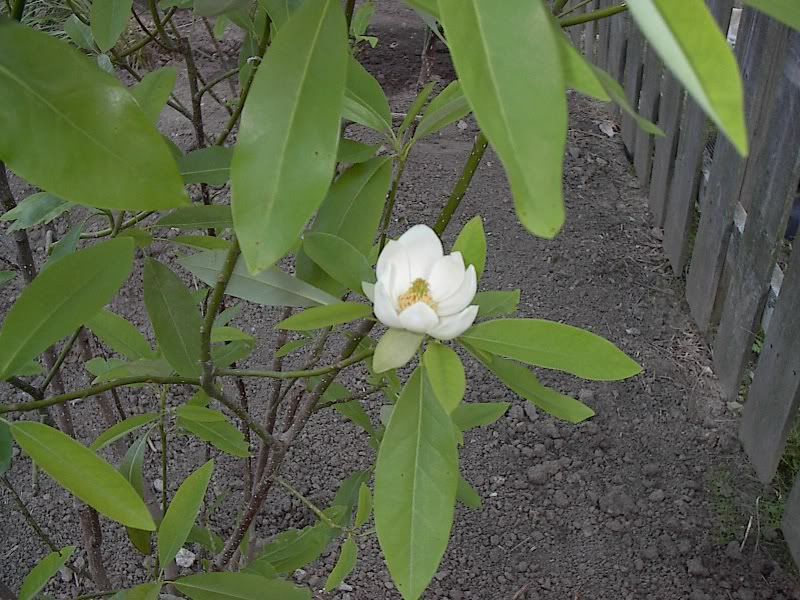 Here is a close-up of the flowers.
by dodge on November 06, 2006 09:00 AM
Land of Art .
Wonderful.......You did it well.
Not sure on that one...
But try this ......When your on pocket bucket,
click on the address box the Http.
Copy that and put it in your message.....Put that in preview, and click it yourself and see if it goes to the site......
Not sure I did that...
Try.
You good at photos too.. Love the magnolia.. Some told me they werent for our area.. But looks like they are.
Glad to help ..
dodge

* * * *

''''Those who live in the Lord Never See Each Other For The Last Time!''''
by njoynit on November 12, 2006 01:30 AM
ok photobucket.
to share address.up at the top you will see invite to albulm you can click it.i think I had to enter some addresses,but when showed the finished thing I then clicked the adress it had copyed& pasted.
you can do multiple photos too ones that are uploaded on one page at a time.them lil boes?put clickes in photos you want to see and then click generate codes at bottom& will list them its easier to use clickable thumbnails for forums or E bay.you copy and paste whats in the box& post to your post.
I'd proably learn more if I sat down and played with it more,but I've learned some good things.
Like your farm.How cool to have a co-op airplane.I don't like to fly,but like the veiws.You'll have to carry your camera more often when you go up.
I like oakleaf hygrandeas for fall color.I'd like maples too,but not many of the maples turn in my mild weather,they don't even lose all their leaves.I got a sugar maple I like well enough.its gets dark red burgandy leaves.it seems to grow pretty fast also Its 4 years old and about 17-20 ft tall.I like my oakleaf hygrandea also.I don't think you'll get as much color as mine get cause the intense heat is what sets its color I think,but they have intresting flowers& bark too boot& even the green leaves when new are pretty.here's a site for them
http://www.hydrangeashydrangeas.com/what_grows_where.html
Thats just the page I was on when searching the coldness part out,but this site will tell all you need to know.I root cuttings of them in winter,they useually take off growing well at 3 years.I have a magnolia tree.I'm letting wisteria take it over to hubbys dismay.they are pretty trees.you can dry the flowers and write on them as paper.my mom loves magnolias is her favorite tree.I did see a sweetbay type one mentioned.hubby was short a helper one day& I did roofing cleanup.I smelled it all day.I was going to grab up some seedlings& was so beat by end of work didn't even grab them up.theirs was an old one next to house,but they had other smaller ones about as well.
When I moved TX from Indpls.I had to ride about in the fall to find stuff that did fall coloring here,then when moved further south had same problem.there are also grasses in colors their is a purple fountain grass,some pompass grass that is pink plumed.I grew the pink in Indpls& surrounded it by mums.
When I work on my pics in photobucket....I'll load the oakleafs up.If you search forum you may find old post with my oakleaf least year& may have a shot in my yahoo album in fall photos.
* * * *


I will age ungracefully until I become an old woman in a small garden..doing whatever the Hell I want!
http://community.webshots.com/user/njoynit03
http://community.webshots.com/user/njoynit
http://photos.yahoo.com/njoynit03
Search The Garden Helper: