how long should it take??
Gardening Reference » Gardening in 2006
by gomerp618 on May 24, 2006 02:46 PM
I ordered a Blue Girl rose bush from Michigan Bulb. I got it March 25th. How long should it be before I start seeing some signs of life? I'm watching all my rose bushes both in the ground and in containers taking off like crazy.. one has 15 buds on it at last count.. but this thing just sits here. What do you think? Is this little bit of green some sort of sign of life, or is this just not going to do anything?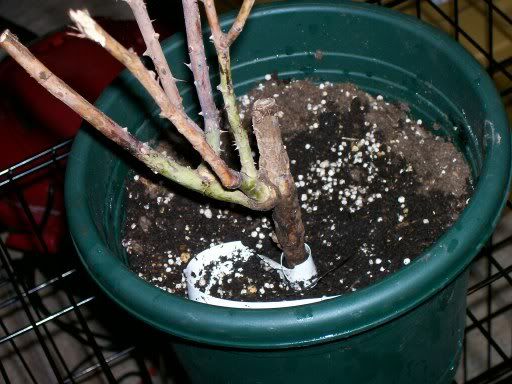 * * * *
Lord, please let me be the person my dog thinks I am!
by Longy on May 24, 2006 06:37 PM
The green parts are certainly alive. Some of the brown parts are a bit dead looking but it's hard to tell for sure. It would be a good idea to clean up the bad cuts on the broken branch or they'll let a fungus in. Cut with sharp, clean secateurs. The soil looks like it's really dry aside from where you put a small amount of water. Did you plant it to the same depth as it was when you received the plant and did you give it a thorough watering after doing so?
* * * *

The secret is the soil.
by tamara on May 24, 2006 11:15 PM
Just plant it and give it a good pruning. It looks fine.
* * * *

Tamara's Photos
Thinking Spring, Thinking Spring...Nope, doesn't work.lol
by johnCT on May 25, 2006 12:25 AM
I agree. It looks fine. Once it starts to leaf out, prune off the dead canes. Is it kept inside? May want to get into the sunshine to help it get going.

* * * *
John - Zone 6

by gomerp618 on May 25, 2006 09:14 AM
I do keep it outside. I am suppose to be selling my house as I found out after I placed my order for this plant, so that's why it's not in the ground. I had it outside, but brought it in last night for this picture.

As far as if I planted it the same depth as when I got it.. it came bare root in some wet newspaper in a plastic bag.

So, should I prune above the green and get that dead off there?

This is my first time getting a rose bush like this. The ones planted in the front of my house were already established when I moved in and the ones I bought potted last year were already growing good and came back nice this year.

* * * *
Lord, please let me be the person my dog thinks I am!

Similar discussions:
Search The Garden Helper: