Kneeling
Gardening Reference » Gardening in 2006
by PlantFaerie on February 17, 2006 10:49 AM
I'm sure this has come up in the past but, I just gotta ask. I love to kneel or sit on the ground when I garden, soggy bottom is best! However if I kneel my legs fall asleep and if I sit on my rear I can't reach things. Aside from being rather round I also have arthritis in both my knees from being stupid as a little kid. I don't take meds because the little pain and swelling I have generally goes away with heat and tylonal. Anyway is there anyway that ya'all know of that I can kneel in my garden and not lose the circulation or whatever it is that causes my legs to fall asleep?
* * * *
Colonel Jack O'Neill "I ask you, what could possibly be in my eye that could explain all this? "
by comfrey on February 17, 2006 12:07 PM
I have used a small(short) bucket before and sat on it...I am still close enough to the ground but can move around a little more freely and also get up easier, but soggy bottom is the best method for me and I just crawl along the row. I place everything I think I may need in a bucket (digging tools, a knife, string, hose & sprinkler repair stuff, etc) and drag the bucket around with me, everything is close at hand.
* * * *


by luckygardnr on February 18, 2006 01:01 AM
I use one of these and it works like a charm. I have arthritis in both knees, and can't kneel at all.
Rolling Seat with Tool Tray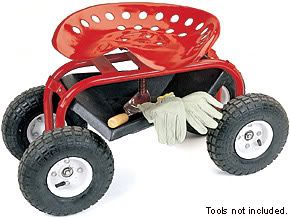 If you've ever crouched for half an hour picking beans you will know what a pleasure this rolling seat can be. It has a comfortable swivelling metal tractor seat mounted on a rolling base.
The four 10" pneumatic tires are large and wide enough to move easily through garden soil without sinking in. And the height-adjustable seat swivels a full 360° so you can position your body comfortably while working. It also has a poly tool tray to carry small tools and supplies.
Measures 32" x 18" x 19" and weighs 34 lb. Some assembly required. Moves only in a straight line.
Great for planting, maintenance and harvesting.
Rolling Seat
PS210 $69.50
by Francine on February 19, 2006 09:12 AM
hello lucky gardener,
i should say hello neighbour depending of where in ontario,i m from laval,qc.
i see it s only your tenth post,i d like to welcome you to the forum,they re s a lot of great people over here that are just asking to help you and be helped(me first on the being helped part),i ve been on this forum for about almost a year and my thumb is becoming greener and greener each time,don t get me wrong it has a lot to do to get there but slowly...
wow wowow!! that s a very novel idea they had when they invented that,where did you buy that,if i m lucky you ll say a canadian chain please!!
youre the queen of the expalations,very well put thank you.
hope to hear from you soon..meanwhile we gonna wait for allll that snow and ice to thaw..lol..
Franny.

* * * *
http://photobucket.com/albums/d23/fv1962/
by luckygardnr on February 20, 2006 05:36 AM
Franny, you're in luck! It is in the Lee Valley catalogue for under $70. Definitely a Canadian chain. It's called a rolling seat, and you can google Lee Valley and order one.
Thanks for the welcome. I live just north of Toronto, so we're not quite neighbours, although with the internet, everybody is a neighbour. LOL!
Believe me, I'm no queen of explanations. That description came right from the Lee Valley website. But what a good idea, eh? It has saved me many hours of painful kneeling. I just sit on it and scoot along whereever I need to go. I've been able to do things in my garden in a fraction of the time, because I'm not in pain. Or maybe I can just work longer because it doesn't hurt.
Here's the website:
http://www.leevalley.com/garden/page.aspx?c=1&cat=2,2120,45921&p=45921
by Francine on February 20, 2006 08:25 AM
hello mrs: lucky,
thank you for the reply,right now i m on sick leave from the airport for 2 mounths now,broke a front paw.but when money s a bit better i ll cox my hubby to give me my b day gift 7 mounths in advance
.
if there s something i can do for you just ask and don t be shy.
hope to talk to you soon.
Franny.
* * * *
http://photobucket.com/albums/d23/fv1962/
by Ironside on March 28, 2006 10:11 AM
by kennyso on July 04, 2006 07:42 AM
I've used these before at our church and they're great. You kneel for at least an hour (a bit more in my case). They're called taize prayer kneelers. Its a very low wood bench for one. You kneel down on something to support your knees and put the kneeeler over your calves (calfs?). You can sit on the kneeler while you kneel to take the strain off you legs. The reason why your legs fall asleep is before your weigh/pressure on them restricts blood flow. At least that's what I was told.
* * * *


Blessed are the meek, for they shall possess the earth
My Website
My Blog
by weezie13 on July 04, 2006 04:53 PM
I use something along this product..
Garden wheeled scooter........
* * * *
Weezie
Don't forget to be kind to strangers. For some who have
done this have entertained angels without realizing it.
- Bible - Hebrews 13:2



http://photobucket.com/albums/y250/weezie13/
by Jiffymouse on July 05, 2006 03:34 AM
another option might be the pads that catchers (baseball/softball) put on their legs when they are squatting/kneeling. they are wedge shaped foam things, with elastic straps that you wear on your calves/shins and when you kneel, you don't have your knees fully flexed. sporting goods stores sell them.
by morningstar on August 23, 2006 02:36 PM
Ironside,

Did you get that seat for your wife? That one looks like it might actually work for me. I have back problems. (Iliolumbar Ligament Sprain) and can not do that much of a range of forward or side bending. With that, I could sit and the seat would let me lean forward without leaning forward. Maybe. Please let me know if you got this for your wife and if it works for her.

Thanks,

Dawn
Similar discussions:
Search The Garden Helper: