Fish are eating my plants!
Gardening Reference » Gardening in 2006
by afgreyparrot on June 06, 2006 09:06 AM
Jiffy sent me some floating pond plants a few weeks ago.
My goldfish ate them.
I found some locally finally (they did NOT come cheap!) and the fish are eating them as well.
Are they THAT hungry?
I feed them once a day, and they act like they haven't eaten in years.
Should I feed them more so they will leave my plants alone?
I really need some floating plants on my pond.
* * * *



Buckle up! It makes it harder for the aliens to suck you out of your car!
by Gardencrazy on June 06, 2006 09:22 AM
I don't think the fish are that hungry it is just that the they really love the plants. I don't know how to stop them from eating the plants either. Did your waterlilies make it through the winter?
I just pm'd you.
Donna
* * * *


my webshots
~
my photobucket
by afgreyparrot on June 06, 2006 10:40 AM
quote:

---

Did your waterlilies make it through the winter?


---
Yes...the ones I moved to the big pond are doing great.
I'll take a pic in a few minutes when I go out to clean the filter.
I guess I'm going to have to get some more floaters and get them started real good in the other pond, then move them to the big pond after I have plenty. I can't find those little clover-looking floaters anywhere. That's what Jiffy had sent me some of...some that I had gotten from you and sent to her last year.
The fish ate them immediately.

* * * *



Buckle up! It makes it harder for the aliens to suck you out of your car!
by buzylady on June 06, 2006 12:48 PM
afgreyparrot
Do you need floaters to shade the water or to help the balancing of the water? You could get large silk flowers pop off the bloom and float them for shade.
I can't get my water to clear up. It stays green and I can't see anything. I had it clear till the sun warmed it up. I have put a beach umbrella up to shade it and added biological liquid. And still green!
* * * *
buzz buzz buzz


http://s86.photobucket.com/albums/k103/Di_06/
by afgreyparrot on June 06, 2006 01:04 PM
I need floaters to balance out whatever needs balanced out in the water.
They helped so much last year.
I started off last summer with an umbrella also!
(...at my old pond)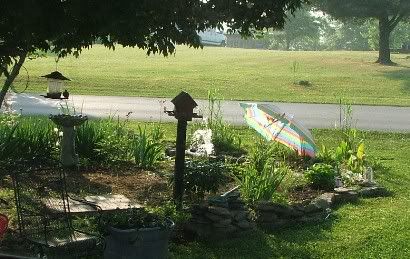 Gardencrazy sent me some plants for my pond and it helped it so much.
The plants multiplied like crazy.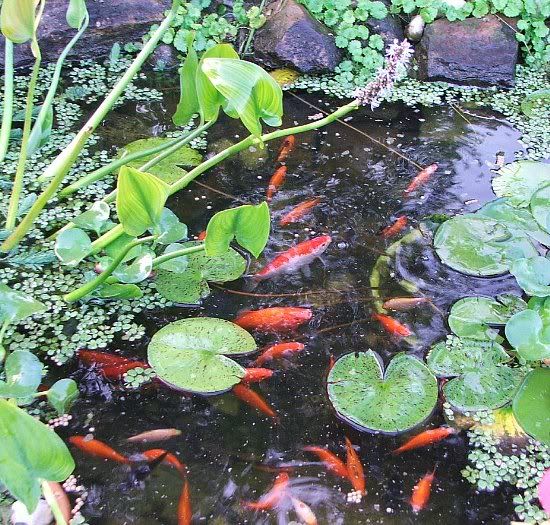 Unfortunately, they didn't live through the winter.
I even tried bringing some of them in the house.
And, now I have a HUGE pond.
I took some pics of the algae awhile ago.
I'll post them in a little while after I get Lola in bed.
* * * *



Buckle up! It makes it harder for the aliens to suck you out of your car!
by plants 'n pots on June 06, 2006 03:09 PM
Cindy - you had passed some of that duckweed along to me, and they did well in my bathtub pond also. I'm not finding any for sale around here this year yet either - wonder why?
* * * *


Lynne's knitting journal
"I'm spayed, declawed, and housebound - how's YOUR day going???"
by langford on June 16, 2006 06:24 AM
Does anyone have any water plants they can spare..i started the digging of my pond..and am filling it up this weekend..i'm going to need something to create shade in there..it's big..real real real real big..hope the water holds...if not..i will be REAL mad about that..ya know? I would pay the price to get them shipped to me..not a problem there..the store by us, really doesn't have anything good to choose from..i'm in need of something that grows and spreads quickly..any suggestions?
by april womack on June 25, 2006 11:43 AM
Here are my thoughts on your fish eating you out of pond plants. Based on the total size/gallons of pond you have you may have too many fish and they are competeing for food. I don't remember the formula but I am sure with a bit of effort you could run it down. You are only supposed to have so many inches of fish, not counting tail fans, per gallons of water. From your photo you may be way over stocked! This also adds to the sludge in the pond by way of fish poop. The fish are eating everything in site trying to survive. I don't think I saw any koi but they are extremely distructive. I named mine Jaws, he ate everything he could reach. I eventually took him back to the pond store and traded him in for product. Now I have golds and shubunkins. A heron got my 3 big ones this winter so right now I am over stocked with last years spawn. But I will thin them out before winter and trade them in as well.A lot of your guys look pretty big, and if you don't have enough volumn they are going to eat anything. There is a store online called 'thatfishplace.com'. Weeknites they have professionals available to answer questions for free. Call and find out the formula for fish v. pond volumn. Hope this helps!
Search The Garden Helper: