butterflies at play
Gardening Reference » Gardening in 2006
by Jiffymouse on October 29, 2006 11:06 PM
some of you have seen my walk through the gardens posts in gardener's chat, but these butterfly pics had to go here!
they were having such fun yesterday, i had to snap some pics to share. and if you like bumblebees, check out my
bats and bees
in the walk in the gardens part 2!
by Triss on October 29, 2006 11:22 PM
Very nice Jiffy. It is nice to see butterflies this time of year!
* * * *


We are all under the same stars... therefore we are never far apart.
by sibyl on November 15, 2006 02:09 PM
love butterflys!
you can realy see the wings on that last pic.
* * * *

by Kratz7 on November 15, 2006 07:27 PM
Hi,
What kind of butterfly is in the photos Jiffy?
They are great photos....
I can only remember the butterflies from Summer as all of our butterflies have left the area for warmer climates. I did get a bunch of pics before they left....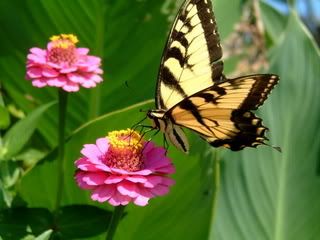 I can't wait til next Spring when the butterflies return. I will be planting more flowers that the butterflies like in hopes of attracting moore butterflies. This yellow butterfly was hanging out one day, everytime I took a photo she would flutterby and them come back as if to say "take my pic again" they are just too pretty and delicate looking.
* * * *

Kratz7 Photos
by Tonya on November 15, 2006 11:57 PM
Nice pics! Love butterflies!
Charlotte what kind of camera do you use? I just busted my digital and am in the looking stage of finding another...
* * * *


Bote and Babe's World
by Thornius on November 16, 2006 02:23 AM
Charlotte, Your butterfly is an Eastern Tiger Swallowtail. They are fairly common in the East in the Spring and Summer. I LOVE these butterflies and photograph them WHENEVER I can.
Tonya, Check Walmart for your digital camera. I saw a Sony digital camera there with 5 or 6 Megapixels (I forget which) and a 12X OPTICAL zoom!!! for about $300.00-$400.00. The rule of thumb is to buy the digital camera that has the MOST Megapixels and OPTICAL (Forget digital zoom) zoom that you can afford. The three BEST makes of camera in order of quality and performance are, Canon, Nikon, and Sony. I use an Olympus (the FOURTH best make of camera and the best I can afford)
Eastern Tiger Swallowtails (by Thornius please copy and use if you want to.)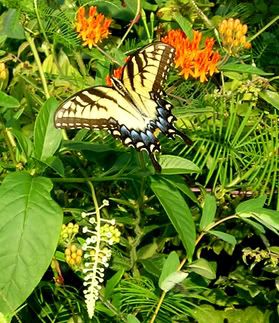 * * * *

A bird in the hand......can sometimes be a mess.
by Thornius on November 16, 2006 05:35 AM
Tonya, here is a Sony camery I saw at Walmart. With shipping it would cost $432.48. It is Model DSC-H5/8 and is 7 Megapixel, 12X OPTICAL coom. With this you should be able to take pictures taht would probably be 5 times better quality than the ones I take. But if it is too much, just hold on. Every 6 months, the Megapixels are going up while the price goes DOWN!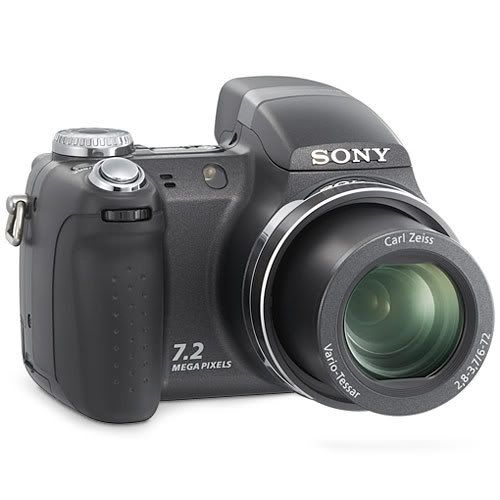 * * * *

A bird in the hand......can sometimes be a mess.
by Kratz7 on November 16, 2006 09:49 AM
Hi everyone I was just checking in....I love the butterflies....I have a bunch of photos
My camera is a Leica 4.3 digilux....
http://www.dpreview.com/news/0009/00090102leicadigilux43.asp
it has alot of settings on it...it also has a macro lense so I can take great photos of my dollhouse also (1" scale)
It even takes beautiful photos of hummingbirds....
and hummingbird moths in motion....I have had my digital for 5 years now and I wouldn't trade it. I can do 80 seconds of video with sound and so much more.....about a 700.00 dollar camera, but well worth it.
* * * *

Kratz7 Photos
by Thornius on November 16, 2006 09:56 AM
You have a LEICA!!!!

That's one of the BEST cameras in the world. Most National Geographic photographers use Leica. I'm impressed!
Your black butterfly is in the same family as your yellow one. Your black one is a Spicebush Swallowtail.
* * * *

A bird in the hand......can sometimes be a mess.
by Kratz7 on November 16, 2006 07:13 PM
Thanks Thornius,
I leave the big purchases like cameras to my hubby, he does well.I look at price tags and go the other way....whereas he'll go for it.... I have been completely happy with this camera....I have taken tons of photos with it and they do turn out beautiful.
We took the camera with us to Hawaii and boy did we get some great photos. I don't know how all of the technical settings work, so when I don't want to goof the photo I put it on automatic...no muss, no fuss. The colors on butterflies turn out gorgeous.
Boy, Thorny you must be a real butterfly buff...thanks for identifying them for me...
the photo for kratz7 was also taken with the Leica....it is an impressive camera.....the hubby goes by consumer reports and then decides from there...lol
I love how it picks up all the details in the photo....
it even makes an average photo look good.

this was a tough photo to take as the dragonfly move rally fast....lol
* * * *

Kratz7 Photos
by Thornius on November 17, 2006 03:29 AM
I just started studying butterflys last year. I use eNature.com. They have ONLINE Field Guides for EVERY WILD plant and animal in North America and Canada and it's FREE! You can easily identify most butterflies and insects using their website. Most birders turn to butterfly and insect study in the middle of Summer when it is TOO hot for birds to be active much. I started in 2005 and once I identify something I DON'T forget it.
* * * *

A bird in the hand......can sometimes be a mess.
by Kratz7 on November 17, 2006 10:20 AM
Studying butterflies would be a great hobby to add to my list of interests....lol
I'll need to check your website suggestion....
I will be adding plants to my gardens so they will attract more butterflies in Spring of 2007'
But for now I will look at the photos I shot last Summer and reminisce over them.
* * * *

Kratz7 Photos
Similar discussions:
Search The Garden Helper: