And then there were four
Gardening Reference » Gardening in 2006
by Thornius on August 18, 2006 12:05 PM
Welp, I've got at least four now, chattering and squeaking like a bunch of stuttering mice! I can't even tell which one is Camille! Here's my latest picture taken two hours ago.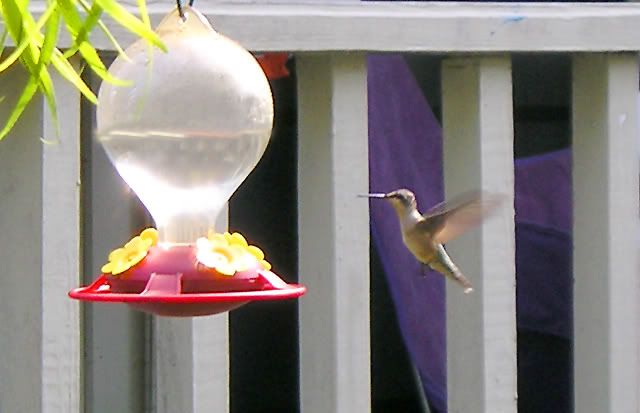 On a related topic, the baby Blue Jay that I photographed a few weeks ago, while the adults ripped my scalp open, has progressed AMAZINGLY and is now a regular and friendly visitor at my feeders. He is about the same size as the adults now but lacks the face pattern and crest of the adults giving him an odd, "Phantom of the Opera" appearance.
Music of the Night
* * * *

A bird in the hand......can sometimes be a mess.
by Triss on August 18, 2006 12:39 PM
Love both those pics! Better late than never on the hummers! Glad they are hanging out now!
* * * *


We are all under the same stars... therefore we are never far apart.
by Squirrel on August 18, 2006 01:43 PM
Great pix!!! We still only have one hummer, but today I saw her feeding at our new feeder. Made me so happy.


Sue
* * * *


What goes around comes around, so be nice!lol
by LandOfOz on August 18, 2006 03:03 PM
Thornius, how long did it take for the hummers to find you and your feeder? I've just put one up yesterday and was wondering if I should even expect to see any this year. And, you take great pics!! What do you do, sit out there with your camera, patiently waiting for the birds?? I think my kids would scare them off in a heartbeat.
Sarah
* * * *

Sarah - Zone 5b/6
by Thornius on August 18, 2006 04:30 PM
I've had my feeders up since April 1st, but only got my first hummer around the middle of July. Hummers arrive in early April, but go on the nest around the middle to end of May and stay there until around the middle of July, when the young leave the nest. Then they attack feeders with a vengeance, constantly, until they migrate. Anybody is lucky to get Hummers before the middle of July, and almost any one who puts a feeder out this time of year will probably get at least one hummer before they migrate. I have at least four now coming to my feeders and fighting each other viciously for control of the feeders. We also know, through bird banding, that the SAME Hummers ALWAYS return to the SAME feeders year after year, unless they die before they can return.
As to my pictures: YES! I do sit outside for an hour or more at a time waiting for the birds to come to me. I have my feeders and chairs strategically place to take advantage of the best photo conditions. Also, many of the birds I photograph know me and do not fear me. So I can take my time to get the best shots.
My camera is a relatively inexpensive point-and-shoot Olympus D-580 Zoom camera with 4.1 Megapixels and a 3X optical zoom. It cost about $300.00 about 2 years ago but you could probably get one like it now for about $100.00 I saw a Sony digital camera with 6 Megapixels and 12X optical Zoom for about $400.00 at Walmart just recently. That would almost be powerful enough to use as a microscope! You could get superb pictures with that one. I also added a 512 Megabyte photo card to my camera this year for about $40.00. That enables my camera to hold 5,324 standard quality pictures or about 200 super high quality pictures which is what I use.
* * * *

A bird in the hand......can sometimes be a mess.
by patches1414 on August 18, 2006 06:59 PM
Great pictues, Thorny, thanks so much for sharing them and providing all the useful information. I've learned a lot from you already, thanks!
* * * *


"Lord, I love you and I need you, come into my heart, and bless me, my family, my home, and my friends, in Jesus' name. Amen!"
by TulsaRose on August 19, 2006 12:05 AM
Really nice pictures!
* * * *
Rosie z7a


by jakesangel on August 19, 2006 12:31 AM
Look at that cutie! Great shot Thorny! Hey we have the same camera too.

I bought mine about 2 yrs ago too. Hoping to upgrade to a Stylus 720SW next yr so I can get underwater shots.
I've had my feeder out for awhile but never saw a hummingbird till last wk. And he wasn't even at the feeder! He was near the front of the deck and the feeder is on the side. I made sure it was nice and cleaned out for him with fresh nectar and although I haven't seen him again, the nectar seems to be dropping a little. Maybe he's just sneaky. I'll keep my eyes peeled.
* * * *
Country Roads
by LandOfOz on August 19, 2006 02:06 AM
Thanks for all the info Thornius. Now I know I've definately got a good camera for hummer pics -- a Canon PowerShot S2 IS with 12x optical zoom and 5 MP. Plus it shoots movies, so I'd be thrilled to get a movie of a hummer!! Of course, now that I have built it (hummer feeder), I must wait for them to come, and regularly change their sugar water.
* * * *

Sarah - Zone 5b/6
by Thornius on August 19, 2006 02:14 AM
You got a better cam than me, Sarah. MUCH BETTER!
* * * *

A bird in the hand......can sometimes be a mess.
by Thornius on August 19, 2006 02:16 AM
My camera makes movies, too with sound but I rarely use that function, except for the grandkids.
* * * *

A bird in the hand......can sometimes be a mess.
by melcon6 on August 19, 2006 03:42 PM
Sarah, I've coached people that want hummers and after getting them all set up , they've seen hummers within 1/2 hour! Then sometimes, days or weeks or seasons before some people see them. Doesn't mean the hummers aren't there either, just sneaky. If the level is dropping , you've probably got them. It will drop slightly from evaporation, but it would take a week for it to evaporate noticeably.
* * * *

HAPPY BIRTHDAY CINDY!!!!!!!
by Pekemom on August 19, 2006 03:55 PM
Those are amazing shots, both of them, Thorny. I especially like the first one, with the wings in mega-motion...Great shot. I'd treasure that one!



* * * *





Pekemom's Gallery
by gardenfairy on August 19, 2006 04:44 PM
GREAT shots Thorny!!!! I'm so glad your baby Blue Jay is doing well! I now I 3 hummers that visit my feeders often.
* * * *
Monica
"Life is not measured by the number of breaths you take, but by the moments that take your breath away."

God gave us memories so we can have roses in the winter.
Search The Garden Helper: