Another reason to love bee balm!
Gardening Reference » Gardening in 2006
by melcon6 on August 16, 2006 05:40 AM
Bee balm, Monarda is one of my all time favorite flowers!

I have five different colors of it. The bees love it, and I love them for pollinating everything, the butterflies love it and the hummingbirds love it! Today a new creature was caught perching precariously on my bee balm and enjoying it!
Sorry, the pics were taken through the screened window.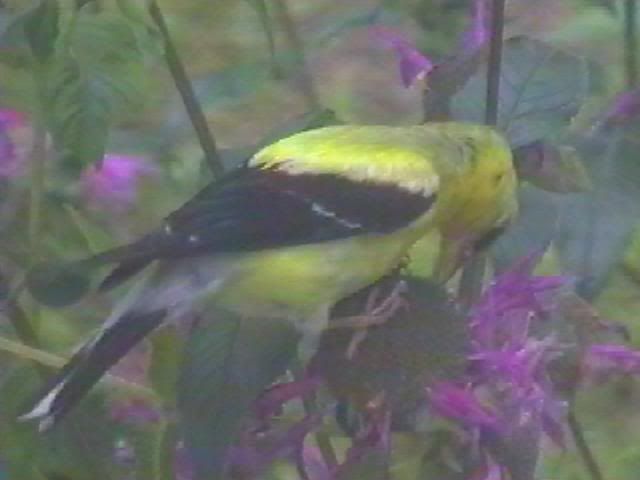 * * * *

HAPPY BIRTHDAY CINDY!!!!!!!
by ND farm girl on August 16, 2006 06:11 AM
I have never had bee balm, but after going on a garden tour this summer - I will have lots of it! Except my son who is terrified of bees doesn't want them.

* * * *
PattyM

by melcon6 on August 16, 2006 06:32 AM
Both the male and female were on it: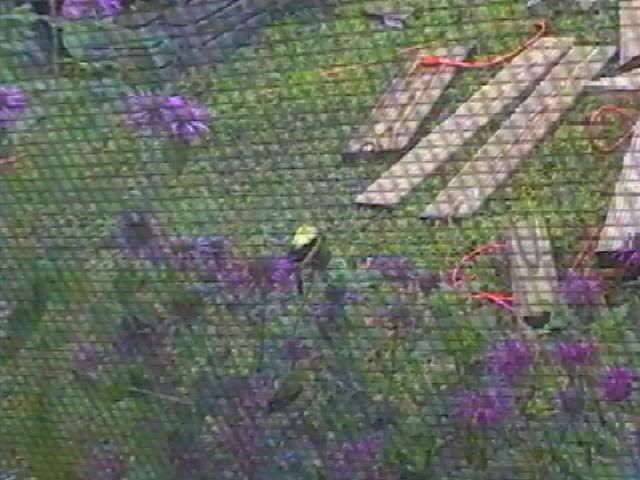 * * * *

HAPPY BIRTHDAY CINDY!!!!!!!
by Thornius on August 16, 2006 06:58 AM
Your bird is an American Goldfinch, a notorious seed eater that prefers to strip the seeds out of flower heads rather than eat already harvested seed. I plant sunflowers almost every year so that the Goldfinches can come and eat the ripe seed directly from the flower head.
* * * *

A bird in the hand......can sometimes be a mess.
by melcon6 on August 16, 2006 07:22 AM
I don't even think that the flower has gone to seed yet!


* * * *

HAPPY BIRTHDAY CINDY!!!!!!!
by Wrennie on August 17, 2006 01:02 AM
Mel, I think when the top petals fall off it has seeds even thouh the botom petals are still there. Goldfinch and chickadees make short work of my sunflowers too Thorny.
* * * *



Summer Camp '07, July 14th weekend, won't you join us?

summer camp thread 1,
2,
3,
4
by patches1414 on August 18, 2006 07:14 PM
What a neat picture, Mel! I have Bee Balm in several of my garden beds, but I've never seen any my Goldfinch getting seeds from them. It seems they prefer the seed in the Goldfinch feeders.
* * * *


"Lord, I love you and I need you, come into my heart, and bless me, my family, my home, and my friends, in Jesus' name. Amen!"
by TulsaRose on August 19, 2006 12:01 AM
Looks like it's time to remove the screen, Mel.

What a treat that must have been for you. The Gold Finch here seem to prefer the Coneflower seeds but they have recently been raiding the Malva Zebrina, too. They just ride the stems to the ground like a bucking bronco.
* * * *
Rosie z7a


by Pekemom on August 20, 2006 03:25 AM
That first picture is just gorgeous, Mel..



* * * *





Pekemom's Gallery
Search The Garden Helper: