SMOKIN' !!!
Gardening Reference » Gardening in 2006
by Thornius on March 25, 2006 05:50 PM
Here's a REALLY hot bird

This is a male Red-Winged Blackbird, a fairly common bird in brushy fields or along water's edge, especially streams, lakes, or ponds with willow trees. This bird is found over much of North America. It is one of my favorite birds and I think one of the prettiest.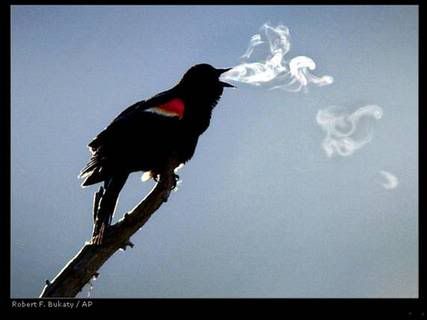 * * * *

A bird in the hand......can sometimes be a mess.
by loz on March 25, 2006 11:17 PM
Hey, that's cool....

That's the bird you helped me ID!

by Momma D on April 12, 2006 11:15 PM
Thornius, I love this picture!!! Lin

* * * *
Is this heaven?
by Wrennie on April 18, 2006 07:44 PM
Cool picture!
I really know spring is almost here when my redwings show back up.
* * * *



Summer Camp '07, July 14th weekend, won't you join us?

summer camp thread 1,
2,
3,
4
Search The Garden Helper: