How Do I Make My Yard A Bird Habitat?
Gardening Reference » Gardening in 2006
by Oui on November 27, 2005 11:27 PM
Does anybody have any suggestions for plants that I can plant to attract Birds and Butterflies??

I live in Northern Alabama.

I have some wooded area that has GIANT OLD white Oaks, cherry, Holiday trees, OLD Honeysuckle, and miscellaneous thicket. I was considering planting more dogwoods,(I have 1 HUGE dogwood (25 ft tall)and 3 that are about 10 ft tall all are the wild kind), Do dogwoods attract birds? And I have 8 Crepe Myrtles (which attract butterflies)I also want to add some berry plants into the edges of the woods. What kinds of berry plants do birds like best? I was considering turning an acre into a giant field full of lavender..does Lavender attract birds and butterflies??
by Bill on November 27, 2005 11:35 PM
by Oui on November 27, 2005 11:47 PM
Thanks for ALLLL the info Bill. I am still new to this site and not so good at navigating through all the information. I see that Humming birds like Willow for making nests. I was considering planting 2 weeping willow trees in 2 areas of my yard that flood during lots of rain. Someone at the Nursery near me told me that the willow tree will help control the flooding.

OOOOH and I see that birds like English Lavender. So my plan for an acre of lavender will work.
by Thornius on November 28, 2005 01:02 AM
I live in Nashville, TN about 100 miles north of you, Oui. I have a 20 foot tall Weeping Willow in my front yard where I hang ALL my feeders. The birds LOVE it! I have had 3 species of woodpeckers, Ruby-crowned Kinglet and Yellow-bellied Sapsucker in the Winter, Dark-eyed Juncos, Ruby-throated Hummingbirds and many other species in the willow at one time or another.
As to berry trees, Dogwood berries are a favorite of Northern Cardinals. To attract the most beautiful and handsome bird in North America, the Cedar Waxwing, plant Mulberriy trees and Holly trees. In late-May and Early June the three Mulberry trees in my yard are PACKED with berries, Cedar Waxwings, American Robins, and Northern Mockingbirds. (I never get to eat any of the berries

)
Also, I have a pet rabbit who LOVES fresh willow branches as a snack. When the willow fronds get too long and I prune them off (they grow incredibly fast) I bring in armloads to my rabbit who happily turns them into RICH fertilizer for me. Bigger Willow limbs that break off are good for him to chew on to wear down his teeth.
Here is a picture I took about an hour ago of a Carolina Wren under my Willow Tree. That's the tree in the near background.
Carolina Wren
* * * *

A bird in the hand......can sometimes be a mess.
by Oui on November 28, 2005 01:14 AM
Thornius...Now I cannot wait to plant willow trees. <smile> Thanks for the info. How big do Mulberry trees get? And, Cardinals like holly don't they? I am scheming to attract Cardinals. I have a lot of purple birds I think they are house wrens. and yellow birds..not sure what they are...see I am an amateur.

Do you know any good links about Cardinals?
by Oui on November 28, 2005 01:43 AM
What do you use the rabbit droppings on? Are rabbit droppings acidic?? I had some white rabbits that I bought on a whim because they were only $5.00 each. I put them in an old dog kennel until I could build them a hutch. They escaped the first night. So I don't have any rabbits anymore.
by Thornius on November 28, 2005 03:05 AM
Some Mulberry trees get 30-40 feet high. Those we have in our area will reach 15 feet or more. Cardinals DO like Holly. Your purple birds are male House Finches or Male Purple Finches. The females of those two species are brown and white and look like a sparrow. Your yellow birds are probably American Goldfinches. They turn brown in the Fall and Winter but in spring and summer are one of the most brilliantly colored birds you can see.
Rabbit droppings are among some of the richest natural fertilizers in the world (after bat droppings). I don't know how acidic they are but they are miraculous when it comes to restoring eroded sterile land. You can use rabbit droppings on anything. Rabbits naturally use the same spot as a toilet every day making them one of the easiest house-broken pets in the world. You have to keep electrical cords out of their reach and have a cage for them to stay in when you are not around, but otherwise I let mine roam the house at will.
American Goldfinches (Male and Female)
Cedar Waxwing (In Mulberry Tree)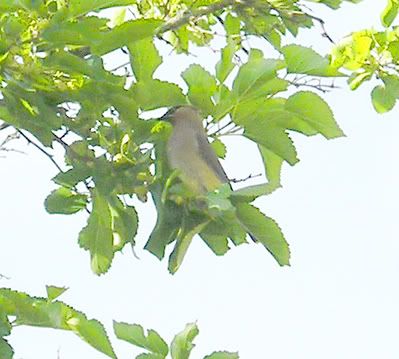 House Finches (Male and Female)
Two Bean Bags (Our pet male Lop-eared rabbit)
* * * *

A bird in the hand......can sometimes be a mess.
by Oui on November 28, 2005 11:24 AM
I finally went out and bought a book to help me identify my birds. Yes the purple ones are purple finches, and the yellow ones are gold finches. <which are gone now>> In winter I see carolina chickadee, tit mouse, and a bunch of others. Now I will know what they are because I have a book. Hummmmm the things I have over looked throughout my life.
by Thornius on November 28, 2005 11:54 AM
The Goldfinches are still here, they have just changed color.
* * * *

A bird in the hand......can sometimes be a mess.
by loz on November 28, 2005 12:50 PM
Thornius, would there still be Goldfinches in my area in MD right now???? I had a few in the summer.....They were amazing....Eating the seeds from my cosmos...I was so excited when I spotted them.

My neighbor said she hadn't noticed any for a few years....but that a long time ago they used to all over....
by Thornius on November 28, 2005 01:16 PM
They should be, loz. I dont think Goldfinches migrate, but they DO change color in Winter.
American Goldfinches (Winter Plummage)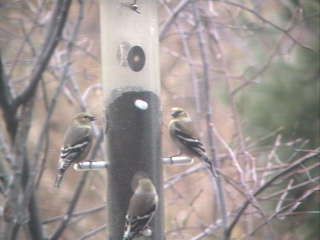 * * * *

A bird in the hand......can sometimes be a mess.
by loz on November 28, 2005 01:19 PM
Thanks Thornius

...I think they're beautiful!

I guess maybe I should get some thistle and convert one of my tube feeders to a thistle feeder and see if they come around.....couldn't hurt....I'd love to have them come to my yard everyday!

by Thornius on November 28, 2005 02:04 PM
According to, "The Sibley Field guide to Birds of Eastern North America", (or Sibley's as we birders call it), American Goldfinches DO migrate somewhat But they stay in Tennessee, Maryland, and Northern Alabama, year round. In Winter they move into the southern Gulf Coast area and Southwest, and in Summer they travel as far north as Central Canada.
* * * *

A bird in the hand......can sometimes be a mess.
by Thornius on November 28, 2005 02:15 PM
Here is a picture of an American Goldfinch in Winter Plummage that I took at MY feeder on New Years Day of this year.
American Goldfinch (Winter Plummage)
* * * *

A bird in the hand......can sometimes be a mess.
by Oui on November 28, 2005 11:13 PM
Then I DO still have Goldfinches..I have a lot of those and the Purple Finches. I haven't seen a bluebird for a while I know their color changes a little in winter also. Do the blue birds go away in winter?

I have at least 4 woospeckers...I think they are Downy Woodpeckers...Or red cocked woodpecker. They have pointed little heads. And are spotted black and white...What kind of woodpecker is that?? I cannot find it in my book. I use to have a BIG woodpecker Pileated Woodpecker, I think. He would peck on my roof everyday at the same time. I found I had carpenter ants up there..Hummm a little woodpecker warning sign...After I had the ants removed he never came back. Next time I might just leave the ants just so I can see the KING SIZE bird again.

I think the Tufted Titmice are fun birds. They walk on the trees similar to a woodpecker...Hang upside down...seem to have A LOT of energy. I think I have seen the Cedar wax wing too..I also have the brown headed Nuthatch.

Hopefully I can catch the woodpecker on film. I do not know how to put pictures up on here. Where do I go to learn how to do this??
by Thornius on November 29, 2005 12:12 AM
Bluebirds are here year round also. Their colors really don't change in the Winter. In Winter they tend to cluster in family packs and roam more than in Summer, looking for berries as well as what insects are available. I had a flock of 5 Bluebirds in my yard about a month ago.
The Red-cockaded Woodpecker is ALMOST, or may be extinct, by now. They have totally vanished from most areas, but then again, the Ivory-billed Woodpecker was believed to have been extinct for the last 60 years until it was discovered a year or two ago. You probably have a Downy Woodpecker. They are VERY common in our area of the country. It could also be a Hairy (uncommon in our area)Woodpecker, which is identical to the Downy, except it is 1 1/2 times bigger than the Downy and the bill of the Hairy is 3/4 the length of the head, whereas the bill of the Downy is about 1/4 to 1/2 the length of the head.
To put pictures on here, you need to open an account online that allows you to create a storage facility for your pictures. many of us use photobucket.com. It is totally free and is VERY easy to use. You upload your pictures to the site then copy and paste the pictures to the online-document you are working on.
Here is a picture of a Downy Woodpecker I took at one of my suet feeders. I have this on my photobucket account.
Downy Woodpecker (Male)
* * * *

A bird in the hand......can sometimes be a mess.
by peppereater on November 29, 2005 01:07 AM
As you may have noticed from Thornius' pic's, sunflower seed is a GREAT way to attract songbirds, and suet cakes are great for woodpeckers, creepers, etc. If you plant sunflowers, you may get big flocks of goldfinches when the seeds are ripe!

Don't neglect to put out birdbaths, even if you have water nearby. You WILL get lots of visitors to those baths. I once had orioles that would feed at my hummingbird feeders. They were hung high, about 6 feet, away from the house about 40 feet.
by Oui on November 30, 2005 02:23 PM
I have one big 3 tier fountain/bird bath and one little one. Do I need more?

I think my bluebirds are gone because my neighbors cats were up on their houses. I send my dog chasing them (the cats) when they are in the yard but that does not seem to deter them from hanging around my bird houses and feeders.

If I wrap barbed wire around the base of the poles which are wooden do you think that would deter the cats? These cats will climb right up the wooden poles or even trees.

They haven't gotten any birds as far as I can tell.

I mean I do not want to hurt my neighbors cats. So I am not sure what to do about it. I thought cats were smart and can figure out when someone does not want them around. If I catch them in the yard I bounce a basketball near them and they run out but then eventually they come back and I have to throw the basketball at them again. I don't hit them with the basketball just bounce it near them, which is enough to spook them into leaving the yard for a while
by JV on December 05, 2005 02:36 AM
I like cats they taste almost as good as chicken. Cat the other white meat.
Alt least your birds would be safe.

Jimmy
* * * *


Meet Clyde my Male Sugar Glider. Clyde says.
Keep it organic
GOD BLESS THE U.S.A.
Pray for our Troops!
by Bill on December 05, 2005 02:45 AM
quote:

---

Originally posted by JV:
I like cats they taste almost as good as chicken. Cat the other white meat. Alt least your birds would be safe.
Jimmy

---

I wanna be here when

Karen

reads this post!!!
* * * *

by plants 'n pots on December 05, 2005 02:57 AM
Here's one for you, JV!
(I'm in Catlover's corner!



)
* * * *


Lynne's knitting journal
"I'm spayed, declawed, and housebound - how's YOUR day going???"
by Bill on December 05, 2005 03:06 AM

Cats rule..... Dogs drool!

* * * *

by Thornius on December 05, 2005 03:36 AM
My favorite pets are cats, rabbits, dogs, and raccoons. I like horses pretty good too. I've had about 30 cats in my life (fifteen at once one time) 14 rabbits (11 at once one time) 20 dogs (3 at once) and 4 raccoons (one at a time). I have also have had 3 horses and have boarded 7 more that did not belong to me. Oh, and I've also had 30 nervous goats at once.
* * * *

A bird in the hand......can sometimes be a mess.
by Oui on December 05, 2005 08:55 PM
I have 6 (outside) cats of my own who live in a large heated armoire on my front porch. MY cats leave the birds alone..I make sure to feed them a lot and they know to stay away from the feeders and bird houses..It is my neighbors cats that are the bird hunters.
by Oui on December 05, 2005 09:00 PM
All animals can be trained. My Dog for instance is a Bull Terrier..(full size, 80lbs..not a miniature) Bull Terriers are notorious cat killers. I trained him to be gentle with the cats from when he was a baby. The cats are his buddies. I chased my cats everytime they got near the feeders and bird houses and they stay away from them. Just my Neighbors cats seem to be clueless and not able to learn. Oh boy...
by Thornius on December 05, 2005 11:38 PM
I only have one pet, a black, male, lop-eared rabbit named Two Bean Bags right now.
* * * *

A bird in the hand......can sometimes be a mess.
by VAgardengirl on January 04, 2006 12:19 AM
I hope y'all will keep this post alive!!

I am new...but this is right up my alley. I love bird watching/feeding. It is one of my true passions.

We have 8 Bluebird houses up and all were used last year. It won't be long and the little blues will be checking out the houses!! We have heated water provided and the birds really gather around them. (The blues really love those.)

I enjoyed reading the info here and will keep track of it...bye for now.

VAgardengirl

* * * *
I will plant my heart in my garden of dreams.

by Thornius on January 04, 2006 01:04 AM
Hi, VAgardengirl! As of yesterday I have been officially christened, "The Bird Man". I am in Nashville, TN and for the last 18 years have been fanatically observing and studying birds. For the last 3 years I have been a bird photography lunatic.
To set up a bird sanctuary in your yard there are three things toconsider, food, shelter, and water. It looks like you are well on your way to providing all three! For food and and shelter one important thing that people neglect or are unaware of is under growth and brush. DO NOT REMOVE IT! incourage a 10' to 20' wide border around the edge of your property to return to a wild state if possible. deont mow it and WHATEVER grows in there leave it alone. you can add NATIVE (not exotic) plants to the mix yourself but don't take anything away. Also brush piles are helpful, especially for birds like Wrens. The National Wildlife Federation can help you convert your yard and then you can have it officially declared a proper bird habitat. I am retired now so am on here throughout the day.
* * * *

A bird in the hand......can sometimes be a mess.
by Thornius on January 04, 2006 02:16 AM
VAgardengirl, here is a link to the National Wildlife Federation's backyard habitat guide. This can help you make your yard attractive to birds.
web page
* * * *

A bird in the hand......can sometimes be a mess.
by Oui on January 09, 2006 01:23 AM
Okay so far I have decided to add the following to my acreage. To attract Birds and Butterflies...

I have In the wild part: tall OLD White Oaks, Cedar, Holiday trees, Old Honeysuckle, 1 Hickory Nut tree (which I just discovered), Wild Black berry which I trimmed down, I am going to let it grow again.

To the wild part I am going to add, Lavender, Wild Snapdragon, blueberry, raspberry, 1 Mulberry Tree, Wild Dogwoods if I can find them, 2 Willow Trees, 3 Sugar Maples, Birdhouses or various sizes.

In the front yard and unwild part of the back yard; I have Crape Myrtle 9, 1 lilac tree, Star Jasmin, Black Eyed Susan, 4 Wild dogwoods, Poplar tree over 100 ft tall, Cherry tree over 100 ft tall, 3 large White Oak Trees, 2 pear, (the fake pear, Does Not grow fruit, I cannot remember the name)>>>Miscellaneous bulb gardens which do not attract anything. 3 bird feeding areas, 4 Humming bird feeders, 2 bluebird houses,

Adding to the front yard and back yard that are not wild.....2 purple lilac trees, More wild Dogwood, Holly, Maybe a couple berry bushes. More Bird Houses.

What do ya'all think??

Any other suggestions???
by badkitti on January 12, 2006 04:25 AM
cats don't tend to like citrus smells - have you tried using some kind of citrusy smelling oil/wax on your poles?

* * * *
------------------------------------

"Every time I close the door on reality, it comes in through the windows. (Jennifer Unlimited)"

by Oui on January 12, 2006 09:38 PM
I didn't know cats didn't like citrus...I will try to find something...But I would have to re apply it after every rain huh?

Somebody said something somewhere in this forum re using mothballs....But I am concerned my dog will eat them. He eats things that are not normal sometimes.

I did use mothballs to chase off copperheads <<common poisonous snake in the south US>> I didn't have a dog then.

I mean he eats pickles, salad, ladies panties, socks, etc etc etc..

I had to take him to the Vet once cuz he was looking and acting sick..$600 later after stomach/intestinal surgery he had 2 pairs of panties in his stomach, a dog toy squeeker in his intestine, wood in his intestines, and pieces of plastic in his intestines..I have to be CAREFUL about what he gets hold of...He has lots of bones now and the floor is kept clear of any chewable items...And he cannot reach the clothes hamper to tip it over and snatch panties out of it anymore..

He is a Bull Terrier, Name Killian Cormac......I adore him....Just he eats anything...

I think I am just going to wrap barbed wire around the poles and grow some sort of vine over it...Or maybe a thorny rose vine will work...
by badkitti on January 12, 2006 09:48 PM
Hmmm, not sure about reapplying after all furniture wax is by nature water resistant (i think) and so shouldn't be affected, although repainting every year might be needed?

You can also getsonic cat detterents that emit freqwuencies they don't like but this might affect your dog as well (or even the birds?)

barbed wire sounds good - cats aren't stupid enough to try and hurt themselves on it

* * * *
------------------------------------

"Every time I close the door on reality, it comes in through the windows. (Jennifer Unlimited)"

by Oui on January 12, 2006 10:11 PM
Tis true Cats are pretty smart that way. Not sure about my dog though...<smile> He might poke his eye out....hummmmm...Nah he doesn't go near the feeder poles anyway.

My neighbors cats appear to be avoiding my yard lately. My dog does chase them when they are in the yard....
by Thornius on January 13, 2006 02:51 AM
I had a dog that used to eat GLASS mayonnaise jars. It never hurt him a bit. He also ate socks and whole pairs of blue jeans. Now, I have a rabbit.
* * * *

A bird in the hand......can sometimes be a mess.
by Oui on January 16, 2006 08:54 PM
I found out yesterday that I have persimmon
<<sp?>>trees too, 3 of them...What does persimmon attract besides deer???
by Marian on January 18, 2006 10:12 AM
I am enjoying this thread . We live in the middle of our wooded acres , and have many , many birds and other wild critters .
We have been blessed with lots of Eastern Bluebirds this winter . I guess the mild winter in this area has kept them here , plus we have lots of berry bearing trees and shrubs .
The Purple Finch have been more this winter than last , but not as much as a snowy winter .
There is at least one Hermit Thrush , which we usually don't see in the winter .
Last fall the Sapsuckers did a lot of damage to the large American Cranberry Bush in front of our house . Bummer ! I just hope the large girdled limbs will survive !
I always get a kick out of the fact that many do not know that the Gold Finch changes color , and is rather drab in the winter . We have a local community correspondent ,in our local newspaper , that does not know that . She is an elderly woman , and you would think she would have learned it by now ! But every year she announces when the Gold Finch return !( They are never gone ! ) No one has the heart to point it out to her .
I haven't counted how many birds I have sighted on our place since we moved here in '84 , but it is a lot ! Before I got this computer , that is how I spent a lot of my time ....birdwatching . I have them all marked in my 3 bird books .
Oui , persimmons attract raccoons and oppossums , as well as deer . We have persimmons .
We also have lots of Serviceberry trees , and Eastern Dogwoods . The birds love their fruits .
I have planted many other fruit bearing trees and shrubs , so there is a wide choice for critters .
* * * *
by dodge on February 02, 2006 08:46 AM
HOW TO ATTRACK BIRDS?////

GO OUT IN THE YARD AND ACT CORNY!!!!!!
DODGE
* * * *

''''Those who live in the Lord Never See Each Other For The Last Time!''''
by Thornius on February 02, 2006 11:59 AM
Or you can climb a tree and act like a nut to attract squirrels.
* * * *

A bird in the hand......can sometimes be a mess.
by Oui on February 02, 2006 11:32 PM
OR you could plant some plants and flowers that attract birds and butterflies to your yard.

And avoid actin' like a fool all together..

<smile>
by bucfan06 on March 25, 2006 09:02 AM
Help!! i live in alaska and have no idea what to do about bringing wildlife into my yard! can anyone help?

* * * *
Jake was here
again...
and again...
by pagarden on March 25, 2006 11:27 AM
wow- you musat have a lot of land! all i did when we moved here was put out 1 suet feeder and 1 seed feeder in the backyard. eventually added a hummingbird feeder and made a bird bath. hung a seed feeder on side of house and 1 in front yard. they just seem to flock to the food around here. i havent' done anything special excpet put food and water out and they have been happy so far. this year we are going to put out houses for them to nest in. and as much as my hubby complains about how i attract all the birds here he actually bought me a sunflower seed feeder a few weeks ago!

i have to get the ladder out so i can hang it from a tree branch.
Search The Garden Helper: