cute little fountain
Gardening Reference » Gardening in 2006
by ND farm girl on August 31, 2006 06:52 AM
I had to share this with you, I saw it on my garden tour this summer. It was kind'a tucked in a few flowers and I was standing there staring at it, wondering what in the world it was made of, then my mother came over and said - a bundt pan and an old jello mold! Isn't that cute/funny?? Water spilled out the top.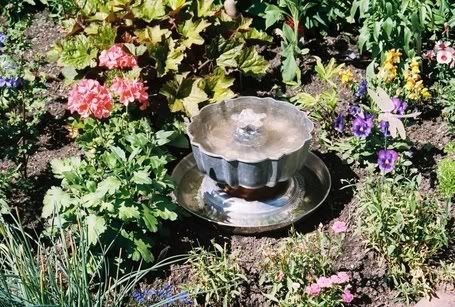 * * * *
PattyM
by afgreyparrot on August 31, 2006 06:56 AM
That IS cute!
...and we all have jello molds and bundt pans way in the back of the cabinet that we never use! (I know I do!)
I have a heart shaped mold hanging on my kitchen wall right now that would make a neat little fountain thingy!

Thanks for the idea!

* * * *



Buckle up! It makes it harder for the aliens to suck you out of your car!
by TulsaRose on August 31, 2006 08:42 AM
That's such a clever idea and I bet the birds, bunnies, squirrels and critters love the lower level. I can just see all of us tearing apart our kitchen cabinets looking for old, unused things we could use in the flowerbeds.
* * * *
Rosie z7a


by ND farm girl on August 31, 2006 08:44 AM
Rosie - I know - my mom and I were like 'Hmmm, lets see - what do I have in my cupboard!" Cute huh?

* * * *
PattyM

by patches1414 on August 31, 2006 06:54 PM
Patty, that is such a neat idea and it looks great!

Thanks for sharing it!

* * * *


"Lord, I love you and I need you, come into my heart, and bless me, my family, my home, and my friends, in Jesus' name. Amen!"
by Jiffymouse on September 03, 2006 03:26 AM

thanks for sharing that is too cute!
by roflol on September 15, 2006 01:37 AM
Was at the thrift shop last night and bought a $2 bundt pan just for this.... now I have to find other things to build it... didn't find a pan large enough to hold it at the shop last night, but will eventually. Something to do in my spare time this winter....

Thanks for sharing!
by joclyn on September 15, 2006 02:12 AM
ha! that's a GREAT idea!!! and it will fit in nicely in smaller yards (like mine).
by chenno on September 17, 2006 05:11 AM
Thanks, Very cute!I do not even think I ever used my jello mold...lol
* * * *


Painting is silent poetry, and poetry is painting that speaks.
Plutarch
by Peggy A. Rowe-Snyder on September 21, 2006 01:23 AM
I love that idea... it is very, very cute.
Has anyone here successfully made one work yet? I'm curious, I know it will take a pump, but am unsure about how to go about recurculating the water and stuff.

Hehehe, I know i have the bundt pan, and the jello mold.. LOL, Peggy

* * * *
Peggy Ann Rowe-Snyder
Myrtle Creek, Oregon

by roflol on September 26, 2006 09:39 AM
Well, I caved.
I bought that bundt pan just for this project but then - like Peggy pointed out - I realized I didn't know how to put it together. When the lack of how-to hit me (couldn't find anything online either, unbelievable!), I plopped my chocolate mint in it instead. Now I'm going to collect deep cake pans and put chocolate mint in them - save myself the calories of the real cake, and the headaches of runaway mint later on.
Now I need to find a nice pitcher for the lemon mint!

Yes, I do believe I have lost my marbles at last.

by chenno on September 27, 2006 06:17 AM
I would like to hear how it works for all who try it.very cool idea.
* * * *


Painting is silent poetry, and poetry is painting that speaks.
Plutarch
by Karrie on October 07, 2006 05:56 AM
I am guessing that under that cute lil contraption is a buried 5 or 10 gallon bucket, that is holding the water for circulation. That is how I was going to do something similar to this. Burry the bucket and place the water and pump in to it, then run the water tubing up the pans and make sure that the water can drain back in to the bucket some how, for recirculation.
* * * *

It doesn't matter where you go in life... It's who you have beside you when you get there.
Karrie's Photos
Search The Garden Helper: