Par-cel Picture finally
Gardening Reference » Gardening in 2006
by tkhooper on March 08, 2006 12:01 AM
I finally got the pictures out of the camera. Hard to do when you plug it into the wrong port right? Ok so sometimes I'm not to bright.
Here it is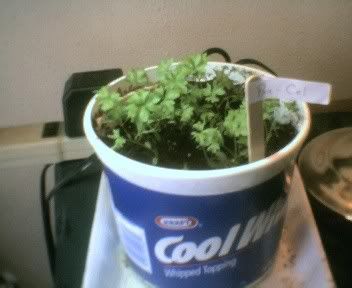 * * * *


by Dixie Angel on March 08, 2006 12:16 AM
It's good to see you posting pics again, Tammy! Glad you found out what was wrong...
Dianna
* * * *

by tkhooper on March 08, 2006 01:12 AM
What's the old saying if it can go wrong it will? That's me. But I have to say I'm really pleased with these Par-Cel. I can't wait to see them get larger so I can harvest some.
* * * *


by comfrey on March 08, 2006 04:08 AM
I am so happy we have got to see a picture of this!!!! Looks great Tammy.
* * * *


by weezie13 on April 07, 2006 03:55 AM
Oh goodddddie, you got your pictures!!!!
Can't wait..
**Hope you got one of the other post with the
snapdragons??**
Those look good Tammy!!!
* * * *
Weezie
Don't forget to be kind to strangers. For some who have
done this have entertained angels without realizing it.
- Bible - Hebrews 13:2



http://photobucket.com/albums/y250/weezie13/
by Bestofour on April 07, 2006 08:39 AM
I know you've got lots of stuff to post a picture of. I'm looking forward to it.
* * * *


http://www.picturetrail.com/bestofour
by tkhooper on April 07, 2006 11:46 PM
The par-cel hasn't totally died after being transplanted. It could however look a great deal better than it does. I keep waiting for it to perk up so I can snap a picture but no luck so far. And today it's raining so no pictures of the outside.
* * * *


Search The Garden Helper: