Hollow Branches
Gardening Reference » Gardening in 2006
by Tonya on August 18, 2006 07:39 AM
Last night I went out to water my tomatoes (one plant out of 9) had flopped. No outside cause that I could find...it just fell. Doug cut back the offended branches and all but one were hollow. What causes this? I'll try to get pics in a bit...sleeping baby at the moment.
* * * *


Bote and Babe's World
by weezie13 on August 23, 2006 10:27 AM
Did you get pictures??
* * * *
Weezie
Don't forget to be kind to strangers. For some who have
done this have entertained angels without realizing it.
- Bible - Hebrews 13:2



http://photobucket.com/albums/y250/weezie13/
by Bestofour on August 24, 2006 03:31 AM
Tomato pith necrosis, caused by the bacterium Pseudomonas corrugata, is sometimes confused with bacterial canker. Initial symptoms include yellowing of young leaves. These symptoms may progress into yellowing and wilting of the top part of the plant. Black streaking may be apparent on the main stem, which often splits. When the stem is cut open longitudinally, the center of the stem (pith) will be hollow and often have a chambered (ladderlike) appearance. Profuse development of adventitious roots can be associated with the affected pith areas, and the stem may appear swollen.
* * * *


http://www.picturetrail.com/bestofour
by Tonya on August 25, 2006 02:58 PM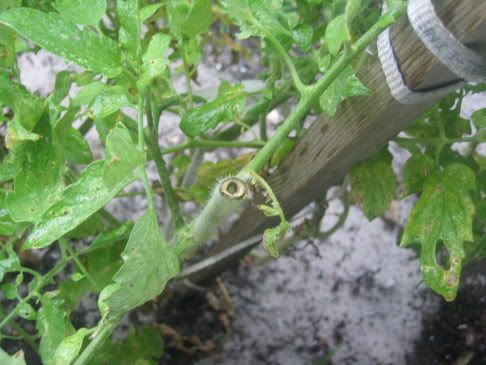 here is the best pic I could get. Any ideas?
* * * *


Bote and Babe's World
Search The Garden Helper: