What have you eaten so far?
Gardening Reference » Gardening in 2006
by pagarden on July 27, 2006 04:51 PM
what has everyone picked and eaten out of their garden so far? we have had cucumbers (lemon and sugar crunch hybrid), tomatoes (4 of july, cherry and yellow pears), green onions, yellow squash and zucchini and 1 awesome ear of corn we all shared! LOL i have a decent size pepper on there (i planted the carnival mix and this one is a very light shade of yellow) now and maybe will put it into my salad soon. i have LOTS of tomaotes starting to turn each day. i picked about 3 "4 of july"s and a handful of cherries today with 1 cuke and had myself an awesome dinner! with fresh parsley and basil mixed in. it was still warm from the outside and it was yummy! what's everyone else been munchin on?
by Deborah L. on July 27, 2006 07:26 PM
Strawberries ! Chives ! Basil !

* * * *


by weezie13 on July 28, 2006 12:10 AM
Chives, Radishs, Peas, Strawberries, Romaine & Red Leaf Lettuce, Black & Red Raspberries, 1 Cucumber, and 2 Cherry Tomatoes

(not bad for someone STILL PLANTING THE GARDEN!


)
ohhhh, editing here....
I picked two banana peppers too..
*haven't eaten them yet, gotta get some
taco chips to eat with the salsa*
* * * *
Weezie
Don't forget to be kind to strangers. For some who have
done this have entertained angels without realizing it.
- Bible - Hebrews 13:2



http://photobucket.com/albums/y250/weezie13/
by johnCT on July 28, 2006 12:28 AM
Well, let's see.....TOMATOES, lettuce(3 diff kinds), radish, beans, and green onions. Peppers are ready to pick and my first squash is on the vine!

* * * *
John - Zone 6

by Nicksgram on July 28, 2006 12:51 AM
Lettuce, tomatoes, artichokes, green beans, spaghetti squash, corn and brussels sprouts!

Sharon
by ChristinaC on July 28, 2006 01:57 AM
Lettuce, beans, green peppers, chili peppers, jalapeno peppers, spinach, radishes, carrots, arugula, shallots, brussel sprouts, mint, basil, cilantro, thyme...no tomatoes yet and I'm beginning to get a wee bit impatient.
* * * *


by weezie13 on July 28, 2006 02:19 AM
Sorry John, meant to edit my OWN post..




* * * *
Weezie
Don't forget to be kind to strangers. For some who have
done this have entertained angels without realizing it.
- Bible - Hebrews 13:2



http://photobucket.com/albums/y250/weezie13/
by obywan59 on July 28, 2006 03:21 AM
Spinach, corn salad, lettuce, 2 plantings of peas, chives, Thai peppers, onions, cabbage, brocolli, cauliflower, tomatoes, and corn. Also raspberries, gooseberries, peaches and one apple so far.
* * * *

Terry
May the force be with you
by LandOfOz on July 28, 2006 03:26 AM
I've gotten watermelon, sweet and hot peppers, cilantro, cukes, tomatoes (early girls and roma), and apricots.
* * * *

Sarah - Zone 5b/6
by eClaire on July 28, 2006 03:34 AM
tomatoes, peppers, lots of zukes, and a bunch of herbs

it's somehow special and extra tasty to eat stuff that you've grown!
* * * *
Claire
by Sorellina on July 28, 2006 04:12 AM
Ciao all,
We've had quite a bit so far, but still waiting for the big guns, the mid-season tomatoes.
Fruit we've had: strawberries, blueberries, golden raspberries, cherries, apricots, mulberries
Herbs we've had: basil, thyme, rosemary, oregano, chives, lovage, anise hyssop, sage, Italian parsley, cilantro, tarragon, summer savory, oh and did I mention basil?
Flowers we've had: nasturtiums, violas, arugula flowers, chive flowers, basil flowers, lavender, squash blossoms
Vegetables we've had: Sungold F1, Kimberley, Kotlas tomatoes, bok choi, romaine, mesclun, arugula, radicchio, beets, carrots, snow peas, snap peas, peppers-hot and sweet (LOTS), Casper, Violetta Lunga, and Antigua eggplants, Ronde de Nice, Yellow/Black Striped, and Golden Zucchini.
Here are a few harvest pics:
Ronde de Nice Zucchini
Genovese Basil for Pesto
Resulting Pesto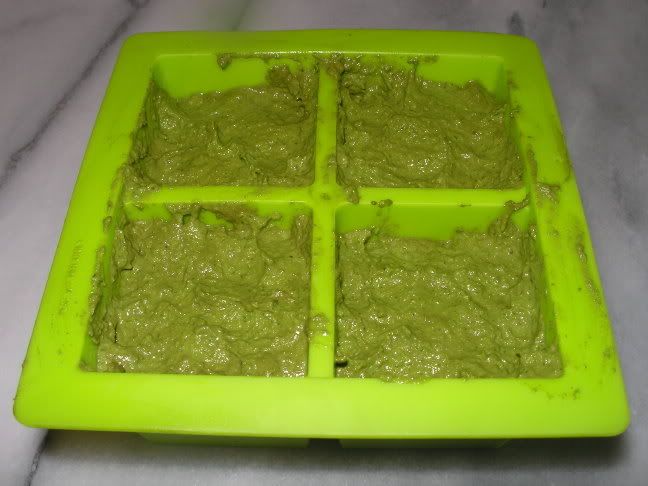 Duane's Pepper Harvest
Casper and Violetta Lunga Eggplant and what were labelled as Yellow/Black Striped Zucchini (free seeds from Seedy Saturday)
If anyone knows of some good eggplant recipes, PLEASE let me know!
Cheers,
Julianna
* * * *

by comfrey on July 28, 2006 04:20 AM
I've gotten TOMATOES, cucmbers, bell peppers, jalapeno peppers, yellow squash, green beans, green onions, a few new potatoes & okra. My first watermelon is being picked today

...I will let you know how it tastes

* * * *


by DeepCreekLake on July 28, 2006 04:31 AM
Zucchini is growing faster than I can eat them here- gave alot away already. Just started getting some cucumbers- straight 8's, National pickling, and Pionsett 76's. Jalapenos are going crazy too- still green, picked a few and made Jalapeno cornbread. Have lots of vegatbles coming out but not ripe to eat yet- cherry & Juliet tomatoes are loaded but still green. Did have a few Cherry Bomb hot peppers- chopped and used on Quesidilla. Also a few cayennes that turned red- dried them already.
by Woodland Garden on July 28, 2006 06:12 AM
My harvest from yesterday. Pictured are my Bi-Licious sweet corn, Goliath and Husky Red tomatoes, Bush Pickle and Hybrid 2 cucumbers, Black Beauty zuchinni.
This spring I received a good harvest of strawberries. 15 quarts or so from the 3' x 15' bed I created last year.
The rest of my harvest includes: Beets, Radishes, Carrots, Turnips, Spinach, Several varieties of lettuce, Broccoli, Snap Beans, Cucumbers, Tomatoes, Zuchinni, Corn.
The raccoons and squirrels chomped about 40% of my corn.

What I got to eat was excellent sweet corn.
Incredible yields from my Black Beauty Zuchinni(2 plants) More than I ever remember harvesting. No sevin sprayed and no bad bugs on them as of late July.

by MistyF on July 28, 2006 11:27 AM
Let's see. Spinach,broccoli, peas,onions,squash,tomatoes,cucumbers,radish,strawberries,string beans,lettuce,peppers,and lots of herbs.
by Soilmover on July 28, 2006 12:12 PM
Compared to most of you my list is shorter-tuff season and I'm still learning.

Red radishes, "Dakota" peas, red rasberries, "Fleet" sweet corn. Yukon Gold potatoes should be ready to dig out this weekend.

Still waiting on tomatoes, cucumbers, kentucky bush beans and some typical fall time harvestable vegies.

Seeing all the good pictures in posts on this forum makes me hungry all the time. Keep up the good work its inspiration for us still waiting!
by detectorbill on July 29, 2006 01:45 AM
I've been getting tons of crooked neck squash, dozens of tomatoes (slowing down now, GA heat) lots of bell peppers, okra, lots of hot pepper varieties, cucumbers, onions, only 2 heads of cabbage

* * * *
I feel more like I do now than I did before I ever felt this way.
by tkhooper on July 29, 2006 02:02 AM
All of the tomatoes have produced the best plant of the bunch is the tiny tim cherry tomatoes. It really produces a bunch of fruit.
The boldog hungarian spice peppers are producing really long peppers for the paparika supply so i'm happy with that. It's hard to crunch into powder though. Any suggestions would be welcome. I'm thinking of getting a coffee grinder lol.
The green peppers produce but none really have the flavor I'm looking for. Any one have a good sweet bell flavor variety?
* * * *


by chenno on July 29, 2006 02:51 AM
Beans,mators,onions,peppers still waiting on several squashes etc..oh and herbs..
my mators are slow to turn red this year?
* * * *


Painting is silent poetry, and poetry is painting that speaks.
Plutarch
by Bestofour on August 01, 2006 02:06 PM
Woodland, your picture is great. Looks like it is a picture.
We've had blueberries, plums, got figs yesterday, blackberries, radishes, green beans, squash, cukes, tomatoes, bell peppers, the okra is getting ready, the apples are ready but haven't eaten any, and the pears are ready too, and potatoes.
I can't seem to get strawberries to grow.
Eatting fresh stuff is such fun.
* * * *


http://www.picturetrail.com/bestofour
by DanielNewman007 on August 02, 2006 03:51 AM
I've had lettuce (continental varieties -- Lollo Rosso, etc.), some small Roma cherry toms (but loads getting ready), Cucumber's, one early onion (as we ran out of shop bought ones, and it was nice!), plus a load of french beans.
I've also 'harvested' one small carrot (more a thining actually), but composted it as was too small to do anything with singly. My sweetcorn are looking almost ready too

by lakegran on August 02, 2006 08:14 AM
in order of appearance, Spinach, radishes, snow peas, early girls, bunch? lettuce, (one little head), rhubarb, cilantro, dill, banana peppers, kung pao (tasteless) chilis(3 plants prolific but not good), zucchini, mesclun, japanese eggplant, leaf lettuce, basil, bush beans, cucumbers, champion tomatoes, pole beans,
Pretty good for 12X14 and a couple of pots on the deck.
* * * *
Search The Garden Helper: