Watermelon patch
Gardening Reference » Gardening in 2006
by Woodland Garden on July 24, 2006 03:28 PM
I am growing a patch of watermelons. The dimensions are 35'x20'. Three hills of three. The varieties are Jubilee, Moon&stars, tripple crown and ultra cool(1)seedless.
The vines are going bonkers! I have vines ontop of vines now and I can no longer get thru the patch it is so overgrown. The base of these vines measure almost two inches thick they remind me of pumpkin vines. It's been a very wet humid summer and a hot July which must be the reason they are performing this well. I grew one hill of watermelons two summers ago and they failed to ripen or get bigger than 10lbs and was real dissapointed.
This Jubilee has grown from cuke to basketball size in one week.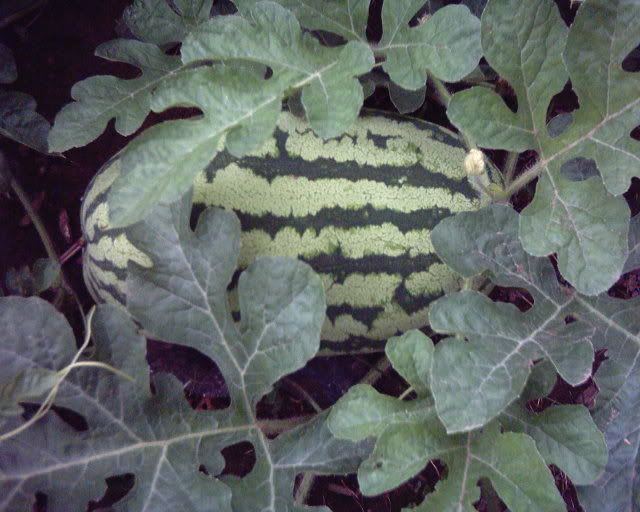 Two little Jubilee's I nicknamed the twins.
An Ultracool Seedless. My biggest looks to be 15lbs after two weeks.
Moon&Stars have been the slowest setting fruit. I finally saw several set this weekend, this little guy is one of them. I can't see any yellow stars on any of them yet.
I will post updates of my melon babies as they grow big.
by 'Sparagus on July 25, 2006 02:08 AM
WOW

That's awesome! I have a 4'x4' raised bed with 2 sugar baby plants. Your patch is bigger than my entire veggie plot! Very impressive


by Tonya on July 25, 2006 03:05 AM
Very nice!! My mouth is watering!



* * * *


Bote and Babe's World
by penny in ontario on July 25, 2006 03:35 AM
by Woodland Garden on July 25, 2006 04:40 AM
Thanks everyone they got me excited too!

I will be sure to continue to post updates. Plus I will post pictures of my prizewinner pumpkins growing out in the west side woodland garden plot.
by LandOfOz on July 25, 2006 05:03 AM
Those look great! I only have one mound of watermelon and only one little watermelon. Yours look fantatstic, keep up the good work!!
* * * *

Sarah - Zone 5b/6
by Woodland Garden on July 28, 2006 01:36 PM
I have some updated watermelon pictures.
The pair of sweet lil twins are growing fast.
The big Jubilee.
A Moon&Stars with it's stars showing!

by Triss on July 28, 2006 02:02 PM
What a beautiful patch of watermelon. They look so good!
* * * *


We are all under the same stars... therefore we are never far apart.
by Woodland Garden on July 28, 2006 04:02 PM
Looks like I am going to be busy handing out watermellons to family, friends and eager bystanders!
by Woodland Garden on August 07, 2006 02:08 PM
Some new Melon pictures today.
The twin Jubilees close to full size.
Couple Moon&Stars hiding in the leaf canopy.
I am very happy with the Moon&Stars production. I have six biggies(One might be 30lbs) and three smaller ones on the three plants.
by Triss on August 07, 2006 02:18 PM
WOW!!!
* * * *


We are all under the same stars... therefore we are never far apart.
by Deborah L. on August 07, 2006 02:24 PM
What do you do with all the vines once the harvest is picked?
Plow under or rip out?
And then they go into the compost?
* * * *


by Woodland Garden on August 07, 2006 02:41 PM
Good question. I am creating a new compost pile as I haven't had one for a long time. I guess as long as the vines don't show signs of wilt or fusarium in the compost pile they go.
by Deborah L. on August 07, 2006 03:20 PM
The pictures look like your whole yard is taken up by vines !
That's why I was wondering what has to be done to clear away the vines.
You mean you'll pull and rake all of that??? Wow !
* * * *


by Woodland Garden on August 07, 2006 03:23 PM
Yes the vines own the old garden spot now. They have begun scalling the fence looking to escape!
by Deborah L. on August 07, 2006 03:33 PM
I'm impressed-that's alot of work ahead !
* * * *


by Woodland Garden on August 07, 2006 03:33 PM
Renegade watermelon vines eyeing the neighbors lot. They actually are bringing down the fence. Help they are out of control.
by Deborah L. on August 07, 2006 04:05 PM
This is amazing ! Sure you don't wanna plow them under????
* * * *


by Squirrel on August 07, 2006 04:18 PM
Glad to have a fellow Pennsylvanian having such success.

I'm close to Harrisburg. Where is Horsham? Thanks for sharing your pix. Sue
* * * *


What goes around comes around, so be nice!lol
by Woodland Garden on August 07, 2006 05:49 PM
Squirrel- Horsham is in northeastern Montgomery County north of Philadelphia.
by Woodland Garden on August 12, 2006 05:48 PM
Ok the watermelon patch is in desperate trouble. I found wilted vines on Monday. Discovered some animal chewed and decapitated the vines despite my fence. Since then the damage gets worse every day. I have chicken wire and 7' netting. Lost a 25lb Melon today due to severed vine. And the evil animal that is doing it doesn't even eat the leaves or melon! It just chews the vine like its been snipped. Do not know if its a raccoon, mole, groundhog or deer.

As a desperate measure I dusted HEAVY with sevin figuring MAYBE the animal won't like eating the insecticide. It's frustrating as I have never encountered such a problem before.
by Woodland Garden on August 30, 2006 01:25 PM
Finally posting a watermelon update. I have had trouble with a creature chewing and severing vines the last three weeks. I put down a heavy perimeter of bug dust and and that slowed the damage to some degree. I lost at least five Moon&Stars melons including a thirty pounder. Lost a couple Jubilee's and one seedless too.
But thanks to the enormous patch and rampant vines I still managed a good harvest.

I ended up with five of the seedless variety, seven Jubilee and four or five Moon&Stars(haven't yet tasted the first ripe one I just picked)
Almost seedless, yummy!

Three Jubilee and one Moon&Stars here. These Jubilee's weighed in at 40, 34 and 17lbs. The Moon one weighs 25lbs.
The seedless ones had a suprising number of seeds. I am not complaining as they had good sweet watermelon flavor. The Jubilee also was deliciously sweet.
I have to give a big two thumbs up to the production I got from the Moon&Stars. Three vines produced ten 20+ pound melons! Plus three or four smaller ones. The vine eating critters destroyed more than half of em' but wow did they do good

Similar discussions:
Search The Garden Helper: