Canteloupe question...
Gardening Reference » Gardening in 2006
by Tonya on July 23, 2006 03:57 AM
I got a late start with my canteloupe, but I just noticed blooms...Does it normally bloom when it is this small?? I don't remember it blooming this soon last year.
I will post a pic in a few...photobucket doesn't like me today...


* * * *


Bote and Babe's World
by Tonya on July 23, 2006 04:45 AM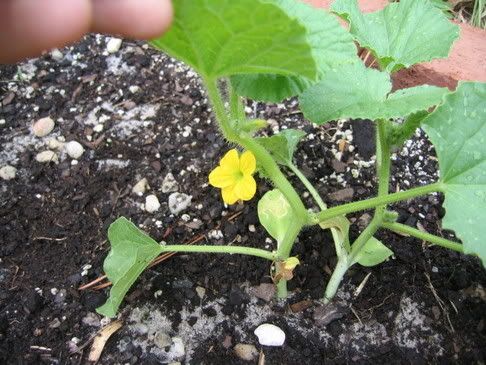 there we go..
* * * *


Bote and Babe's World
by weezie13 on July 23, 2006 06:37 AM
How long ago did you plant it?
I might, if it's wee~little yet,
snip that first flower..
*that way, it can concentrate a bit
on it's roots*
then give it some fish emulsion or a weak
liquid fertilizer on it... just to give it
some extra umffffffff!
**Mine aren't much bigger than yours...**
* * * *
Weezie
Don't forget to be kind to strangers. For some who have
done this have entertained angels without realizing it.
- Bible - Hebrews 13:2



http://photobucket.com/albums/y250/weezie13/
by Tonya on July 23, 2006 06:52 AM
I think I planted them about a month ago...

I really don't remember exactly. These are doing quite well, tho.
I gave it a weak feeding last week...I think I will let it root a bit more- now where did I put my snips??
Thanks Weezie!
* * * *


Bote and Babe's World
Similar discussions:
Search The Garden Helper: