A rose for Hollywood....
Willy's Place » Wallpaper of the Day
by Bill on April 05, 2004 10:48 PM
JoAnn, our thoughts and prayers are with you...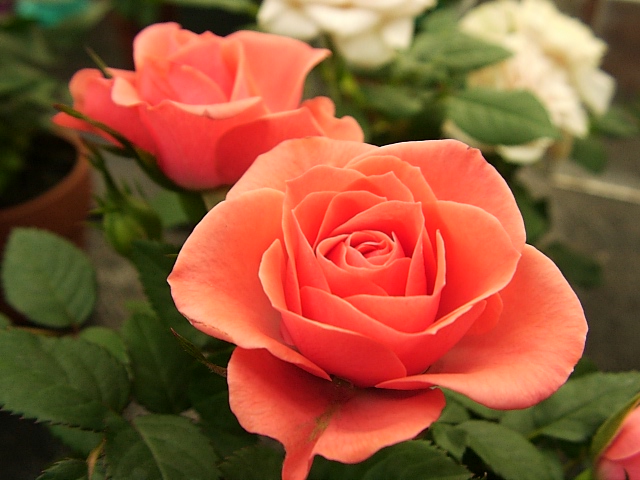 by plants 'n pots on April 05, 2004 11:20 PM
Beautiful Bill ~
I send my well wishes to her too!
JoAnn, we are all pulling for you!
* * * *


Lynne's knitting journal
"I'm spayed, declawed, and housebound - how's YOUR day going???"
by Jillie on April 11, 2004 04:31 AM
Crying, here, Bill.....
Such a good, kind man...Love you

Hollywood will know...
* * * *


by afgreyparrot on April 11, 2004 06:30 AM
Yep, that made me cry. It's amazing how fast you can make friends on a website where no one really "KNOWS" anyone. I'm so glad I came across this one. It feels like family. There can't be too many out there like this one. We are so blessed to have this place.
* * * *



Buckle up! It makes it harder for the aliens to suck you out of your car!
by flipper on April 12, 2004 08:45 PM
Just logged onto this part of the website, and was really touched by the beautiful rose and sentiments everyone has sent to Jill and Joanne..My thoughts and prayers are with her as well.I'm friends with the two of them, and they are both very special people. Take care and know you've got lots of support during these trying times Jill...and I'll speak with you soon.
Flip
by Jillie on April 13, 2004 05:37 AM
Flip!!!! HONEY!!!!
I KNEW this was YOU!!!!
I was going to ask to confirm this was our dear friend on the Forum....just as JoAnn went into the hospital...didn't get the chance..

Sweetie, she's at Cedars. Might be upgraded to a room on the floor...so much to tell you.
Call me.. leave a msg.
* * * *


by Jillie on April 22, 2004 11:11 AM
This rose means so much, now..
I love you, everyone..
* * * *


by catlover on April 22, 2004 06:42 PM

and ((((hugs))))!
I read a good idea in the other thread....plants n'pots was planting a plant in Hollywood's memory....I really liked that idea and I am going to plant one as well. Jillie what was Hollywood's
MOST
favorite cactus/plant????



* * * *



by Jillie on April 22, 2004 07:49 PM
She dearly loved our night-blooming jasmine.
* * * *


by loz on April 22, 2004 08:09 PM
A plant is Joanns memory.....that's what I'd like to do too. I can't believe our Joann is gone...

by Jiffymouse on April 22, 2004 10:34 PM
a night blooming jassmine it is.
by Bill on April 22, 2004 11:01 PM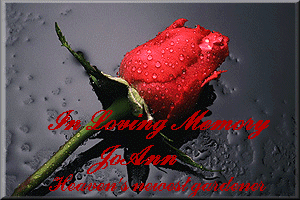 by catlover on April 22, 2004 11:32 PM
Jillie: A night blooming Jasmine it is!!!

What a beautiful rose....."Heaven's newest gardener"!

I can't even begin to tell you how much Hollywood has touched my heart

Memories have been flowing today...when I changed her name to Hollywood
...all the humor (especially Hollywood trying to get you straight on how to post pictures lol)....and when she corrected my grammar.

She will be deeply missed!!!


Jillie take care of yourself ....if you need anything let me know!!!

Catlover
* * * *



by flipper on April 22, 2004 11:55 PM
Jill, its me flip trying to get ahold of you.
I can't find your number..
PLEASE PLEASE CALL ME.
IF YOU DON'T HAVE MY NUMBER, CALL THE VALADON HOTEL WHERE I WORK.
I just logged onto this website, and discovered the Rose that was posted.
Feeling horrible..
Call me
by Bill on April 23, 2004 02:42 AM
When I read Flippers post, my heart sank to the bottom of my stomach, and the world just froze in place. I know that Jillie was the one who let us know early this morning, but I feel really badly about the way Flipper got the news.... Flipper, I'm sorry...
What was the worst case scenario that you ever think would be the beginning of this day?
I have felt for a long time that we were all a big family here.... Some of us were closer than others, but everyone shared in the concerns of everyone else to a certain degree.
I've only talked to Hollywood and Jillie a few time in the year since they joined us.... between those messages, and reading their posts and the comments of everyone who who ranted about the beauty they created in their world. Through that communication and association I somehow acquired two new sisters. Today, I lost my lil sister JoAnn, and I am so far away I can't even give my lil sister Jillie the hugs that I want to give, and the hugs that I know she needs...
Jill, I honestly don't know what to say to you, but your insight you put to me in that letter is close enough that I know you know what is in my heart right now. Today, there are hundreds of people from a hundred countries who are grieving with you. You don't even know that most of them exist, but trust me you are getting hundreds of hugs and prayers as you read this.
JoAnn is lucky... she's up yonder, planning out a new patch for her special plants... can you even imagine the soil they got up there?
Jillie, I'm sorry, but you're still stuck with the rest of us for now, but we are here for you and will always be whenever you need to talk or ya need a special hug.... and we all love you!


by apples on April 23, 2004 11:38 AM
Bill that rose...
It reminds me of this thing I thought once.
I was misting my juniper bonsai, the water started to drip off and I thought to myself that when it rains the trees and plants cry tears of joy. It doesn't realy aply to this situation but I've never had any other reason to say it.
This is one of the greatest places I know of Bill and I'm glad that I've gotten to be a part of it the last little while. You are all truely great people and I hope I will get to realize that even more!

Jillie, I know I didn't know hollywood at all and I've hardly talked to you but I just want to tell you, you have a another friend here!
* * * *
The answers will come when needed. Otherwise, I'm guesing time will make me feel silly.
by Jillie on April 23, 2004 06:08 PM
Ah, Bill, my new brother... Flip and I finally spoke last night. He'd accidently erased my voice mail with my phone number and he was frantic, poor thing. All is better, now.
Yes, Bill, I do know exactly what feelings you're expressing...and that what you've created here on this amazing website embodies the very meaning of friend-and-family bonding and love. Even though we're scattered all over the map, the closeness I feel to all of you, here, gives me such joy and strength.
Night-blooming Jasmine planted for JoAnn all over the country! That's marvelous! She will still be alive, everywhere..
In sincere love,
~ Jillie
* * * *


by loz on April 24, 2004 07:08 AM
This is in loving memory of Joann. May God hold you in his arms.

She came and gardened upon this earth for a while.
She brought cheer to us all, and many a smile.
Then she came to a point where she had to let go--
the battle became too much to bear,
and God had called to take her home.

She's cradled in his light, his warmth, and his love--
her soul is at rest with the Father above.
A beautiful place where she can garden all the time,
a place without danger, and heartache, and crime.

He probably said to her, Joann pick your spot
there are plenty of flowers, and soil, and pots.
There's every plant here you could ever want for,
anything you'd like Joann it can be all yours.

So you see, she's gardening now with the angels above
we will all miss her sadly, but she'll always be loved.
One day we will be able to talk to her once more
when God calls us home and opens up his doors.

A small memorial for Joann,
plant something pretty for her if you can,
You can look outside and think fondly of her.
She'll help make them brighter than ever before.
by Jillie on April 24, 2004 05:29 PM
Laura,
I thought I'd spent all the tears I had...until this. Its beauty overwhelms me. Thank you from the bottom of my heart.

* * * *


by loz on April 24, 2004 10:44 PM
Jillie, you don't have to thank me, really you don't......

It just all came tumbling out....I sat down to write and I couldn't keep up with my own thoughts....I'm glad you liked it.

by Jillie on April 25, 2004 09:13 AM
Laura,
You're a gift...

* * * *


by Norvona on May 22, 2004 08:46 AM
Hi,
I was just stumbling around and came across these posts from last month and am not sure how I reply to something this old. Still I feel I have to say something to each of you: Bill for both of the roses, how simply, perfectly beautiful! And Laura for the poem, it is so filled with pain and love and caring. And especially you, Jillie, for your loss, I want to offer my sympathy and a prayer that memories and good friends will help make each day a little less painful and easier to get through.
I have only been a member here for two days, and literally know none of you, still I am weeping as if I too have lost a friend. Your pain, your closeness, your love for each other is so evident it is moving beyond words. I will plant night-blooming jasmine in Joann's memory as well if that will be okay.
To all of you who offered such heartfelt words to Jillie, God bless you, she is so fortunate to have you. I would like to offer a poem for you as well, Jillie. I wrote it for two of my cousins(sister), who were very worried about each other as they both faced devastating health problems. I hope it brings you some measure of peace.
Norvona

GODíS PLACE
I wish for you a quite PLACE
Where worries fall apart.
A PLACE where only peace abound,
And love can fill your heart.

In this PLACE God talks with you,
And dries your every tear.
And fills your cup with joy and hope,
Drowning all your fear.

He can listen to every angry word,
Yet answer with a smile.
Then open wide His arms and say,
"Come rest awhile, my child.

"I never said there'd be no pain,
"Nor sadness for you to bear.
"I only promised when you needed me,
"I always would be there.

"No hill too high or day too dark,
"That I can't see you through.
"For even when you turn your back,
"I'll still be there for you."

Then with love He sends us back,
Into this world of woes,
But our PLACE is ever waiting,
And the gate will never close.

norvona 6/28/03
by afgreyparrot on May 22, 2004 03:39 PM
Beautiful.
* * * *



Buckle up! It makes it harder for the aliens to suck you out of your car!
by gardenmom32210 on May 22, 2004 04:13 PM
Norvona that was wonderful,very moving. You are quite talented.

Karen
by weezie13 on May 22, 2004 05:25 PM
Norovona,
That a nice poem!!
Very well written!
*and said*
Thank~You for adding that!
Weezie
* * * *
Weezie
Don't forget to be kind to strangers. For some who have
done this have entertained angels without realizing it.
- Bible - Hebrews 13:2



http://photobucket.com/albums/y250/weezie13/
by catlover on May 22, 2004 05:37 PM
Norvona ....I'm speechless...



* * * *



Search The Garden Helper: