Episode #19.... The Bus Stopped Here....
Willy's Place » The Further Misadventures of Wild Willy
by Wild Willy on April 20, 2006 08:26 PM

The Bus Stopped Here....
Early one very cold, rainy, icky Sunday morning, twenty-some years ago, there was a knock at my door. Standing there, looking like a drowned rat, was an old friend. I asked him what he was doing out in such miserable weather, and upon looking down the driveway I noticed there was no car!
Uhhhhhhhh... Dick what are you doing here and where is your car???
"Well... uhhhhhhhh.... ya see..... ummmmmmmmmm.... The Neighborhood Association where I live (down in yuppie terrace) came by with a notice that I had to get rid of a few of my cars from the yard, and since you have all this land you aren't using, I thought that you probably wouldn't mind if I parked them up here for a little while, while I make arrangements to store them somewhere else."
Out of the corner of my eye, I could see that this proposal did NOT meet with Icky's approval, but knowing that the cars were "Classics" I reluctantly told him OK.... but "ONLY FOR A SHORT TIME!"
"Thank you! Ummmmmmmmmm.... By the way Bill, I brought the BUS first... It's down at the bottom of the hill. I have help to move it (it didn't run) Just show me where!"
The BUS???????
Now, keep in mind that back then, the road was nothing more than a very rutted and rough logging road that hadn't seen fresh gravel in a decade... AND that it is POURING down rain.... and the hill is very steep!
Well.... ten hours later... its pitch dark (we didn't have power yet) the bus reached the top of the hill, pulled by a 2 ton truck that was pulling a 1 ton 4X4 that was pulling the bus. In the back of the bus was my neighbor who got sucked into the project with his backhoe pushing this stoopid 12 ton bus through the mud. It was late and we were all wet and tired so we just got the beast off to the side, with the understanding that it would be moved out of site within a week!
Well... for the next 20-some years, every time I looked out my window to enjoy my birds, critters and gardens, I got to see this thing of beauty!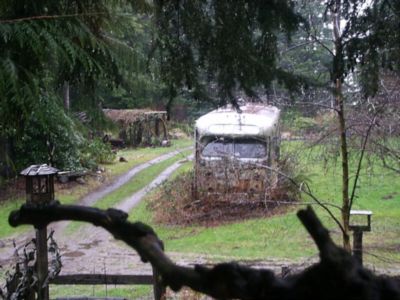 No he never did move it out of sight! Grrrrrrrrrr...
For those of you who might not know... big busses and trucks that have air brakes have a safety feature that applies the brakes when there is no air left in the system, so the brakes were locked on... that first night. Twenty years of non-use caused so very impressive rust, ensuring that there was NO WAY of releasing the brakes ever again... Oh ohhhh! A Herculean Challenge to say the least!
This March I finally got fed up with having my photos of deer, falcons, bears and birds ruined by the bus in the background, so I decided to do something about it!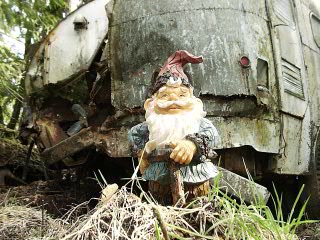 Alas, even using my biggest hammer and all of my muscle, it quickly became evident that I needed a little extra help if I ever wanted to get rid of the eyesore! In the imortal words of that Master Tool Man, Tim Taylor (my hero...), I needed MORE POWER! If you gotta move a frozen up 12 ton bus... get yourself a bottle of tequila and a great big 16 ton John Deere! YEAH!!!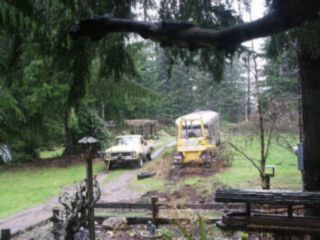 As I've glared at that bus over the years, my only plan for that space (once the bus was gone) was to plant it with more easy-care lawn. What I didn't take into account was the effects of pushing the 12 ton bus (with locked up brakes) with the 16 ton Deere across across a very soggy lawn. Yes, it made a very big mess and my lawn plan had to be radically altered.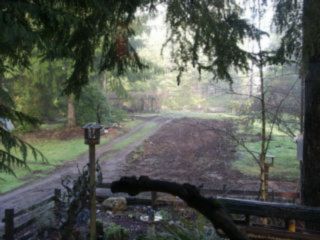 I have lots of work to do now, but at least when I took my picture of these four deer, the stoopid bus was no longer in the background, and now I am a very happy Gnome!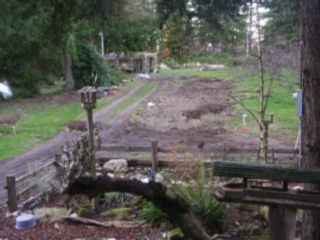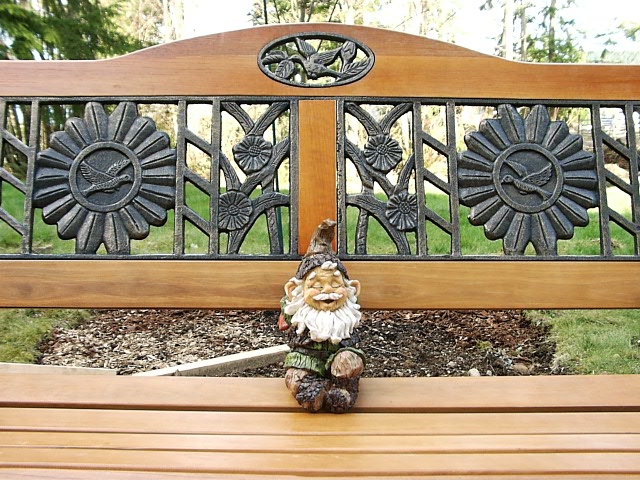 Coming soon, to a hill near you...
The Bus Stop
by afgreyparrot on April 20, 2006 09:00 PM
Holy Koogamooga! ! ! ! !

A week turned into 20 YEARS???
I can't wait for more pictures!

You have an awesome view now!
* * * *



Buckle up! It makes it harder for the aliens to suck you out of your car!
by tkhooper on April 21, 2006 01:02 AM
So now you have to find a huge bus shaped log to go with the bench right? hehehehe....sorry couldn't resist.
* * * *


by loz on April 21, 2006 02:01 AM
Wow, that's a long time for it to sit there!!!!!!!!! What did Dick have to say about it?????? Nothing I'll bet...I bet he avoided "the bus" conversation at all costs!
quote:

---

In the imortal words of that Master Tool Man, Tim Taylor (my hero...), I needed MORE POWER!

---
Hey, Marks hero too...right after John Wayne!
by gardenmom32210 on April 23, 2006 01:29 AM
Looks like a great place for a pond

Can't wait to see what you do with that!
by plants 'n pots on April 23, 2006 06:26 AM
quote:

---

Originally posted by gardenmom32210:
Looks like a great place for a pond

---
What a great idea, G-Mom!!!
Wow Bill... 20 years?!?

Bet you feel like you got a new piece of property there - so much potential!

* * * *


Lynne's knitting journal
"I'm spayed, declawed, and housebound - how's YOUR day going???"
by Triss on April 25, 2006 11:20 AM
Awesome stuff!!! That is going to be the most perfect spot!!!
* * * *


We are all under the same stars... therefore we are never far apart.
by netty on May 02, 2006 04:04 AM
Wow Bill, you are a very patient man! If that bus was left here, it would have been gone at least 19 years ago! I agree with the others...great spot for a pond!
* * * *


by Triss on May 14, 2006 06:19 AM
Can we get an update? Please?

* * * *


We are all under the same stars... therefore we are never far apart.
by Wild Willy on May 16, 2006 11:57 AM
Soon.... I promise!
by Triss on May 19, 2006 06:38 PM
Guess I am gonna have to come on up and see it for myself then.
* * * *


We are all under the same stars... therefore we are never far apart.
by Wild Willy on May 31, 2006 03:46 PM
Its
ALMOST
FINISHED!!!!

by Xetox on June 01, 2006 02:14 AM
Don't think I can wait much longer

Need a update......
* * * *
I hate those dang rabbits

Similar discussions:
Search The Garden Helper: