NOW can I pick it?
Gardening Reference » Gardening in 2006
by woodchuck on June 21, 2006 03:16 PM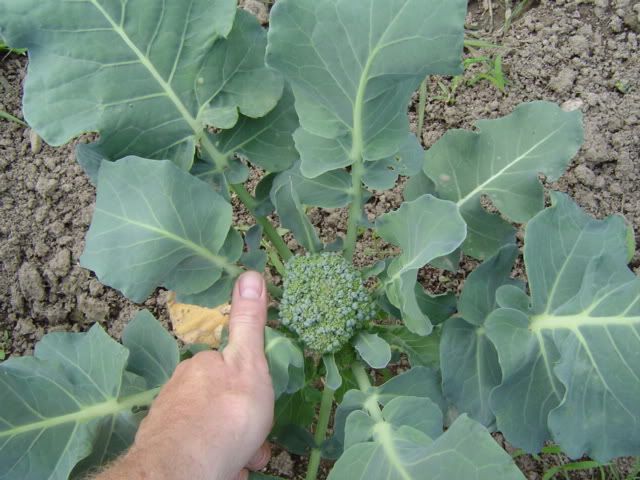 June 16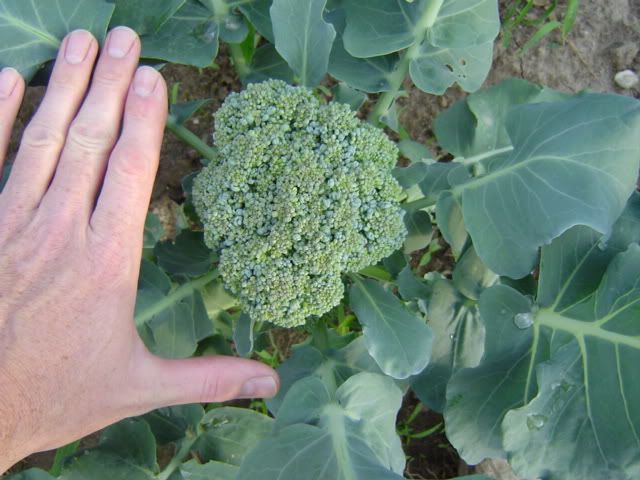 June 20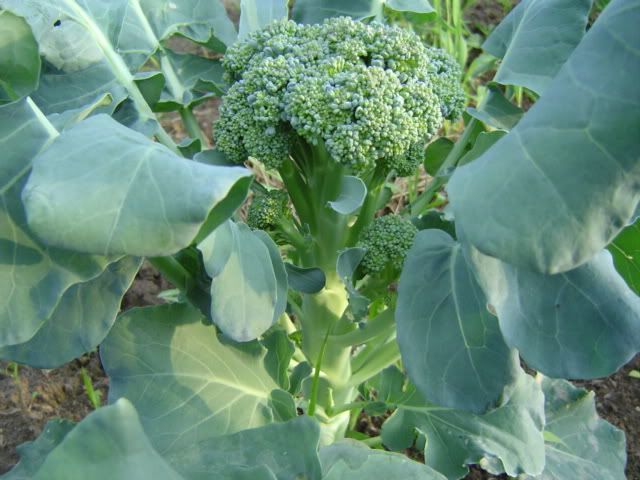 My broccolli is having babies

So, when is the right time to pick?
by Danno on June 21, 2006 03:30 PM
judging solely on what i see in the store. . i would say that has a lot of growing still to do!
by obywan59 on June 21, 2006 03:56 PM
I don't know, it looks like it getting ready to open up to me, but wait for some more opinions before you cut it.
* * * *

Terry
May the force be with you
by PAR_Gardener on June 21, 2006 05:24 PM
The florets should be tight. If they are starting to get loose, then it's time to pick. You can't always tell by the size of the head. Once the florets get loose, yellow blooms will soon follow and then it's too late.

Remember that broccoli is a cold weather crop. Heat can cause it to go to seed. The babies are a good thing. You can harvest them for a meal too. They will not come close to the size of the main head, but they're just as tasty.

* * * *
Composting is more than good for your garden. It's a way of life.

by Shawna M on June 21, 2006 05:35 PM
Pick the big middle one - it looks ready - and leave the little ones to grow a bit longer.
by Longy on June 21, 2006 05:35 PM
Your broccoli is ready to pick. That particular plant won't get a whole lot bigger and as Par-G says it will open yellow flowers and then it'll go tough and won't have that crispness.
These smaller, loose heads on broccoli can happen for a number of reasons, but the main reason my own plantings have looked the same in the past is, i believe, a combination of insufficient soil moisture and not enough organic matter and nutrient in the soil. They tend to flower when a little too young and the flowers are smaller. Result is a small, loose and slightly tough clump of broccoli. I think i've got them sorted out for my next crop. Hope so. I love broccoli.
* * * *

The secret is the soil.
by johnCT on June 22, 2006 01:38 AM
Good lookin plants! What variety is it?

* * * *
John - Zone 6

by woodchuck on June 22, 2006 10:21 AM
John, the variety is Green Comet.
by loz on June 22, 2006 10:41 AM
Wow that looks great, it's making my mouth water!

by cookinmom on June 22, 2006 12:34 PM
Looks pretty tasty! Did you eat it yet?

* * * *

Real women don't have hot flashes -- we have power surges!
by woodchuck on June 23, 2006 11:30 AM
Well, they are about 20%bigger already, so I broke of a little one for a taste, no not like chicken, more like green beans. Definately tastes like green beans fresh from the vine.

I will be cutting the one pictured, it's getting a little loose, and I wouldn't want the fowers to pop and not be able to eat it.

And my brussel sprouts are starting now too, about the size of a popcorn seed.
by Tamara from Minnesota on June 24, 2006 01:31 PM
Wow your nails are very clean for a gardener. LOL.

Mine are red from making strawberry jam today.
* * * *
by weezie13 on June 24, 2006 03:01 PM
quote:

---

Originally posted by Tamara from Minnesota:
Wow your nails are very clean for a gardener. LOL.

Mine are red from making strawberry jam today.

---
I noticed that too... mine are always the same color as the dirt..
I spend wayyyyyy too much
time in the garden...



Good lookin' broccoli... I still haven't found a spot for mine...
How many days from when you planted that til now?? Very curious???
* * * *
Weezie
Don't forget to be kind to strangers. For some who have
done this have entertained angels without realizing it.
- Bible - Hebrews 13:2



http://photobucket.com/albums/y250/weezie13/
by woodchuck on June 24, 2006 06:25 PM
You guys are something else, took ya long enough to notice, at least they aren't manicured. yukyuk.
The index finger is a little funny lookin, crushed it in my log-splitter.ow.

That's why I do the dishes, keeps my hands clean.

The plants were purchased in may, they had one set of leaves on them at that time, $14 for 36 plant flat, the ones I started from seed didn't turn out well, so I went for a more sure thing.

THe biggest head is getting looser, could that be from lack of water?, or is it time.

My daughter came out and looked at the broccili and said " yummy " so I broke off a small flowerette and she gobbled it right up, wanted another one. It's a start.
Search The Garden Helper: