Just sharing pics of the hornworms I found..
Gardening Reference » Gardening in 2005
by Meg on September 19, 2005 06:16 PM
I have never seen these before.. it's my first time, and HAD to get a picture, or four.
These are actually Tobacco Hornworms, that still like tomatoes. I put a quarter next to them to show their size.. there a 1 small one, and 1 big one. The white stuff on them, that looks kinda like rice, is from a parasitic wasp that laid eggs in them, and that is how they are "taken care of". Muahahahah.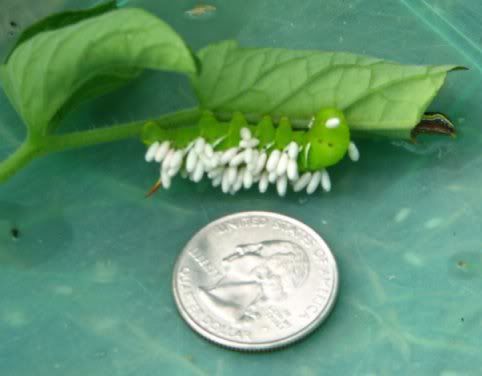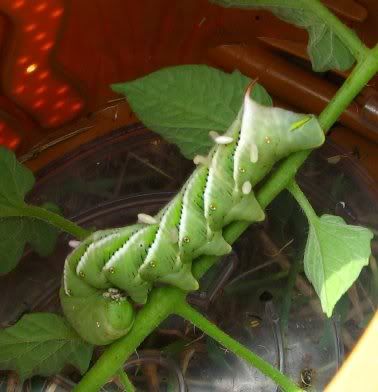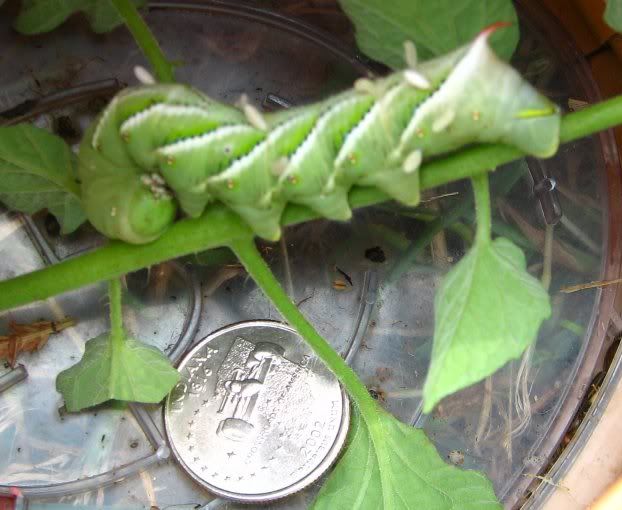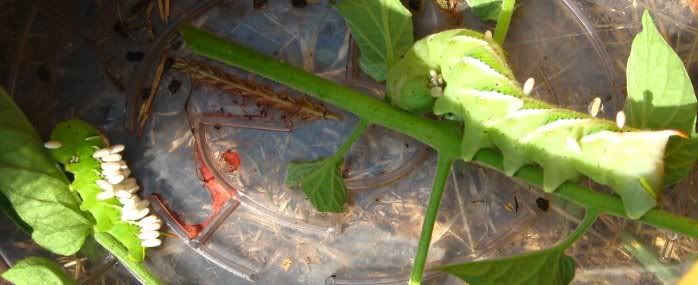 * * * *


I reject your reality, and substitue my own!
My favorite digital camera photos that I took.
My family, garden, and a bunch of misc. photos!
by weezie13 on September 19, 2005 11:08 PM
Very Cooooooooool Meg..
Buglady will enjoy those....
* * * *
Weezie
Don't forget to be kind to strangers. For some who have
done this have entertained angels without realizing it.
- Bible - Hebrews 13:2



http://photobucket.com/albums/y250/weezie13/
by Buglady on September 19, 2005 11:28 PM
nice shots......
* * * *


The Buglady
Suzanne Wainwright-Evans,
www.bugladyconsulting.com
Educating the world... one bug at a time
by Pesticus on September 21, 2005 02:08 AM
Yes they are Brachonid wasp larvae that feed on the inside of the caterpillars until they are ready to pupate. They then burrow out of the caterpillar and pupate on the outside. A week or so later and new wasps emerge. Great natural biological control, but a sad end to the caterpillar! Next month's Bug of the Month on the Just Green website
www.just-green.com
is all about Brachonid wasps that attack cabbage caterpillars!
Search The Garden Helper: