Another bug mystery
Gardening Reference » Gardening in 2005
by Meg on July 12, 2005 10:30 AM
This one isn't actually mine. I took this photo at my granny's in Ohio. Just curious, if anyone knew what it was..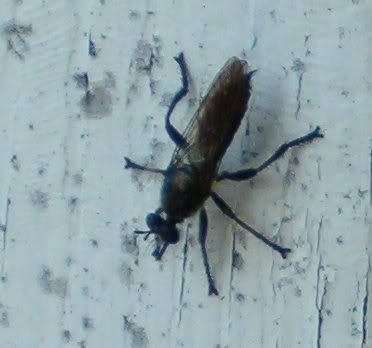 * * * *


I reject your reality, and substitue my own!
My favorite digital camera photos that I took.
My family, garden, and a bunch of misc. photos!
by RugbyHukr on July 12, 2005 11:56 AM
Looks like a sawfly.
* * * *

I love the sweet scents wafting in the breeze. I stop to admire the vibrant colors of all living things. And people think me odd. Then ODD I am!!!
http://community.webshots.com/user/flugnash
by atreus on July 12, 2005 10:53 PM
I would say sawfly too, ah, but which one......the mystery goes on

* * * *
http://www.atreusonline2.com/garden.php
Search The Garden Helper: