My poor basil
Gardening Reference » Gardening in 2005
by Fernie on May 27, 2005 07:11 PM
I had planted some cilantro (coriander), parsley and lavender for herbs this year. The lavender has been a little slow but really they all have done really well. I love to use fresh basil and I found a small pot of lettuce leaf basil somewhere....it was deep green and healthy looking. I planted it in full sun and keep it moist like I am supposed to.
Something has attacked the basil and it looks horrible.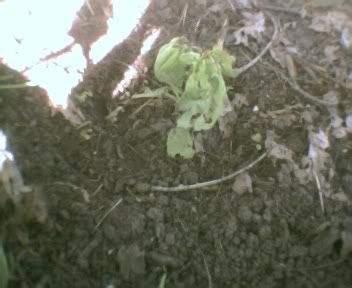 I have seen a kind of skinny narrow fly on it a couple times.
Can I save it?
* * * *

GO DAWGS!

by tkhooper on June 02, 2005 11:37 PM
I'm really weird. I kept my basil inside with me. It did great in the window facing south-ish. Are you sure it doesn't want some water?
by Fernie on June 03, 2005 12:20 AM
I water it every day. It looks chewed on in person. It started out with holes in the leaves and then the leaves turned yellowy and then more leaf got chewed off.
* * * *

GO DAWGS!

by 4Ruddy on June 03, 2005 01:24 AM
Fernie....I am certainly no expert..but do grow a lot of basil, it is my son's favorite herb and he expects me to keep him in full supply!
From looking at your picture, it looks like Genovese basil to me. I only have one Genovese plant because the African Blue has a better flavor and is more hardy. I found a green worm on mine this year...for the first time. Mine looked exactly like yours...eaten leaves and all...I thought it was a goner. Try spritzing it with a solution of water & a few drops of dishwashing liguid...check the underneath sides of the leaves and make sure there are no worms, white fly eggs, ahids etc....ALSO...you may need to put some crushed eggshell around the base of the plant. It may very well be slugs which you can only see at night. I think you can save the little guy...but I also wouldn't water it every day...maybe just every other day or so. good luck and let us know how it is going.
* * * *


Happiness, like a dessert so sweet.
May life give you more than you can ever eat...
***

***
by Fernie on June 03, 2005 08:10 AM
what great suggestions...I am going to try that spraying after I search the underside of the leaves.
do I need to bake the egg shells first to sterilize them? We used to have to do that if we were going to give the shells to chickens. I just don't want my dogs hauling them around the yard.
Thanks!!
* * * *

GO DAWGS!

by 4Ruddy on June 03, 2005 08:34 AM
I don't do anything to my egg shells except crack the up into tiny pieces and then put them around the base of the plant. I have also heard that dry oate will ward off slugs, however I haven't tried that.
I have, genovese basil, lemon basil, cinnamon basil and my favorite...African blus basil. It is just more hardy and has a much stronger aroma and taste. The bushes get pretty tall every year and I harvest off of them all summer long. Good luck with your basil Fernie,
* * * *


Happiness, like a dessert so sweet.
May life give you more than you can ever eat...
***

***
Similar discussions:
Search The Garden Helper: