bee balm assistance
Gardening Reference » Gardening in 2005
by BFVISION on April 28, 2005 03:15 AM

I now see what invasive means

in reference to a plant

I want to transplant the bee balm or portions of them and am wondering who has done this and have they had much success? It is popping up all around last years mound

and I would like to move and spread it out, give some to the neighbors,but everything appears to be connected?
Any help would be appreciated.
BFVISION
* * * *
BFVISION
http://www.imagestation.com/album/?id=2122269418&mode=guest
by Bill on April 28, 2005 03:31 AM
I divided my Bee Balm (Monarda) 2 weeks ago and the new plants are already taking off! Take a sharp (preferrably square) shovel and punch it straight down in the soil all around the section you want to transplant, pop it up and replant (or give away).
http://www.thegardenhelper.com/Monarda.htm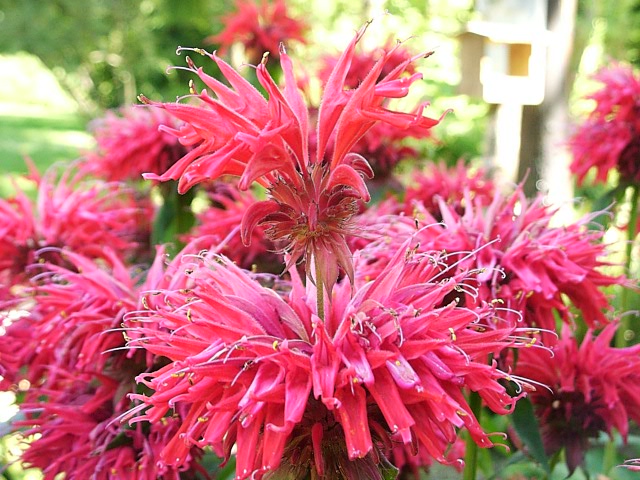 * * * *

by TomR on April 30, 2005 10:56 PM
I agree with Bill, it's that easy. Bee balm is fantastic and spreads like fire though a hay stack!
Mine is going NUTS right now...

Tom

* * * *
My memory's not as sharp as it used to be. Also, my memory's not as sharp as it used to be.

by Already Fuzzy on May 04, 2005 05:19 PM
Yay because I want to start some monarda and have it spread into a nice round area. The nursery told me it would. I am really glad to hear it spreads as promised.

Mail all your spare monarda to me I have the space!
by njoynit on May 05, 2005 05:13 PM
Nice picture Bill.
I have in a few areas.The leggy area is mostly sandy and can't say its spreads invasively there,but the compost-enriched bed does well.When you move it keep it watered for 2 weeks roughly daily& if are real rooty can trim roots a lil,it will make newer ones.I already can see my one bed is going to go to a cottage look now.I added compost to bed and lifted plants out...lined them up in a row then re planted them.I may have a monarda clump at one end,but are seedlings of different hights in the whole bed.Its probably going to look like my pink primeroses did...one small start and I guess it had seeded and covered the whole front half of bed where added compost to raise bed higher.I'll be spreading those out soon too so can seed in other areas.
I have mostly pinks,hopefully some of the seeds i've traded for will be REd.
* * * *


I will age ungracefully until I become an old woman in a small garden..doing whatever the Hell I want!
http://community.webshots.com/user/njoynit03
http://community.webshots.com/user/njoynit
http://photos.yahoo.com/njoynit03
Search The Garden Helper: