Composting question for you wiezzie
Gardening Reference » Gardening in 2006
by Danno on May 04, 2006 01:28 PM
in your picture here, your compost looks a lil clumpy. . like you added manure to it or something. Also i was browsing through your pictures, looks as though you sift your compost through? None of this was in the guide here on this website, so i was just asking for a lil bit o info

BTW

I LOVE the way you have these boxes for gardening (i presume its for your garden. . . ) how do you till if at all you do so?
by weezie13 on May 04, 2006 03:11 PM
Mostly what you see is clumps of dried leaves..
*I have two full lawns of leaves I have to use...
so, I stuff my bins full, and sometimes it doesn't get all rendered down...
So, there's those clumps..
*I don't have any access to manure..
well, none unless I want to pay for it..
But I did just work for some bunny poop!*
It wasn't a whole lot though.
(I did just load that stuff into one bin,
and it sure does cook faster...)
I sift my compost for stretching my gardening dirt/soil, when doing my seeds, I make up a seed mix of half compost and half seed starting bags..
*in a wheelbarrow full, usually doing at least 2 wheelbarrow's for seed mix..* then I sift again, to stretch the dirt/soil for potting soil...when fill up gardening pots/containers..at least 4 wheelbarrows full between my mother and myself...
I sift it, so it is finer and no so clumpy like you see in the picture..*especially for starting seeds, they can't break thru the big clumps*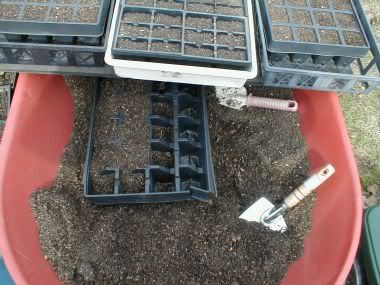 I also use it as a top and side dressing to my gardens, and it's easier to have the plants grow thru it, when emerging thru the soil...
Yes, those beds are for gardening...
and I used to use a mini~rototiller, but stopped..
got to reading about rototilling isn't all that good for the soil.. it breaks down the worm tunnels, and chops it up into fine particules, and then can act more like clay...
So, I stopped... and to be honest, since they are in raised beds...and no one walks on the soil, I don't really need the roto~tilling... cause it's always light and fluffy from year to year... *no compacting it*
When I did till it, I stood on those flat panels on top of the sides *the seats actually* and used one of those mini~tillers, a Ryobi.....
It was quite easy...
Here's the other 3...
*and I would love to have two more 4' x 30'...
man that would be most excellant..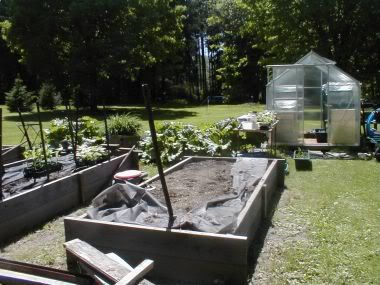 * * * *
Weezie
Don't forget to be kind to strangers. For some who have
done this have entertained angels without realizing it.
- Bible - Hebrews 13:2



http://photobucket.com/albums/y250/weezie13/
by Danno on May 04, 2006 04:25 PM
lol once again compliments on those gardening beds! I reallylike the way they turned out and their use as well

Thats some thinking ahead there!
I really do appreciate all your help as well. . . this is all going to go uphill from here on my end

I'm very excited!
One last question. . do you have bunnie/pest/rodent problems with the raised gardens there?
by weezie13 on May 04, 2006 04:42 PM
No fat ole woodchucks can get up there, unless
I forget and leave something there near the base of it, that they can get up on, and then jump up to the beds...
I did have things there, and did have someone up there giving haircuts to my lettuce..
I did put a make shift fence around it...but don't think I will leave it this year...
No bunnies that I know...but I do get deer.. but I fixed them, and turned some tomato cages upside down around things like sunflower sprouts and such, and they don't seem to come around...
However this year, I do think I did get some rodents in one bed... but I left piles of leaves around, and I had a ton of tunnels all over the place..I know better, but just didn't have time to finish them..
Originally, I put the beds in for my mom...
She loves to garden, and just couldn't get down to the ground, *or I should say, she could get down on the ground, just couldn't get up!*
And she loves it, easy planting, easy pickin' and harvesting..the tilling was kind of tricky, but like I said I'm not doing it now..
Are you going to put something similar in for yourself???




* * * *
Weezie
Don't forget to be kind to strangers. For some who have
done this have entertained angels without realizing it.
- Bible - Hebrews 13:2



http://photobucket.com/albums/y250/weezie13/
by Danno on May 04, 2006 04:52 PM
lol i wish i could do such a thing. . . i will definitely keep it in mind once me and the wifey move out of the city! I hate city life. . my kneck is as red as a fire-hydron

My wife has finally grown sick of the city life and its finally time for me to pack up and move out to the mosquito land where my kid can grow up right!
Yes i'll definetly use such a design once i get some land to work with. right now i'm sittin on like 1/3 of an acre city lot with privacy fence all around my lot. (still plenty of sunshine though prolly 8-10 hours a day full sun on the garden area.) Didnt have much room for anything this year. . garden is only 4'x 18' (wish i could go bigger)
I'm off to bed *yawns* Thanks again for the pics, help and all the good info

by Danno on May 04, 2006 04:54 PM
btw. . please have a looky at these plants i snapped a pic of tonight. . . . the tomatoes are growing, slowly. . but not near as slow as the pepper plants

lemme know what you thing. . as i say in the post i'm repotting toms this weekend.
http://www.thegardenhelper.com/ubb/ultimatebb.php/topic/16/1011/2.html
by Greenthumb newbee on May 07, 2006 06:07 PM
Weezie See if there are any people raising chickens out by you. Too bad your not by me as my brother in law has over 60 chickens so lots of manure. Chicken manure is great for your plants. Fresh stuff smells though untill it`s tilled in the soil.
by weezie13 on May 07, 2006 06:21 PM
Greenthumb, I was raised in the country and had horses, chickens, rabbits, geese, and ducks, we had alotttttttttttt of poop back then...
Now we live in town and you pretty much have to
pay someone to come bring you a load...
sighhhhhhhhhh!!!
My one friend has a ton of older bunny poop, I just have to get over there and get it...
I would give just about anything to have a couple of rabbits, chickens and little goats here where we live, but you can't have farm animals in town...Somedayyyy!!!
* * * *
Weezie
Don't forget to be kind to strangers. For some who have
done this have entertained angels without realizing it.
- Bible - Hebrews 13:2



http://photobucket.com/albums/y250/weezie13/
Search The Garden Helper: