Still trying to figure out what to do
Gardening Reference » Gardening in 2005
by Fernie on May 20, 2005 07:43 PM
with this wonderful stump in my back yard.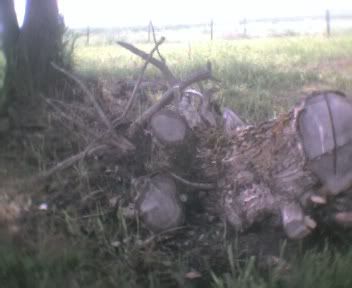 I have tons of different mosses on it (Wee Willie would have to tell me what and how many kinds and if lichens are included) and I set a turtle rain gauge on it. But I still don't know what to plant around, or over it or whatever. I think it is so cool looking but my husband wants to pull it out!!!!!!


* * * *

GO DAWGS!

by Safari Barbie on May 27, 2005 02:11 AM
Is it old enough to dig out holes in it? You could fill the holes with dirt and plants stuff in 'em.
Or level off some of the tops and place pots on them.
Too bad you live so far North - it looks like a perfect place for orchids......
Barb
* * * *
Barb
Southern coastal North Carolina
http://community.webshots.com/user/safari_barbie
by hisgal2 on June 06, 2005 05:44 AM
We have a stump in our yard that is planted with ivy. The ivy doesn't take over because we mow it when we cut the grass. I'll take a picture of it tomorrow when it is light.
One question...does the stump lay on it's side like that all the time? Or was it already pulled out when you took the picture. I couldn't quite tell.
* * * *


by hisgal2 on June 06, 2005 05:46 AM
nevermind...I just read the other post about the same thing and saw you don't like ivy...I'm still gonna post a pic tho!
* * * *


by Fernie on June 06, 2005 07:26 AM
check out the post "With the help of Phoenix"
* * * *

GO DAWGS!

by tkhooper on June 06, 2005 02:45 PM
Hi I just found a nursery that I like for ferns and moss and stuff. Maybe there would be something there that would be useful.
http://www.bigdipperfarm.com
by rue anemone on June 10, 2005 01:12 AM
check this out
* * * *


by Fernie on June 10, 2005 02:55 AM
I think I am getting there.....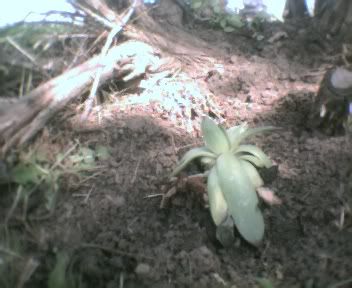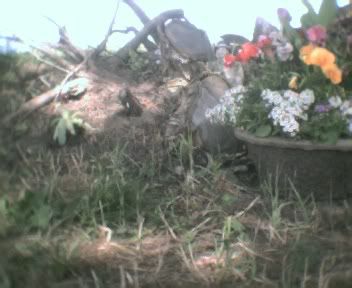 I am thinking of letting it alone this year and adding more next year.
* * * *

GO DAWGS!

by cybercrone on June 10, 2005 04:45 AM
Why not get some innoculant for shiitake mushrooms or some other mushroom of your choice.

Some big mushrooms would look great, and add to your table as well.
by floweraddict on June 10, 2005 08:34 AM
How about building a gazebo over it....

.... think of all the hanging flower pots u could hang from from it and the plants u could place around it....

I thought about doing a raised garden over an abandon unused well i had once.... I think my "ex" father-in-law finally buried it...
Actually, if it was mine, i would either pull it up, grind it up, or bury it....

* * * *
Bob

Search The Garden Helper: