MUCH NEEDED ADVICE
Gardening Reference » Gardening in 2005
by hisgal2 on December 08, 2004 09:07 PM
A little while back, I posted that I wanted to tear up the periwinkle, honeysuckle, and ivy that are on my hills and put in terraces. Well, I started saving money for this a couple of months ago and it looks like its going to happen this spring. So, here are my questions. I'm hoping enough people see this and know answers for me. There are some things that I just need advice on...like what to plant and such. I will be going out today to take pictures of the area and will post them on my webshots later on. I'll let you know when they are posted. Here are my questions.
#1~ Because the house is an old house and was originally a 1 room cottage, I will need to make a wavey wall instead of one that is a straight line. How many waves do you think I should make? Should the be short waves or long waves?
#2~ I will be getting field stone from my inlaws as they are building an addition onto their house and have dug many many stones out. Should I use cement to keep the stones where I want them or can I just pile them up to make the wall?? We do get alot of rain in the spring.
#3~ Should I make the wall out of cinderblock first and then just put the feild stone on the outside of it to camoflage the cinder?
#4~ Should I do 2 or 3 terraces??
#5~ I want to put in different plants that will bloom at different times of the year. There are alot of wild flowers planted around our house, so they will need to kind of match them. I am planning on going to a local green house for some and ordering some from catelogs. Anyone have any ideas as to what would look good there. They will need to be something that is pretty easy, as we are trying to get pregnant again and I won't be able to put alot of time into weeding and staying out in the summer heat. Also, we will be moving asap, so this is more of a curb appeal thing than anything, so I don't want to put in more $$ than I need to. It would be totally different if we were planning on staying more than 2 more years.
So, up for a challenge??
* * * *


by geegeeburr on December 08, 2004 09:22 PM
Well, I don't know much about much, but one thought re: how many terraces.
Depends on how much of a slope you're dealing with, and how you make your wall. I'm making a retaining wall out of blocks that you don't cement, you just stack, and those can't be more than 2-3 feet tall. I think it's ideally about 2 feet. So if you just stack your stones, no cement, and you have a 6' hill, then you're probably going to want lower walls and more terraces.
Have you internet searched for articles about building retaining walls? You might be able to find an article specifically about stacked fieldstone walls, and maybe it would have specs.
Good luck!
* * * *

by hisgal2 on December 08, 2004 09:44 PM
Yeah, those dry lock blocks are soooo nice! But they aren't the right style for my house and they are expensive...about $2 per block. The hill is about 5 feet tall...I can stand on the curb and just see over the top of it and I'm 5'6", so I'm guessing 5 feet tall. I'm experimenting with photobucket...so lemme post a general pic of the front so you can see until I get it all straightened out with photobucket or webshots...
nevermind....it was freakin' huge!!! someone should PM me and tell me how not to let that happen!!

hang on....I'm working on webshots now...
* * * *


by hisgal2 on December 08, 2004 09:46 PM
Ok, click on the webshots link in my signature, then click on "The house" file in my webshots. There are 9 photos in there....all different angles and such
* * * *


by Jiffymouse on December 08, 2004 11:16 PM
jenn, i would use 3 terraces, gently waving walls... just my thought!
by hisgal2 on December 09, 2004 01:05 AM
Ok, 3 terraces including the very top of the hill where it is flat right in front of the porch??? Because that's what I was thinking also.
Geegee~ I hadn't gotten around to looking for anything on the web yet. I did once do a search on how to make the terraces, but I didn't reap much from that search at the time. I wasn't looking too thoroughly at the time either. I'm going to start making a file on the subject tho.
Any ideas as to what to do about the 2 different slopes at the left side of the main slope? I really don't want to extend the terraces all the way to the property line. Oh!!! oh!!!! what about this!? What if I
did
extend the terraces to the property line and put in a second set of steps....like stone steps?? Because we do use the little stepping stones in the flat area right in front of the porch. Sometimes when we park over that way, we are tempted to just climb the hill because of the shorter distance. but we don't because I don't want a path worn into the grass. If I do that, we won't have to mow that hill anymore. Any thoughts on that?
* * * *


by geegeeburr on December 09, 2004 04:24 AM
Well, I'm a huge fan of curves, but personally, I think your house is such a classical form, and so symmetrical, that it kind of cries out for symmetry in the wall. Also keep in mind that curves=more rocks, which=more lifting, and also take up more linear feet, which= more digging. (You have to dig back a way from the front of the wall to make a level base, and even further back if you're installing drainage.)
I was also gonna ask, how are you going to end the wall? Anyway, here's what I would do, but that's just MO, which is worth its weight in feathers...
* * * *

by hisgal2 on December 09, 2004 05:25 AM
Now I would be the first to agree with you, but I am a little unsure about it. I like the drawing, except on the right, I wouldn't be able to end it like that because of the bushes right there on the property line. Those are the neighor's bushes and I don't think they will let me yank them out. That, and theyare really really old and I don't think I'd want to go through the trouble of pulling them out. The house seems symetrical in the pictures...that's my fault. The door is not in the middle, its off more to the left, enough that I think it would look totally out of place if I did symetrical terraces like that. Do you think if I did it like your drawing, but without the ending on the right, that the whole thing would look heavier on the left????
Second, all the other beds around the house are curved...I should have taken photos of that. Actually, I think there are photos of it in "the gardens" file....I will have to look.
Geegee, what do you think of my idea with the other steps??? Like, what if it could be incorporated with an entrance to the side garden??
* * * *


by hisgal2 on December 09, 2004 05:48 AM
Here is what I was thinking of. Its an aerial view.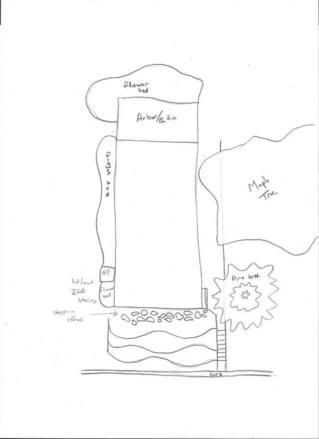 * * * *


by geegeeburr on December 09, 2004 06:27 AM
I like the idea of the steps! Now, when you say extend it to the property line, you do mean the SIDE property line, right? Like, to where your neighbor's sidewalk ends? (Cause you're talking curves, and I was thinking, wow, if you're going to curve it all the way around to your back property line, it's going to be A LOT of work!)A little set of steps right around there would be lovely, I imagine. But where are you going to end it at the right? Are you going to just take them to the steps that are already there, and stop? If so, I'm sorry, I didn't get it before, and that's why I made the sketch the way I did. Also, that would be a lot easier for you, cause if you try to run the wall in front of the ivy-tree, betcha the roots are going to give you fits!
But then, dunno, that MIGHT make it look a little unbalanced, unless you can think of some way to balance it out on the tree side? (BTW, did notice the door was slightly off-center, but didn't think it was that much.)

And God knows, you're smart to not want to dig out those bushes! (Just did that here- nightmare.)
* * * *

by geegeeburr on December 09, 2004 06:30 AM
AHA! I started that last post then had to put the baby down, then came back to finish the post, so just saw your diagram.
That looks nice!!! Can't wait to see it when you get started!
PS- I have a program on my 'puter called Sierra Land Designer, which is moderately user-friendly and I don't think was too expensive, and you can plan out your whole landscape design and look at it in 3D, and walk through it, and it has tons of plants and outdoor structures that you can plug in, and really VISUALIZE what you're going to do. It's a few years old, so I dunno if they still make it, but it's something for you to think about.
* * * *

by melcon6 on December 09, 2004 01:25 PM
I love the Sierra Landscaper set! It is very easy to use and you use your own picture and plug in the different pics they have and you can really see what you've got !

Personally I think you only need two tiers and love the idea of the steps over on the side. Nature is not always symmetrical so I wouldn't worry too much about the sides matching. I would also take the bottom 2 or 3 feet, since you don't have a sidewalk, and put in crushed rock path with stepping stones, or stones with some scotch moss which fills in really nicely if you can grow it there.

* * * *

HAPPY BIRTHDAY CINDY!!!!!!!
by geegeeburr on December 09, 2004 08:44 PM
quote:

---

I would also take the bottom 2 or 3 feet, since you don't have a sidewalk, and put in crushed rock path with stepping stones, or stones with some scotch moss which fills in really nicely if you can grow it there.

---
Oooh, that's a nice idea. I bet that would look really good, Mel!
* * * *

by LaurieAnn on December 12, 2004 07:40 AM
by hisgal2 on December 13, 2004 05:52 AM
Yes, Geegee, just the front. Everything else is fairly flat. As far as on the right side...I don't know what I'm going to do with it. Do you think it would look weird if just the main front was terraced and not the right?? I put in a little shade garden behind the pine tree and those roots were just awful!! I don't mind the ivy so much because the whole thing is full and looks ok...not slotchy like the main hill is.
The door is off by a couple of feet.....it drives me nuts!!!! I am just a tad OCD, I'm sure!


Melcon6~ I will look at the Sierra Landscaper thingie later tonight or tomorrow when I have time. Today has been soooo hectic. I was planning on leaving a couple of feet at the curb, like you suggested. The nieghborhood kids usually walk right there on their way to the bus stop. I kind of wanted to put something there so that they couldn't because I have rope lighting on the sides of our walkway and steps that we use as regular lighting and they are constantly dragging their feet across the ropes and moving it out of place....which ruins the little lightbulbs and drive me nuts....here again...OCD.


The stepping stones and crushed rock path is what I had figured I would do as the step up the terraces. I should take a picture of the brick path that is on the right side of our house....do you think the stepping stones and brick would look ok together??
Hi LaurieAnn~ Its nice to meet you. I'm glad you found the forun...its full of great people with alot of knowledge.....well...most of them.

This thread is a bit of a continuation of one that I ran a little while back. At the time, I was trying to figure out what to do with this hill in the front. It is somewhat of a steep hill. I had toyed around with the idea of doing a rock garden, as you had suggested, but we get alot of heavy, heavy rain here in the spring and sometimes in the summer (this has been a VERY rainy year for us as we just had an entire week of rain......again!). I am afraid that things would wash down the hill before they had a chance to establish themselves. I did look at your links....the first three are for AOL members and subscribers only, so I couldn't look at them (we have a cable modem and don't use AOL), but the last 2 went through and I loved looking at the pictures. I was thinking of putting some fun little things in the terraces...like unexpected little things. Do you have any ideas?? You seem to have a creative personality.
* * * *


by geegeeburr on December 15, 2004 09:56 PM
Well, since you're going to curve the terraces, AND since the door is OFF-CENTER
, it's not going to be symmetrical anyway, so I think it probably wouldn't look wierd. And the ivy does cover the hill nicely. Once you put it in, I bet you'll think it looks fine. (And anyway, if worse comes to worst and you decide it does look odd, you can always talk to the neighbor and put the terraces on that side later.)
* * * *

by LaurieAnn on January 02, 2005 04:46 PM
Jenn, sorry about the Sunset links. I never noticed it was available to AOL members. LOL!

As far as adding whimsy, your imagination is the limit.

You could put a few potted plants amongst your ground planted ones to add variety to height and texture. Your 'pots' can be almost anything that are planted; for example, an interesting watering can, an old boot, a pail possibly 'dumped over' with your plants 'spilling' out.

Garden art can be as formal as a sculpture or as simple as an interesting shaped or colored rock or branch/driftwood. Just have fun with your garden.

For my tiered garden area, I'm thinking of planting a white/gray-leaved ground cover that will cascade down the tiers to a pool of "blue" blooms and/or leaves at the bottom. If I plant a combination of bulbs, perennials, and annuals, I should be able to keep the look almost year round.
by hisgal2 on January 04, 2005 05:10 PM
I like those ideas. I just got 2 seed catelogs yesterday and saw a couple of plants that I'd like to cascade over the wall (which I had thought of in the past). I thought it would be cool to find a bucket and put it on its side and have some blue cascading plant growing out of it and over the side of the wall....like water flowing out of the bucket. I think I would be better off it I had a theme for the terraces. Any ideas anyone??
* * * *


by hisgal2 on February 17, 2005 12:23 AM
So, today I decided to revisit this thread. Spring is coming and will be here before I know it! I have a massive pile of seed and plant catelogs and am now ready to start the serious stage of planning the terraces. I noticed while I was driving to work today that there is a building that has been built not too long ago. There are rocks all over the place around the building. I'm going to ask the people who are working on the building if I can have some of the rocks for my walls. Do you think they'll let me have some? I am also going to price the cost of a pallet of field stone at Home Depot and Lowes this week. I noticed that they've been cleaning out the gardening department.

So, any ideas about what to plant?? I would really like to make one part of a terrace blue and pink with some yellow accents in it. I want to put an angel statue in the middle of the plant grouping and make that part of the garden for our little angel that we lost. I do want some plantings that will fill in a bit and drape themselves over the walls also. Purples too...and reds.

* * * *


Search The Garden Helper: