Hosta problem
Gardening Reference » Gardening in 2004
by gfahnestock on September 27, 2004 09:53 AM
I seem to have a problem with my varigated Hostas. I have 3-4 Patriot hostas that over the last two seasons have withered away to about a quarter of their original size. At the same time my solid (light green and blue) hostas have thrived more doubling in size. conditions are identical. Lots of rich compost. Plenty of water. All of my varieties get little or no direct sun. The one thought I have is that perhaps the varigated hostas may require more sun? Anyone experienced the same issues?
by hisgal2 on September 27, 2004 04:42 PM
I have tons of hosta, but I don't know the names of them. I have this one that is just huge...it must be almost 4 feet across this year. Anyways, I do have some hosta that are a dark green....they were really really small this year. Kind of puney and didn't really look like hosta. They looked more like daylilies because their leaves weren't full like a ball like hosta get. But their flowers were massive this year. We're talking 4-5 inches long! I didn't really think about their conditions until I saw your post. Like yours, these don't get much sun and get plenty of water and they are the first thing I compost in the spring. Maybe mine are having the same problem that yours is??
People around here are having horrible problems with bugs chowing down on the hosta. I thought it was just in my garden until we went to the museum for a baptism yesterday. Every single one of the hosta there were full of holes where bugs had been munching. Any clue as to what I can do next year so that this doesn't happen??
* * * *


by weezie13 on September 27, 2004 04:52 PM
Hello

Gfahnestock,
Welcome to The Garden Helper's Forum's...
We are very glad you found us!!!
Hostas will do very well in an area that has morning sun but is protected from hot afternoon sun. they are shade growing plants, that would normally be growing under plants in the woods/forrests, that they originally come from...
For growing healthy hostas you need an organic, well-draining soil and a constant supply of soil moisture...(Not soaking wet, but moist)
Which it sounds like you have........
A good rule of thumb for hosta's are..
The blue-green hostas like the shade alot and not much sun, and will stay that neat blue color in shader~cooler spots.
The one's with the yellow, green and Lime~Green(chartreuse) and white bi~color leaves are most tolerant of sunlight as long as their roots have alot of a supply of moisture. (Compost like, peat moss around it's area to hold in moisture, like in the bottom of the forrests) I LOVE COMPOST!!
The hosta's with the thicker leaves too are a little more able to go into the sun than the thin one's too!!!
So, keep your blues in where they are, and move your whites into a bit more sunshine and see how they fair...
I love the blues and the lime green ones and the miniture ones too, they are so much fun...
How many do you have????????
Weezie
* * * *
Weezie
Don't forget to be kind to strangers. For some who have
done this have entertained angels without realizing it.
- Bible - Hebrews 13:2



http://photobucket.com/albums/y250/weezie13/
by Meg on September 27, 2004 05:45 PM
I know, you weren't asking me, but.. I had one hosta.. and split it in half early in May this year. It was big enough so I figured, what the hey, I was told they are hardy..
They are pretty much in full sun. The one looks better now than it did earlier this spring/summer, when the pumpkins were smothering it out and buggies were munching away. It's still kinda small, but filling out. It never grew it's bloom stalk yet, probably won't this year now. But..
The other half..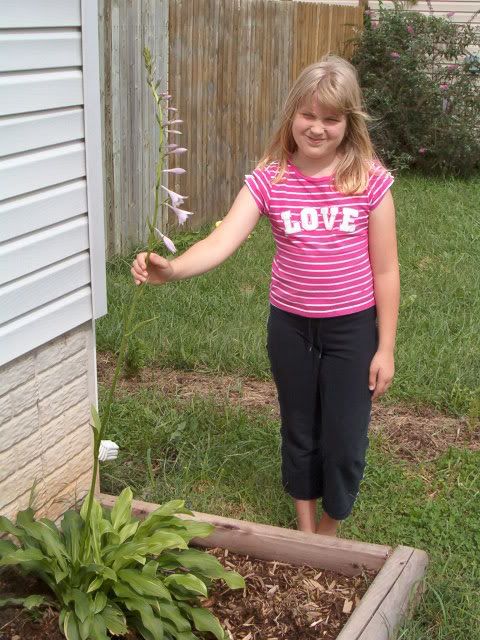 and..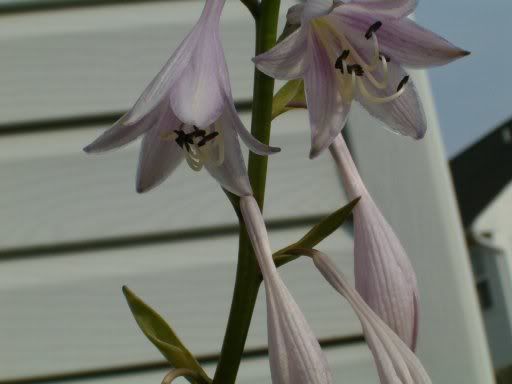 Meg
* * * *


I reject your reality, and substitue my own!
My favorite digital camera photos that I took.
My family, garden, and a bunch of misc. photos!
by melcon6 on September 27, 2004 09:43 PM
I have lots of Hostas, some in shade , some in full sun. By dumb luck I guess, it's the variegated ones in the sun. To me it sounds like your problem lies in the roots. I would dig them up in the spring, when they are about 2" up and check the roots . With a sharp,clean knife you would cut off any rot or squishy stuff. Or check for ants or other insects eating away at them. Also I think chipmunks will eat roots?
quote:

---

having horrible problems with bugs chowing down on the hosta

---
That would most likely be slugs. Look for yellowish slimy trails on leaves. What I do if slugs get out of control is surround the plant with crushed egg shells.They don't like that.
* * * *

HAPPY BIRTHDAY CINDY!!!!!!!
by hisgal2 on September 28, 2004 05:36 PM
That is where this problem gets weird. I thought it was slugs, so that's what I did. We eat ALOT of eggs and I've always crushed them and put them around the plants. Not that I knew why I did that at first tho. I just did it because my Nanny used to do it and my mom does it....kind of like the joke about the lady cutting off the end of the ham. ANYWAYS, I don't think slugs are the culprits only because of the egg shells already in the ground and I don't recall seeing any slim paths on the leaves when I looked at them close the other day. Is there anything else that it could be??
* * * *


by melcon6 on September 28, 2004 09:29 PM
My friends and I have notice that this year there seems to be a HUGE amount of grasshoppers (Anyone else notice that?????) They never bothered me or my plants enough to notice but with so many I've notice them chowing on everything! They eat up the basil, bee balm,nastursium,morning glories, black-eyed susan vine, cosmo..... I've seen them on everything. I guess now that I think of it they've been on the Hostas too.
* * * *

HAPPY BIRTHDAY CINDY!!!!!!!
by Meg on September 28, 2004 11:33 PM
You're not kidding about the grasshoppers! I am taking my revenge on them. I hack them to pieces whenever I can catch one. Grrr. They ate so much of my plants! I have soooo many this year!!
* * * *


I reject your reality, and substitue my own!
My favorite digital camera photos that I took.
My family, garden, and a bunch of misc. photos!
Similar discussions:
Search The Garden Helper: