Confused Iris
Gardening Reference » Gardening in 2006
by tkhooper on October 01, 2006 08:54 PM
I got some iris' in mid summer during their bloom time. I planted them in my garden and they finished blooming and then the leaves died back. Now the leaves are back. What if anything can I do with them. Should I bring them inside and let them bloom in here?
* * * *


by alankhart on October 01, 2006 09:47 PM
I assume you're talking about bearded irises, so you should leave them in the ground (if they are hardy in your area). They will multiply and have more and more blooms each year. Most only bloom once a year, but there are some repeat bloomers.
* * * *



by netty on October 02, 2006 09:18 AM
I've noticed that my Iris' dies back in the late summer and then starts getting new growth again in the fall. Are yours getting new leaves or flower buds?
* * * *


by tkhooper on October 02, 2006 08:16 PM
new leaves right now. I had no idea that they would bloom a second time.
I don't know if they are bearded. I don't know anything about iris'.
* * * *


by joclyn on October 03, 2006 12:42 AM
if you've got a second round of growth happening, it's probably a double-blooming bearded iris. i'm not aware of the other type of iris being a double bloomer.
or, you could just be getting new growth that indicates you've got babies growing.
i split out my bearded iris this spring and i've seen lots of new growth happening over the past month or so...mine had gotten so crowded, they're just loving having the extra space to grow!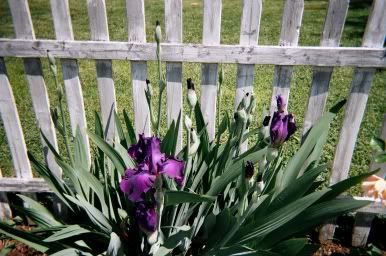 you can leave them in the ground - they're hardy where you are...a layer of mulch for the winter and they'll be fine...i remove the mulch (i use leaves) in the spring.
they should be split every 3-4 years. they multiply very well

by sibyl on October 03, 2006 12:54 AM
my bearded iris blooms in june . theres a few diffrent iries out there. from the large bearded iris bout 4feet tall to the little dainty duch iris.bout 12 inches tall.there very hardy.i live in zone 6. and keep mine out all year long.

* * * *

by Patty S on October 03, 2006 01:31 AM
Tammy, did you take any pics of your Irises when they were in bloom this spring? Bearded Iris have broad petals with fuzzy lines down the center of each one ... they sort of look like pretty caterpillars!
For comparison, here are 3 types of Iris. Only one is bearded... the yellow that you see on the other 2 isn't considered a "beard", & is mostly just coloring on the petals.
Dutch Iris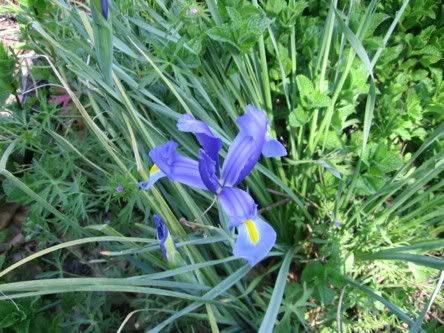 Siberian Iris
Bearded Iris
I used this pic in case you're interested in knowing what the different parts are called. (I had to break off an upper petal to expose the inside of the blossom.)
The parts & inner-workings get LOTS more detailed than this, & I found Iris reproduction to be a really interesting study.
(but I won't bore you with that... this is as sophisticated as we need to get for the purpose of basic ID information!)

If I'm not mistaken, Dutch Iris come from bulbs, Siberian Iris have mostly roots, & Bearded Iris have rhizomes.
Iris are VERY hardy plants, & won't do well if you bring them inside, as they love the cold spell that winter gives them & the leaves will withstand extremely cold temperatures without batting an eye. Your new leaves are an indication that the rhizome has settled in & developed a new plant for you! (Sometimes they will send more than just 1 or 2 in the same year, but don't be surprised if the first year plants don't produce a flower.)
By the way, I've really enjoyed watching you enjoy your gardens this year. Of just about all the people here, your exuberance has to take the prize!

You are
one happy gardener
& there's such a fire under you that I think you're an inspiration to a lot of people, to hang in there & MAKE IT WORK!
* * * *


by tkhooper on October 03, 2006 05:16 AM
Thankyou for all the information. You could have "bored" me with the rest. I find it all facinating. well mine are either the siberian or the bearded. I remember the flower looking more like the siberian but the leaves are like little short glad leaves very wide and stiff. And they have to be iris' because there isn't anything else in that bed. Maybe it isn't the iris that's confused but me lol.
* * * *


Search The Garden Helper: