Is there hope for .........
Gardening Reference » Gardening in 2006
by floweringchild on September 25, 2006 04:22 AM
my Boston Dallas fern?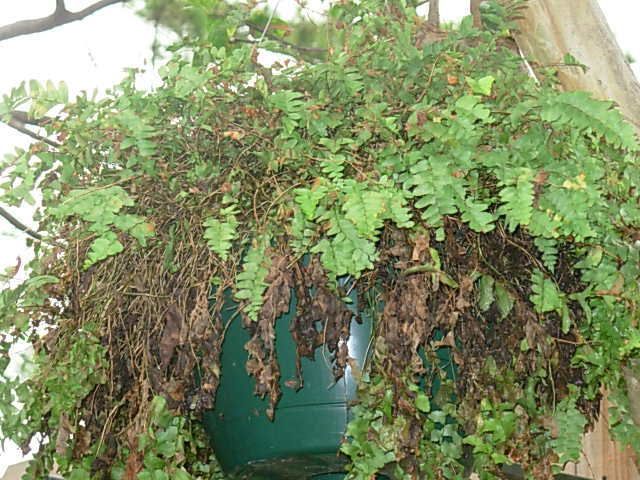 As you can see, seems somewhat burnt. Geez, when I first purchased the plant (approx. 3 months ago) it was symetrically shaped and looked great.

Sorry plant.
Others who grow boston Dallas ferns here? Suggestions, comments, tips?
* * * *

by kennyso on September 25, 2006 04:48 AM
Not sure cuz I haven't grown ferns before, but I believe I read that they root wuite easily at the tip, so I'd say take a few cuttings for the worse.
* * * *


Blessed are the meek, for they shall possess the earth
My Website
My Blog
by floweringchild on September 25, 2006 12:16 PM
Hey Kennyso,
I was thinking about trimming the burnt. You mean should I start a cutting and root in water?
Fern lovers/aficionados comments?

Others as well?
* * * *

by TulsaRose on September 25, 2006 07:00 PM
Stephanie, your fern looks like it has not received ample water and possibly too much sun. They prefer bright, indirect light and lots of humidity.
Ferns love moisture and shade...misting daily, etc. You can sit the pot on a humidity tray.
Another possibility is it could be rootbound. I used to sit mine in a sinkful of water about once a month and let it soak until it was thoroughly watered, then hang it over the sink to "drip dry."

I would cut out all the dead stuff and repot to a larger container. Fertilize about once a month.
The only way to propagate the Boston Ferns that I know of is either to divide the mama plant or by the spores (seeds) found on the back of the leaves. I don't know how to describe what they look like...just uniformly spaced little dots on each leaf segment. The following is from a website giving propagation information:
Ferns may also be propagated by spores. During the warm months of summer, ferns produce dot-like structures called spores on the underside of the leaves. When the spores ripen and turn dark remove the leaf and place in a dark container like a paper bag. Let the plant dry out. Once dry you can shake the leaf and thousands of spores will fall free. Place the spores in pot containing a peat based seed-starting mix. Work carefully as the spores can blow away with the slightest breeze. Water the container from the bottom up. When the soil surface is damp, place the pot in a plastic bag. Place the bag in the sun and keep it warm, at a constant 65 to 70 degrees F. You will first see a layer of green goo on the surface of the pot. This is the primordial soup that will become new ferns. This can take a few days or several months. Next, small fern like structures will appear, when these fronds are about 1 inch tall remove the plastic bag. As the ferns are very closely packed they will have to be transplanted in clumps to small pots. Once they are two to three inches in height they can be transplanted to individual pots. Fertilize lightly at this time.
* * * *
Rosie z7a


by floweringchild on September 26, 2006 11:37 PM
Hi Rosie!
My Boston Dallas is hanging in a crape myrtle with not too much shade from a neighboring water oak. Thought I would try hanging the plant there anyway. I did miss a few waterings.

Do you think it's too late to transplant it?
Thanks for the great info concerning propagation of Boston Ferns, interesting too.

* * * *

by TulsaRose on September 27, 2006 03:37 AM
Stephanie, give it a hair cut and repot it. I think you'll be pleasantly surprised with the results in a few months.

* * * *
Rosie z7a


by Deborah L. on September 27, 2006 12:17 PM
Rosie, you're right on the money with the fern advice !
I can't grow the beautiful maidenhair fern-is it true that they can only live outside? I want a huge one in my bathroom sooooooooooooooooo bad !
* * * *


by TulsaRose on September 27, 2006 06:39 PM
Deb, I've had miserable luck with the Maidenhair ferns.

I think our summers are just too danged hot and long! They used to start out so pretty in the spring but by the end of June, they would be fried. I would think one would do well in a bathroom if there is sufficient light and you kept the potting soil moist but not soggy. Maybe another member can give you some good growing tips.

* * * *
Rosie z7a


Similar discussions:
Search The Garden Helper: