Strange fungi?
Gardening Reference » Gardening in 2004
by Bill on May 21, 2004 09:03 PM
There is strange, fungus looking stuff growing on the stems of my
Wild Rose
.
It doesn't appear to be doing any harm to the plant, but I don't know how long it has been there and would like to find out what it might be, BEFORE it does any damage.... I'd appreciate any input or suggestions!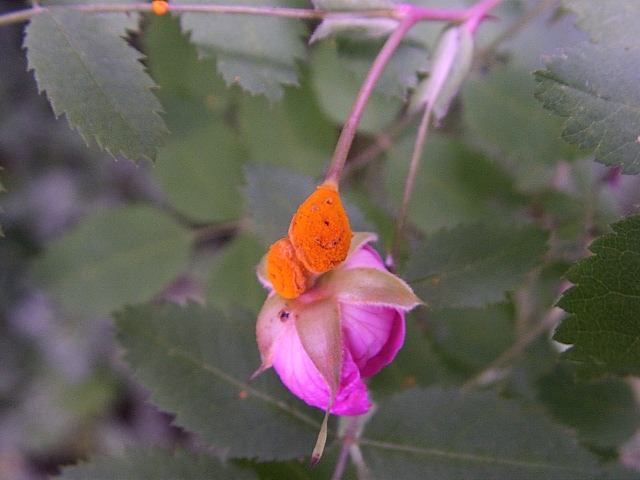 by catlover on May 21, 2004 09:09 PM
I see only a few specks on the leaves.. but it looks like it centers on the new buds... Have no idea but would Rust do that.... when I have had rust it centered on the leaves not the buds. Hmmm strange... Where's buglady???


* * * *



by Bill on May 21, 2004 09:32 PM
I wandered out and took a closer look...
The webs that you pointed out in the lounge are only in the one area, and I'm pretty sure they are just webs of tiny spiders.
The tiny orange specks appear to be spores from the fungus (I guess they could be starts of new fungal growth). The large fungi areas are ALL at the base of the rose buds and at the apex of leaves to the stem. In some spots it is about 1/2 inch in diameter and 1/4 inch thick.
by Phil and Laura on May 22, 2004 06:02 PM
Hey Bill, Not much of a Rose type guy, but my man at the U of M had this to say,(M.G's have
FAST
access to info)I have NO IDEA if this is your problem but he said it is prevelant in the Pacific coast region! Rose rust, Phragmidium species; Orange postules develop on leaves and
succulent stems
then turn black in late summer. Favored by cool humid weather. (Overwinters on diseased leaves and infected stems.) Remove and destroy all leaves and infected stems during the dormant season.And of course (and the reson the U and I don't see eye to eye,) the
"CHEMICAL SOLUTION"
: Dormant spray of Bordeaux (8-8-100), lime sulfur or tribasic copper sulfate. Growing season: Ferbam or triforine. (Propiconazole for field-grown roses only.) If I studied it I could come up with a "safer" solution, however the bordeaux mix is O.K. by me

by catlover on May 23, 2004 12:18 AM
Hmmmmm... could I have possibly been right!!!

* * * *



by Bill on May 24, 2004 02:58 PM
Yep! You hit the nail on the head Karen! Thank you!

Thank you for the confirmation and treatment recommendations Phil!

(You don't get a kiss though...)
by Phil and Laura on May 24, 2004 05:15 PM
I should Hope Not!

by The Plant Doc on May 29, 2004 02:28 PM
Hi Bill
I am not certain about rose rust, but with most other rust outbreaks, you can push the disease away with a good heavy dose of a high nitrogen based fertilizer. I never even bother using a fungicide when rusts appear on lawns. I just up the fert rate. Also keep any night time watering down to a minimum, and try to achieve as much air circulation around the plant as possible.
I have not been around much latley, I started a new job, and well, lets put it like this, I was on overtime when my alarm clock went off yesterday morning. I am very much looking foreward to this weekend to do some catching up.
Take care
Mike
* * * *

Mike Maier
aka
The Plant Doc
Similar discussions:
Search The Garden Helper: