Datura? Brugmansia?
Gardening Reference » Gardening in 2006
by Patty S on September 10, 2006 04:51 PM
I started this from seed, & it was such a slow grower that I wondered if it was ever going to do anything this year... until I noticed the weird cone shaped thing starting on it about 10 days ago. (I don't even know for sure if it's an annual or a perennial!)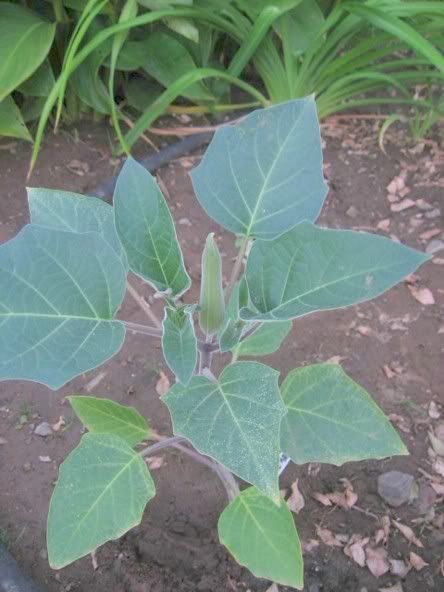 As I watched, the darned thing got bigger & bigger, & I wondered if it was going to stop before the flower got too big for the stem to support it! (I meant to take a picture of it yesterday, but got sidetracked & forgot. It looked weirder than ever, because it was drooped over, the point had gone away, & I could tell that it was getting ready to open!)
It had been taking it's own sweet time to grow, & once the blossom started to form, it seemed like it STILL wasn't in a hurry! Since I forgot to take the pic yesterday, I went out this morning to do it, & this is what greeted me!
... And it IS almost too heavy for the stem!

(So, I propped it up with a chop stick!) There are 2 other blossoms starting on it, which I'm sure won't be as big as this first one.
I don't recall seeing anything about Daturas around here. (But it just could be that I haven't been paying very close attention!) From the little I've found so far, I'm wondering if it's a Brugmansia instead.

(They both look alike, to me!)
I'd appreciate hearing what anybody knows about this plant! I'd like to know if it's annual or perennial, & if it makes seeds. (I want more!) It's been growing in full sun, but the blossom is so paper thin & delicate, I'm wondering if that's where it should be.
(Thanks!)
* * * *


by patches1414 on September 10, 2006 05:11 PM
Patty, my friend, Pam, has several Datura in her greenhouse and from what I can tell they look the same as your plant.

The leaves appear to be the same and I recognize the little spikey points around the edge of the flower. I've also heard her call it an Angel Trumpet. I know she had planted one or two outside before because they are supposed to be hardy to zone 5, but I think she lost them,

so now she puts them in greenhouse for the winter. I guess that means they are a perennial because I think she keeps them there all year, but I don't know for sure.

I'll ask her the next time I talk to her. They are awesome looking flowers and yours looks great too! Good job if you raised this from a seed!

* * * *


"Lord, I love you and I need you, come into my heart, and bless me, my family, my home, and my friends, in Jesus' name. Amen!"
by netty on September 10, 2006 07:13 PM
That's Datura. I have some here and I need to bring them in for the winter (zone 5) But sometimes I have some pop up in the garden the next year.
After the flower dies back, let the seed pod grow. It will be a big spiny ball. I pick mine off just before they open.
* * * *


by TulsaRose on September 10, 2006 07:14 PM
Patty, you have a nice Datura, commonly called Moonflower Bush or Plant.

The easiest way to quickly tell the difference in Datura is the upfacing blossom. Brug flowers hang down. There are lots of other differences but that's a good rule of thumb to start with.
Doing a Search here for Datura found a lot of threads discussing the plant\seeds\sowing, etc.
Another good source of information and great pictures is
here.
Brugs are commonly called Angel Trumpet and get very, very large and tall.
View here.
* * * *
Rosie z7a


by plants 'n pots on September 11, 2006 11:41 AM
That plant is GORGEOUS, Patty!
I have to agree with Rosie - I've always heard that datura flowers open upward, while brugmansias face downward.
I grew some double purple brugs. for 3 years - I only got a few flowers all that time, and they took up way too much indoor space overwinter, so I gave up on them. I have seen some beauties in my neighborhood, but I've not been so lucky.
I hope yours continue to do as well for you as they look here - so lush and healthy!
* * * *


Lynne's knitting journal
"I'm spayed, declawed, and housebound - how's YOUR day going???"
by njoynit on September 14, 2006 11:18 AM
Its a dauntra....possibly wrightti.
* * * *


I will age ungracefully until I become an old woman in a small garden..doing whatever the Hell I want!
http://community.webshots.com/user/njoynit03
http://community.webshots.com/user/njoynit
http://photos.yahoo.com/njoynit03
by gardenfairy on September 15, 2006 08:46 PM
Definetly a Datura, I have several. They smell so good!!
* * * *
Monica
"Life is not measured by the number of breaths you take, but by the moments that take your breath away."

God gave us memories so we can have roses in the winter.
by angelblossom on September 17, 2006 11:47 AM
Oh WOW I just posted mine in blooming fine garden chat I was pleased with mine too >> WE call them moon flower bush Here. Mine did the same as your patti Get the long bud on it!! I'd like to have a row of them!

* * * *


Sorrow looks back, Worry looks around, Faith looks up!


http://photobucket.com/albums/e374/2thtek/


by Patty S on September 19, 2006 01:54 PM
Diane, I wish I'd have thought to measure mine when it opened, like you did. All I know is that it was waayyy out of proportion to the size of the rest of the plant... I couldn't believe it!!

I'm glad that you finally got to see one of yours open up, after having been away from home when the other ones had. (I'm guessing that you had LOTS more fun in KY than if you'd have stayed home to watch flowers!!)
I've been looking at yours in the Gardener's Chat/BF21, & have made a few observations:
Your flowers DID face up when they opened, but mine DIDN'T! I think though, that it was because it was just too darned heavy for the stem! (As I mentioned, I had to prop it up with a chop stick, in order to take the photo.) There are 2 more blossoms that should be opening up in the next week & they're MUCH smaller than the first one, so we'll see what they do.
While your blossom sort of curled back towards the stem, mine was like, "flat"! It was thinner than tissue paper (felt like WET tissue paper), & didn't have a contour to it, at all.
(Not only did I have to prop it up with a chop stick, but I must have taken a dozen shots of it before I got one right, because I also had to blow on it to keep one side from flopping over towards its other side... which I couldn't do & look to see where I was aiming the camera, at the same time!

Another thing I'm seeing is a difference at the base of our leaves.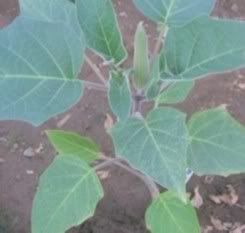 On yours, the two halves of the leaves offset on the stem. On mine, both sides are even.
I really wonder if they ARE the same plant!

Are these flowers supposed to last only ONE day?
The day after I took the pic, the blossom was turning brown already, & just hung there like a dirty little rag! I'm sure nobody would have believed that it was so gorgeous the day before, if they hadn't seen it!
* * * *


by angelblossom on September 20, 2006 07:20 AM
Hi Patty Yes I do believe it is the same plant.. A guy a work gave me the starter plant same size yours is now I showed him your pictures and He said your are very fortunate to have had it bloom so young and that yours will bring you a lot of blooms in the years to come give it good mulch in the winter and it will come back .. Yes Blooms last only a day then buds turns over and creates the pod it has to be brown and very dry before removing or the seeds won't be any good.. He has a row of these several are around 5 ft tall and very bushy he had grown these for years ,, He says the leaves may veri some but after looking at yours,,, yours will matures into leaves like mine and IF not it is still the same plant ,, and Yes the bloom was just too heavy for the young plant that's why you had to stake it,, Lucky you


Mine didn't bloom untill it got much larger!!,,
My friend also said he just buries the whole pod( It will split open (slightly) when ready to remove from plant,) in the ground just opens the pod a little more because only half of the seeds will germinate and only half of those will survive His row is about 50 ft long and range from 2'tall to 5 ft' tall from young to old plants so his plants are always blooming this time of year into the late fall I keep trying to get him to become a member on here but he said he doesn't have time,, He is a landscaper by trade and is well versed on many topics from trees to daiseys He'd be a welcomed addition to the GH.. Afterwork and on week ends he does landscaping and just doesn't have the time for computers so I milk every but of info I can from him @ work untill I start working his nerves

Isn't it cool from one part of the U.S. to another we are experiencing the exact same thing
Yours will turn up more as it matures and has a better support system.. I stayed up really late to get the different picture I dang sure wasn't going to miss it again!! But he also said it will continue to bloom

actually mine didn't curl back untill AFTER I touched it to measure and mine looked and felt like wet tissue as well I just called him and he said it was because of the natural oils on my fingertips that stressed out the bloom petals thus creating the curled look otherwise it would have look like a 'trumpet' of sorts.. as far as the half off center leaf steam he said it doesn't make a difference moon flower bush is moon flower bush and hes varies as well.
Sorry I didn't mean to write a book sometimes I just can't shut up LOL
But Now I will cuz I gotta go cook dinner I can Hear Dwight in there heavy sighing letting me know I'm neglecting him and his dinner.
Thanks for pointing these things out,, I'm glad I got on Computer today at work( AND Glad I didn't get caught from the Boss!! and Donny was around to see yours AND mine to compare)..
He and I really believe we (you and I) have the same moon flower!!

* * * *


Sorrow looks back, Worry looks around, Faith looks up!


http://photobucket.com/albums/e374/2thtek/


by Patty S on September 20, 2006 11:50 AM
quote:

---

I'm glad I got on Computer today at work AND Glad I didn't get caught from the Boss!!

---
Well, I'm glad too!

You're not, ummm...
drinking
at work are you? ...I just read your PM that said you thought you were PMing me back, when posted here! (Cracked me up, because there's a
...certain someone...
around here, who sends PM's to the wrong people when she's drinking!)
Anyway, thanks for all that information!
(You're the first person who has them too, that took the time to share what you know... & you're just learning about them, yourself!)

That's really interesting that I'm getting blossoms from mine when it's so young, but I'm glad I didn't have to wait till next year! (I started it from seed in March, & had no idea when it was
supposed to
bloom.)
Since your friend has an entire hedge of Datura, I'll assume that it must like full sun. It's been raining here for a couple days, & I'm concerned about what the water will do to these next two blossoms when they open. (With the first one, I was worried about what the direct sun would do to it... but it was toast the next day anyway!) I've set up my big beach umbrella to keep the rain off it, so I can at least get a picture when these open... Oh, & those "tubes" seem to getting bigger, almost like the first one did, so maybe they wont "look up" when they open, either!

It sounds like your friend would really be a terrific addition to our forum family... but if he came here & got as addicted as some of the rest of us are, the poor guy would go broke & hungry, because he'd never get any of his work done! (Just keep picking his brain!)

Hey... can you get a picture of his 50 foot row? That must be impressive!
Thanks again (for the PM!!)
* * * *


by angelblossom on September 21, 2006 09:36 AM
quote:

---

Originally posted by Patty S:
[QUOTE][b]

Thanks again (for the PM!!)

---
Suuuure any time

No wasn't drinking it was a long hard day at work yesterday!
He has most of them in the sun a neighbors fence shades some of them during the late afternoon. I'll ask for a picture . He is going to give me more woody starts tho.. the first one he gave me he had it potted in a 10 inch pot and had me set it on top of a drain dish of pebbles for two weeks before I put in in the ground them, once I oput in in ground keep it watered good another two weeks them start holding off on the water. I followed his instructions to a T . But it wouldn't bloom He told me to let it get stressed * stop watering in the heat

it was triple digits for three week I thought he must be crazy

but I had to trust him THEN when the leaves looked like they were wilting he said to water it really good with a bloom booster And WA LAAA in ten days or so I saw buds forming,, He also said they really like to be fed frequently during the growing season and blooming realm
I'll ask him for a PIc that has got to be awesome especially if several of them are in bloom HUH?
As far as pouring rain on the blooms I suppose there would be the same effect with any delicate bloom petals !? I'll ask him K?
* * * *


Sorrow looks back, Worry looks around, Faith looks up!


http://photobucket.com/albums/e374/2thtek/


by louiseey on September 22, 2006 02:24 PM
Does anyone know what to do with the datura in th winter. Mine is about 7 feet square, I planted it in the ground in the pot. Can I just cut it back and take it inside?
by joclyn on September 23, 2006 10:03 AM
by mhuff on September 23, 2006 10:13 PM
Be very careful with your datura. I don't know about the bush variety, but the tree datura is very toxic, so I would assume the same for your plant. A friend of mine has the tree form, and prunes it back in the winter to bring it inside. While pruning, some of the sap somehow got into her eye. Her pupil was completely dialated for several days, and she said she felt very strange for a while. Plants in this family have hallucinogenic properties. They are beautiful, though, aren't they?

Melinda
by angelblossom on September 23, 2006 11:07 PM
here are the seed pods forming wow they are big!!
* * * *


Sorrow looks back, Worry looks around, Faith looks up!


http://photobucket.com/albums/e374/2thtek/


by Patty S on September 24, 2006 03:35 AM
Thanks for the great links, joclyn & Rosie... & Mhuff, thanks for the reminder about the dangerous properties of Datura. I wouldn't think that there would be a difference in the chemical makeup between one variety & another as far as toxins go, but I'm sure not going to mess around & find out!
My 7 year old Granddaughter is half the reason my gardens do so well.
(Mother Nature must be the other half, because I've never had a green thumb before!)
She's good about following the "rules" when it comes to plants, but I'm seriously thinking about not letting this one go on next year, even though I'd love to have a whole hedge of it... simply because accidents DO happen,
(besides kids thinking they're bulletproof)!
I think that having an awesome plant like this just isn't worth the risk, & Grandpa wants me to uproot it & burn it
NOW
... I should never have mentioned it to him!

I haven't looked to see if Brugs are also dangerous, but I'll go with those if they aren't. The flowers are just soooo awesome!
From what I've heard about the toxins in Datura, handling ANY PART of the plant (even the seeds) is risky, & can have some pretty serious neurological, cardiovascular & respiratory effects. I think that your friend might be lucky that she only suffered pupil dilation & "felt strange"!
Anyway
... It appears that my Datura has some sort of growth hormone issue going on, because the blossom "tube" of the second flower has gotten unbelievably large this past week!
(Notice that one of the blossom tube thingies fell off!)
I went out there & measured... the whole plant is only 11" tall, & the blossom tube (I don't know what else to call it) is 7 1/4" long, from the stem!

Cool picture, Diane!

The place where my first blossom was, is starting to look like that now. When these blossoms are so heavy for the stem that they can't face up & be open to get pollinated, I don't think the seeds will be viable.

* * * *


by Patty S on September 26, 2006 09:58 PM
DANG IT! The Datura opened up & I missed it!
This is what it looked like on Sunday.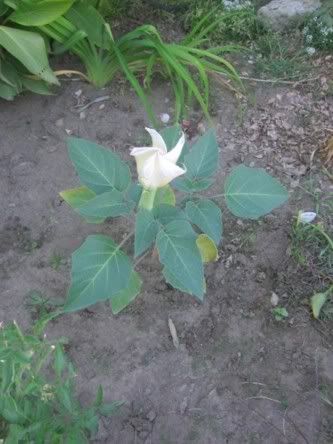 I was sick & walked right past it without even noticing, on my way to & from the car when I went to the Dr yesterday!
I went out with a flashlight last night when I finally thought about it...
I'm waiting for the sun to come up, so I can see if it's going to look any better in the daylight! (I seriously doubt it!)

* * * *


by Patty S on September 27, 2006 12:42 AM
Well, it looks a LITTLE better than it did last night!
This one isn't as big as the first one was. (It's looking up without having to be propped!) I guess that the thing that strikes me as so awesome about this flower is that it's ALL white... even the pollen!
There are a few holes in it...probably from the cucumber beetle that was crawling around inside it! (I don't believe those creatures!

they're hard to kill, & are apparently even impervious to the poisons in this flower!)
I wonder if it's deer proof.
I was thinking that I could put it out on the hill by the field next year, where my granddaughter doesn't like to go... but if deer might be stupid enough to snack on it, I wouldn't want to take that chance either.
* * * *


Similar discussions:
Search The Garden Helper: