Overwintering Datura Indoors
Gardening Reference » Gardening in 2006
by alankhart on August 20, 2006 09:11 AM
Can I cut my datura wrightii back to overwinter it indoors? I have several brugs that I cut back, but I wasn't sure if I could do the same with datura. If I do cut it back, should it be all the way back so it regrows from it's roots or just trim it some?
* * * *



by TulsaRose on August 21, 2006 01:41 AM
Alan, my next door neighbor has two gorgeous plants he has left in the ground in the winter for about four years. They are up against the south side of the house, pretty much full sun...so it's a nice little micro-climate. They are pretty common around here...I've seen them make huge clumps that are just breath taking when in full bloom.
I, too, have a lot of luck with "tender perennials" in my south beds such as Persian Shield, Lantana, Canna, Mexican Petunias, etc. The only "mulch" they get is the leaves that shed from a clump of River Birch in the front yard.
I think your gardening zone is very similar to ours so you might consider leaving it in the ground with protection?

I snuck over and took a quick shot of the neighbors plant...they probably think I'm drunk again.
It's pretty cloudy here so this isn't a very good shot.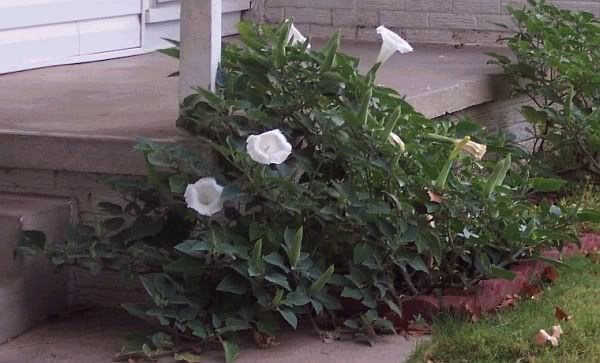 * * * *
Rosie z7a


by alankhart on August 21, 2006 02:52 AM
So..just how often do you get drunk and roam the neighborhood taking pictures??? :-)
That looks a lot like mine, but larger. Mine is actually in a pot. I have one pink brugmansia that has overwintered in the ground, the rest are in pots and I bring them in for winter, so I thought I could do the same for the datura. I don't think I even have a place I could plant in outdoors! Being in a pot makes me able to move it around where I want it. I'm going to try to start some by seed and next year I may plant one outside (if I can find a spot) and see what happens. Thanks for your help! :-)
* * * *



by TulsaRose on August 21, 2006 04:07 AM
They only assume I'm drunk because I can often be spotted taking pictures in the very early morning while still wearing pajamas.
Looks like some good info here at
Colorado State University website.
* * * *
Rosie z7a


by njoynit on August 21, 2006 04:54 AM
I grew wrightti when up North Tx.I was a zone 7.I cut it back leaveing maybe 1/2 inch& I stuffed a bucket with leaves and placed over the plant area.It always came back.Now my sis in Tn grows one too.Hers comes back.BUT shes got this one bed thats about 100 ft long 4 ft wide and is done as a berm about 2 ft tall.I believe she just rakes leaves over the whole area for the winter.I had also took cuttings.They will do well overwinter unless you move them to a more sunnier spot indoors.The heat reflected from the glass fried them,but 2 survived....the furthest from the glass.
My plant was huge It was like a 4x5 ft shrub on steroids.It faced west.
* * * *


I will age ungracefully until I become an old woman in a small garden..doing whatever the Hell I want!
http://community.webshots.com/user/njoynit03
http://community.webshots.com/user/njoynit
http://photos.yahoo.com/njoynit03
by angelblossom on August 21, 2006 04:57 AM
Rosie thanks for the site I have a small one growing now!! No blooms yet! But it get afternoon shade. I have a lot of seeds next spring I'll plant more in the full sun and see what happens!
* * * *


Sorrow looks back, Worry looks around, Faith looks up!


http://photobucket.com/albums/e374/2thtek/


by TulsaRose on August 21, 2006 05:36 AM
Angel, I can't say for sure but I would think they would benefit from our hot, late afternoon sun by being shaded. Especially since it has been so dry for the past year or more.
* * * *
Rosie z7a


by jbaby7162000 on August 25, 2006 07:58 AM
are they very hard to start from seed?do i need to straf.some ways

* * * *
joanne

Similar discussions:
Search The Garden Helper: