some veggies
Gardening Reference » Gardening in 2005
by plants 'n pots on June 24, 2005 09:50 AM
Two years ago I planted some store bought brussel sprout plants. They were soooooo good! I harvested the sprouts on a very warm January day - they had lived through a few freezes already. Last summer I did not plant any new brussel sprouts, and the original ones came back but just in flowers and a few seeds. This summer they are back with a vengence with flowers and a whole tons of seed heads. Can you make out all the long, thin seed heads on these plants? Won't be having any brussels this year, but should be getting tons of seeds to trade!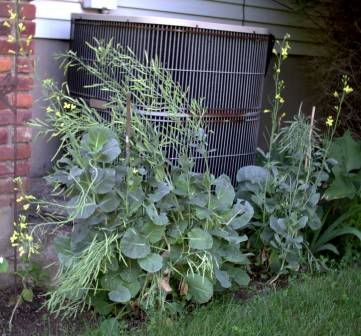 Just bought these banana pepper plants the other day - they already had all these peppers on them, and more flowers. Grew them last year - they are not spicey at all - thankfully. One year I grew jalapenos that were sooooooooo spicey I couldn't give them away - even to friends who like them the hotter the better!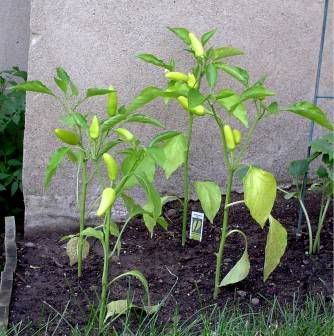 Last but not least, my cherry tomato plants. Every year they reseed themselves and I have to pull them out or give them away.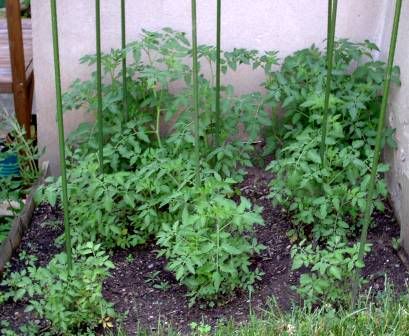 Ain't gardening grand?!?

* * * *


Lynne's knitting journal
"I'm spayed, declawed, and housebound - how's YOUR day going???"
by weezie13 on June 24, 2005 11:52 AM
quote:

---

my cherry tomato plants. Every year they reseed themselves and I have to pull them out or give them away.


---
You sound like me Lynne, I am still pulling out
tomato plants, I worked the soil up, added some
composted manure, flattened it all out, and
I GOT MORE

SEEDLING'S

POPPIN' UP!!!
Talk about WEEDS!!!! :shk

Same for the jalapeno's, I only had one girl that would take them, she made jams, jelly's, salsa's, etc. out of them..
* I grow them, just for a handful or two,
to make fresh salsa, but they just
produce and produce...*
I gotta find a recipe to pickle
*or what ever you call it*, `em up!!!!
I love your picture of the brussel sprouts
going to seed, beautiful yellow flowers..
I let my raddish's go to seed and they have a beautiful pink/white/purple(ish) flower to them..
And great for beneficial's too!!!
I had radish seeds over winter too, go figure..
Unbelievable.. I had a big plot I let go last year, and when they started poppin' up in the spring, I couldn't believe my eyes..
And I'm even havin'g some marigolds re~seed..
I gotta stop the insanity!!!
(**I should go post that in that other post
about not being able to pluck an unwanted volunteer..**)
* * * *
Weezie
Don't forget to be kind to strangers. For some who have
done this have entertained angels without realizing it.
- Bible - Hebrews 13:2



http://photobucket.com/albums/y250/weezie13/
by Bestofour on June 25, 2005 10:06 AM
I love brussel sprouts but have never grown any. Evidentially they are cold weather plants??? Should I plant in the fall?
I've never had any of my vegetables reseed. That's great.
* * * *


http://www.picturetrail.com/bestofour
by loz on July 01, 2005 12:49 AM
My dad planted some brussel sprouts this spring......every single year we've lived here he's grown them actually.....He gets some really late harvests off of them too......I used to not like them when I was little, but since I've gotten older I just love them....Good roughage as my dad would say!!

by tkhooper on July 01, 2005 02:22 AM
Brussel spouts with a butter herb sauce yummy!!!!
* * * *


Similar discussions:
Search The Garden Helper: