Marigolds
Gardening Reference » Gardening in 2006
by chilady on August 11, 2006 04:10 AM
by tkhooper on August 11, 2006 11:56 AM
is there any webs on the plants? If so you could be experiencing spider mites. I get them big time and they only attack the marigolds.
* * * *


by chilady on August 12, 2006 01:11 AM
not that I have noticed. I was deheading them yesterday, and didn't see any webs. Could it just be they have done their growing. And now are dying off? I just thought Marigold flowers lasted a lot longer then these ones are.
* * * *
http://i10.photobucket.com/albums/a142/frawri/b7231077.jpg
by RugbyHukr on August 12, 2006 01:33 PM
marigolds flower alot, but you need to pinch off all the dead flowers to look best.
* * * *

I love the sweet scents wafting in the breeze. I stop to admire the vibrant colors of all living things. And people think me odd. Then ODD I am!!!
http://community.webshots.com/user/flugnash
by loz on August 12, 2006 01:46 PM
Are you watering them enough???? And yes, the spent blooms do need to be pinched off.

by weezie13 on August 12, 2006 02:27 PM
I was wondering what part was turning brown?
quote:

---

I just thought Marigold flowers lasted a lot longer then these ones are.


---
Is it the flower that's turning brown?
Or leaves?
Flowers come and go, verrrrry quickly on the plants.. they like to flower alot..
* * * *
Weezie
Don't forget to be kind to strangers. For some who have
done this have entertained angels without realizing it.
- Bible - Hebrews 13:2



http://photobucket.com/albums/y250/weezie13/
by TulsaRose on August 12, 2006 11:56 PM
Healthy Marigolds should grow well and continue blooming until first hard freezes knock them down. Could you post a picture?
* * * *
Rosie z7a


by tkhooper on August 13, 2006 02:24 AM
I see you could be in my zone. In that case I'm voting for summer heat wave. That really does some damage to mine. I lost quiet a few this year. Infact I only have one left and it's not looking that hot either.
* * * *


by merrillzone5 on August 14, 2006 02:36 PM
I have a few pictures of my marigolds that i planted this year. I lost a few after first planting around early May;bought a couple of 6 packs to fill in; they did Ok but didn't really fill in as much as I had hoped. I try not to over water these plants as they seem to better with a barely moist soil.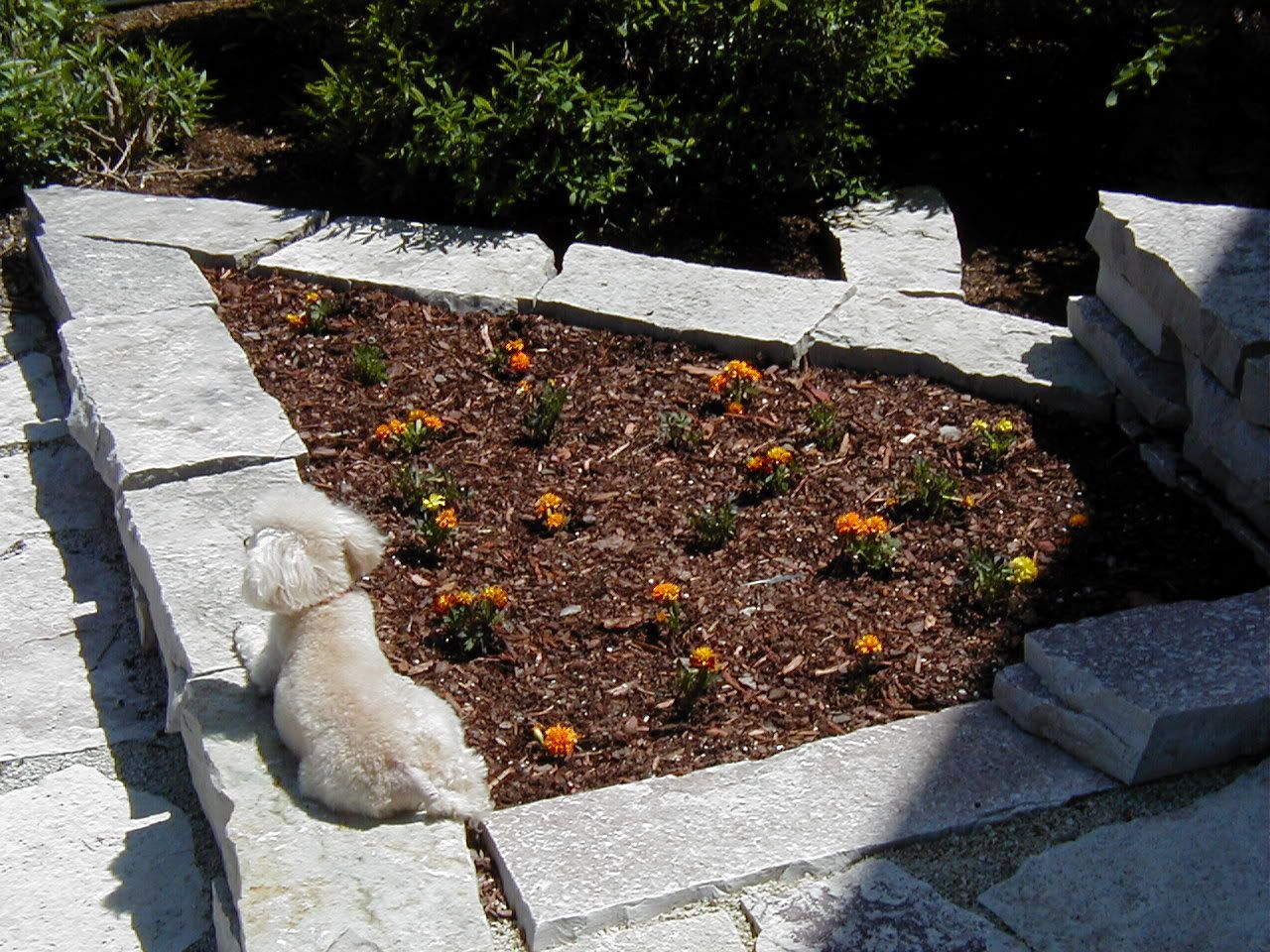 by merrillzone5 on August 14, 2006 02:40 PM
Whoops; forgot to reduce the picture size of above. Anyway the last picture is about where they are now. Don't over water!

by Bestofour on August 14, 2006 03:08 PM
cute puppy.
* * * *


http://www.picturetrail.com/bestofour
by TulsaRose on August 15, 2006 12:54 AM
Merrill, what is the name of the white Marigold...Fluffy? lol! Great pix, cute dog.
You can go back to Photobucket and click on the Edit option above each picture, scroll half-way down the new page to Resize and probably select the 50% size, then click on the Resize button. Your pictures here at the forum will be automatically reduced as long as you don't move or delete the pictures from the current location at Photobucket. It will only take a few minutes to do all of them.

* * * *
Rosie z7a


by chilady on August 15, 2006 12:58 AM
Similar discussions:
Search The Garden Helper: