Anyone have penta?
Gardening Reference » Gardening in 2006
by Deborah L. on August 01, 2006 01:46 PM
I bought the prettiest flowering plant a few weeks ago, and it's still blooming like mad.
It's called penta.
I got the lavendar one, because I like the woodsy
trillium look.
Any tips? I have it in a large ceramic green pot.
Gorgeous !
* * * *


by TulsaRose on August 01, 2006 11:53 PM
Deb, I love Pentas and try to always find bedding plants early in the season while there is a large color choice. I waited way too late in the season this year and only found two plants.

They love lots of sun (afternoon shade) and water. I fertilize them about once a month and they bloom until the first hard freeze knocks them down. Be sure to pinch out the dead blossoms. I have several that are pretty Pink bloomers planted in front of Mexican Petunias, next to Persian Shield...really nice combo.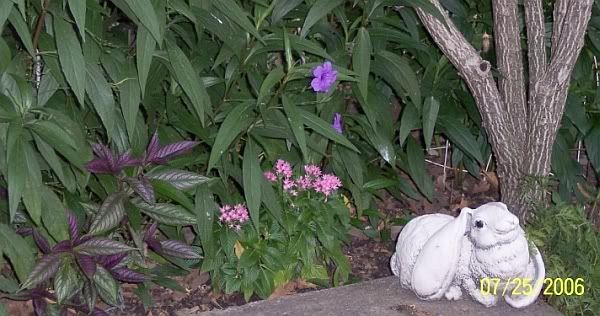 * * * *
Rosie z7a


by plants 'n pots on August 02, 2006 01:58 AM
I have the same color, Rosie!
Mine is planted in a large pot on my front porch, along with the same color ivy geraniums, and my passion flower vine.
Deborah... pentas are a favorite flower of butterflies - that's why I try to plant at least one each year - have you noticed any enjoying your plant?
* * * *


Lynne's knitting journal
"I'm spayed, declawed, and housebound - how's YOUR day going???"
by Deborah L. on August 03, 2006 09:29 AM
Tulsa, you have the same color as I do, and I love the ceramic rabbit.
I feed and care for several wild rabbits who come here every evening.
Plants, no butterflies but lots of hummingbirds.
I do cut off the spent flowerheads at the base of the stem.
Pentas are gorgeous ! Like colorful stars, right?
* * * *


by TulsaRose on August 03, 2006 12:06 PM
PnP, that pink must be "THE" color this year because it was the only one I could find. The Monarchs are just coming in and they visit frequently and I've spotted a couple of Pearl Crescents checking it out.
Deborah, one of the common names for Pentas is Star Flower. Another is Star Cluster.

My flop earred rabbit was a Mothers Day gift years ago and she always has a special place near the flower beds. The wascally wabbits that come to visit aren't nearly as cute but I love 'em anyway, even after they eat some of my plants to the ground. lol!
Have y'all ever tried to pot up Pentas and overwinter indoors? I tried it a couple of times with zero success.
* * * *
Rosie z7a


by Deborah L. on August 03, 2006 02:10 PM
Rosie, I just noticed you have your picture in your signature-that's neat !
I like the fact that you care about your wild rabbits as I do mine.
I feed mine wild birdseed and quartered apples every evening when they show up.
They never eat my plants, which is a part of the reason I keep them well fed.
The main reason though is that I care about them.
* * * *


by TulsaRose on August 04, 2006 12:49 AM
Usually the rabbits don't bother very much in the flowerbeds as I have ample clover and weeds in the yard.

Last year, a mama and three babies totally decimated all my Painted Daisies, Larkspur and most of the Columbine. The weird thing was...they just bit through the flower stems and left them laying on the ground. They did partake of the foliage on the Painted Daisies so I guess they like the soft, ferny leaves.
My major concern is how "tame" they can become because my dog wants to have them for a meal. If I'm in the yard by myself, they let me walk right up to them for some great pictures. This is one of the babies from the last litter...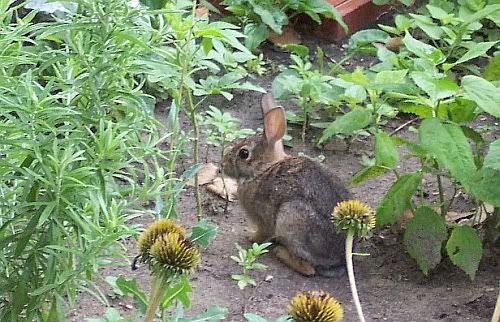 * * * *
Rosie z7a


by daylily77 on August 04, 2006 01:17 AM
Oh my! That baby bunny is SO cute! We have tons of bunnies around here, and I noticed that the babies will let you walk right up to them without hopping away! I guess they haven't learned to be scared since they haven't had the kids chasing them or anything yet. The adult bunnies here still let you get pretty close, but then they get scared and hop off.
Similar discussions:
Search The Garden Helper: